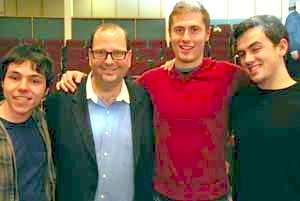 2011 winners, Slingshot with Ken Frierich
2011: First Year
Seven finalists made presentations in Davis Auditorium, vying for cash prizes and in-kind business services totaling $19,000.
The winners were:
First Place: Slingshot. Trevor Mengel '11 and Samuel Brown '12 received a $5,000 cash award plus $8,500 worth of business services for their well-rehearsed, fast-paced demo of Slingshot, a website interface and smartphone application designed to enable users to quickly join or organize pick-up games of any kind.


Second Place: Just Call Me Cupcake. Sarah Belser-Ehrlich '11 received a $2,500 cash award plus ten hours of market research services valued at $1,500 for her plan to expand her Plattsburgh-based cupcake enterprise.


Third Place: Collegiate Records. Maddie Sullivan '11 was awarded $1,500 for her plan to expand Collegiate Records, a student-run record label and artist management company that at the time was already booking concerts for ten student groups.
Other finalists included:
Quinghai Travel Social Service Center. Spencer Xianjian Dangzhi detailed a plan to provide offer low-cost accommodations and essential services – such as translation, storage and disease prevention – to itinerant minorities in Xining City in China's Quinghai Province.


FridgeCycle Exchange. Todd Powell '12 and Mike Cohen '11 proposed to build a business focused on the buying and reselling the compact refrigerators that college students purchase in vast numbers at the beginning of their college careers and then feel stuck with.


My Bad Industries. Three first-year students -- Malcolm Perry, Zack Rohde and Thomas Sellers – offered a creative way to say "I'm sorry": a T-shirt that reads "MyBad" on the front and "I'm a work in progress" on the back.

As the sole catcher on the Thoroughbreds' softball team, Carol Brown '13 made the presentation for her presentation remotely via Google Voice because the team was playing a doubleheader that day and there was too little time between games for her to make it back to the campus for a face-to-face presentation.


Watch the video