2005 Summer Reading
The Burial at Thebes
Theater - Performance History
by Prof. Lary Optiz, Theater
Sophocles wrote the original
Antigone
in ca. 441 BCE. Since then the work has been translated and adapted in many different ways on both the stage and on film. The most recent Broadway production of the original text was in 1971. It seems as if each new generation finds a reason to adopt and reinvent the story in order to address contemporary societal problems. Indeed, in the notes following his translation of the play, Seamus Heaney refers to George Bush and the war in Iraq when discussing his own approach.
Sophocles was not the only Greek playwright to deal with Antigone. In the Phoenician Women of Euripides (a contemporary of Sophocles) the final scene involves an Antigone/Creon confrontation and Antigone is determined not to marry Haemon. There is also some evidence that Euripides wrote his own version of Antigone which is now lost. Apparently this play had a happy ending – Haemon helps Antigone to bury Polyneices and the god Dionysus prevents her execution and tells her that she will marry Haemon.
In 1783 the Italian playwright Vittorio Alfieri wrote a play entitled
Antigone
. Alfieri's works have not become classics, but it is interesting to note that his works were considered inferior because of the strong political messages that they contained.
With the turmoil of the 20th century came a number of retellings of the ancient tale. Jean Cocteau, the French Surrealist, wrote a version in 1922 in which he juxtaposed mythical and contemporary elements. During the Weimar period in Germany following World War I, playwright Walter Hasenclever wrote a new version in the then-popular Expressionist style, which stressed the angst and horror he experienced as a German soldier in the war. Although Creon does eventually surrender his power to the chorus of citizens, it is too late. Thebes is destroyed in an apocalypse brought about by a vengeful God.
Jean Anouilh's streamlined and essentialized modern-dress Antigone was written and first performed in 1943 while the Germans occupied France during World War II. Although he was clearly trying to make a veiled anti-totalitarian statement, he necessarily disguised this by focusing on more domestic issues and concentrating on the conflict between compromise and integrity. Unlike the heroine in the Sophocles original, an irrational Antigone is moved not by religious duty, but by her love for her brother, and Creon is a weak leader who tries his best to preserve the status quo and save his niece from her own actions by stressing the importance of common sense. Anouilh's play was performed in New York in 1945 and in London in 1949.
In 1948 Bertolt Brecht brought his Epic Theatre theories and Estrangement techniques to bear in his own version of Antigone. Exiled from Germany since 1934, he produced the work in Chur, Switzerland shortly after WWII. Here, with the action set before the end of the war, Creon is painted as a tyrannical and manipulative politician. True to form, Brecht focuses less on emotional and religious issues and far more on economic and political ones. The actors not involved in the action sat in a semicircle at the rear of the stage where they were free to read, check their make up, or exit. Given Heaney's comments concerning George Bush and the war in Iraq, it is interesting to note that Creon has just returned from the war, falsely proclaiming that it is over.
A rather famous adaptation of Brecht's version was presented in New York in 1967 by the Living Theatre, a well-known experimental theatre group. Judith Malina (co-founder of the company with Julian Beck) wrote the play while imprisoned after a political protest during the turbulent 60's. Not surprisingly, the play was clearly a response to the Vietnam War. Influenced by the work of Polish director Jerzy Grotowski, all of the ritualistic elements of the play were emphasized.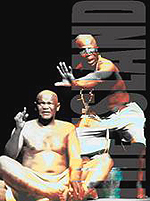 Late in the 1960's the inmates of South Africa's infamous prison on Robbin Island presented a production of Antigone by Sophocles. The text proved to be particularly relevant in the struggle against the government system of apartheid. The actors had little, if any, acting experience, including the performer who played Creon – Nelson Mandela, a prisoner for over 20 years and the future president of the country. In the early 1970's, John Kani and Winston Ntshona, two other former prisoners from South Africa, wrote a play entitled The Island. In the play the prisoners at Robbin Island plan on performing a two-man version of Antigone. The brief confrontation between Antigone and Creon is a powerful indictment of apartheid. First performed in London in 1973 (directed by Athol Fugard), Kani and Ntshona recently recreated their performances at BAM in New York.
Seamus Heaney was not the first Irish author to base a play on
Antigone
. In 1968 Conor Cruise O'Brien wrote an essay in 1968 interpreting
Antigone
in terms of the conflict in Northern Ireland between Protestant Unionists and Catholic Republicans. O'Brien is sympathetic to the Protestant Unionist cause so Creon's actions are justified and Antigone is criticized for not recognizing his authority. Playwright Tom Paulin took issue with O'Brien and wrote a version of the play entitled The Riot Act in 1984. Paulin focuses on the female struggle against a patriarchal authority, the struggle between private and public morality, and the conflict between religious and religious priorities. Set in Northern Ireland, his brutal Creon is a Unionist politician and Antigone is a republican martyr. In the end Creon allows Antigone to bury her brother and he, too, becomes a republican.
In the 1980's American playwright A. R. Gurney wrote a comedy called
Another Antigone
in which he dealt with the crises of university and cultural life during the Reagan years. Judy, an overachieving college senior, presents her own version of Antigone to her rigid Classics professor as her final paper. He threatens to fail her if she does not turn in a standard research paper. Both characters are bound by their convictions and biases and will be destroyed by their hubris and inability to understand each other's views.
Fifteen years ago a modern retelling of the play, called Creon's Antigone, was written by Miro Gavran of Croatia. The action takes place in the Balkans during the ongoing war there. In a rather interesting twist the tyrannical Creon forces Antigone to perform in a play similar to Sophocles' Antigone. Inspired by the courage of the heroine she commits suicide, much to the delight of Creon who has succeeded in destroying a threat to his command.
Commissioned to mark the centenary of the Abbey Theatre in Dublin, Ireland, Seamus Heaney's
Antigone
was first performed at the Old Vic in London in 1999, directed by Declan Donnellan. In 2004 the play ran at Dublin's Abbey Theatre in Ireland and was directed by Lorraine Pintal.