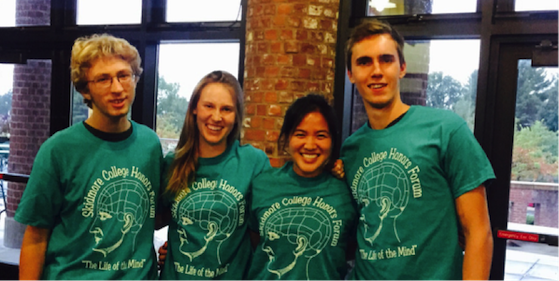 Membership Advantages Honors Housing Governance
Membership & Requirements
Honors Forum introduces extraordinary rigor into academic programs as students consider complex questions and examine sophisticated materials. Honors Forum students develop what we refer to as "the life of the mind" by working alongside their faculty on research projects in labs, at field sites, in libraries, and in studios, often helping to shape the curriculum with which they engage. The Forum promotes and supports student-organized co-curricular activities (e.g. lectures and panel discussions) and leadership and civic engagement opportunities where students guide fellow peers, faculty, and staff within the Skidmore community and beyond. We also encourage all students at Skidmore College to take an Honors course, add-on, or independent study to become invested in a community of scholars and leaders.
Admission to the Forum: All Students
At the beginning of the spring term, the Council invites currently enrolled first-year and second-year students who attained a GPA of 3.50 or above in the fall semester to apply for membership. Each applicant must submit a statement addressing his or her academic achievement and participation in the College's co-curricular program and seek a letter of recommendation from a member of the faculty. The Honors Council reviews these applications. The Council will look for high academic achievement, potential for active participation in the classroom, and leadership qualities. The Council will also consider the balance among different disciplines represented among the membership.
The Honors Council will endeavor to keep the size of the membership of the Honors Forum to 10% of the total Skidmore enrollment. Students must maintain their membership on a yearly basis by doing the following:
Maintain a term GPA of 3.50 or better as a full-time student. Honors Forum students who fail to maintain a 3.50 GPA for two semesters lose Honors Forum membership.

Maintain exemplary academic and social integrity.

Complete a Service Requirement by the end of the junior year.

Complete a minimum of 3 Honors Forum courses or 7 credits by the end of the senior year and a capstone in the senior year, which can take the form of a capstone course, thesis, project, performance, or other advanced project defined by the student's major department, or by the student and a faculty advisor, and approved in advance by the Honors Council as an appropriate culmination of the Honors Forum program. Credits can be earned by taking HF classes, group or individual HF Add ons or independent studies.

Complete a capstone in the senior year, which can take the form of a capstone course, thesis, project, performance, or other advanced project defined by the student's major department, or by the student and a faculty advisor, and approved in advance by the Honors Council as an appropriate culmination of the Honors Forum program.

Engage in Forum events during the academic year.
Students may drop out of the Honors Forum at any point in time without jeopardizing their progress toward the degree or their eligibility for other academic opportunities and distinctions. Students who take personal or academic leaves of absence retain their membership in the Forum. Students who complete the entire program will graduate with the Honors Forum designation on their Skidmore transcript.
Guidelines for Honors Worthy Writing
Student Forms:
ADVANTAGES
Students and Staff enjoy the Honors Forum Induction Ceremony
There are tremendous academic and co-curricular benefits to being a member of the Honors Forum.
Honors Forum offers an enhanced intellectual community among students who are unusually active in pursuing the life of the mind and engaging in citizenship.

It is a hallmark of Skidmore education that daily campus life supports the learning processes that students encounter in the classroom, library, studio, and lab, and the Honors Forum strives to create these opportunities.

The Forum sponsors numerous programs, lectures, and trips throughout the semester. Recent trips include a visit to New York City to attend a Broadway show, a tour of the Metropolitan Museum, a visit to the Boston Aquarium, and a day at the Bronx Zoo.

Honors Forum has an annual banquet to recognize Service Requirements and receptions and informal get-togethers during the year for Honors students to mingle.

The Forum annually sponsors The Jon R. Ramsey Lecture where Honors students have the opportunity to nominate a favorite professor to give a talk specifically to students in the Forum.

Honors Forum students also run Shades of Gray, an interactive panel discussion on provocative topics (see Co-Curricular events).

HF students have the opportunity to preregister for Honors classes. This means an underclassman who is an HF member can successfully enroll in even the most popular classes.

The Honors Forum newsletter that every HF member receives provides a "head's up" on forthcoming events and a snapshot of current HF initiatives.

Beginning Fall 2012, HF students can apply to live in Wiecking Hall; see housing.

Students can learn about upcoming events on Facebook; All Honors Forum members will receive an invitation to join the group, where you can meet and interact with other members.

Honors Forum students have a lounge located in Ladd 321. (Each HF student can ask the department assistant for the combination to the keypad lock.) An ideal place for studying and relaxing, it contains comfortable couches and a white board for your use. In addition, it holds a newly created library and a new member profile book to help you know members of the HF community. Please respect this communal space.

HF shows up on your transcript as a minor. All incoming students receive a special HF mug, and all graduating HF students receive a medal to wear at graduation.
HONORS HOUSING
We now offer, Honors Forum in conjunction with Residential Life is offering housing to sophomores, juniors, and seniors in Wiecking Hall. Members who apply to live in HF housing must complete their Service Requirement during the Fall or Spring semester; if an HF student completes the Service Requirement, he or she, if accepted to live in this building, is expected to mentor other students completing their Service Requirements. To apply for Honors housing, CLICK HERE. Here's a great article about the new housing CLICK HERE. For any questions, please email lbradsha@skidmore.edu.
STUDENT GOVERNANCE
One of the hallmarks of the Honors Forum is the degree of student involvement in policy making and planning.
Student Executive Committee
The Student Executive Committee or Exec Co, as we commonly call it, is the student governing body of the Honors Forum. The Executive Committee provides leadership and direction to members of the Honors Forum. Exec Co consists of the Honors Forum President, Vice Presidents, Social Media Coordinator, and other positions.
Exec Co's members report to the Honors Council and have the following responsibilities, many in conjunction with the Council:
Plan and publicize co-curricular events: receptions, faculty-student discussions, study nights, trips, and informal get-togethers.

Work with SGA, College clubs and organizations, the Admissions Office, and Alumni Affairs.

Meet with students about Forum-related issues.

Help coordinate the annual Spring HF induction and the final HF banquet.

Represent the Forum during prospective and Accepted Candidates Days.

Participate in the coordination of Academic Festival.
Concerns, Questions, and Suggestions
Is there an issue that you'd like the Honors Council or Student Executive Committee to address? Contact any of the Executive Committee members, and they will bring your concern to the attention of Exec Co or invite you to attend a meeting.
2016-2017 Honors Forum Executive Committee:
Flagg Taylor, Associate Professor of Political Science & Director of the Periclean Honors Forum
Lisa Bradshaw, Administrative Assistance for Honors Forum & Civic Engagement
Kim Marsella, Director of Academic Advising
Steven Frey, Associate Professor of Chemistry
Eunice S. Ferreira, Chair of the Periclean Scholar Awards Committee and Assistant Professor of Theater
Sandra Goff, Assistant Professor of Economics
Morgan Lavoie '17, President
Sophie Tate '17, Co-Vice President
Dylan Quinn '18, Co-Vice President
Hannah Hoey '18, Social Media Coordinator
Izzy Hernandez '18, Director of Diversity and Inclusion
Damian Hammond '19, Head of the HF Ambassadors Program
Want to Serve?
If you would like to volunteer for Exec Co., contact one of the Vice Presidents. If you would like to bring an idea to the Executive Committee, contact the President or the Vice President.