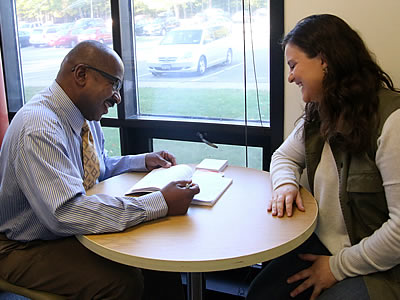 Fall 2020 Registration Information for MB Majors
Fall 2020 Registration Notes:
TERM SPECIFIC COURSES & ELECTIVES:
MB 351C - Commercial Production - Mastrion
Concept development and Image creation are the core of commercial production. Commercial production is one of the most powerful tools available to marketers, advertising professionals and manufacturers. Learning what it takes to create a strong concept with visual imagery that tells the intended story means understanding both the art and science of image creation. Success in commercial production requires both a strong idea and a strong execution. In this class, students will study existing visual imagery to gain a deeper understanding of what makes the images effective. They will develop a practical working knowledge of the steps required to conceive and execute a successful visual idea and then apply that knowledge to create and execute their own commercial production. Talent collaboration and resources will be sourced via other college disciplines as needed to help students achieve their vision.

MB 351C - Branding and Marketing Communications - Mastrion

Course Description: This course will be taught by a leading expert in the advertising industry – a proven entrepreneur and creative thinker with significant global and national experience to create and transform brands and deliver unified multimedia campaigns for a connected world. Branding is about a product/service's engagement with the world. In a nutshell, a brand is a promise with a personality. The best brands are built from emotional insight derived from the target audience. Branding is deeply creative; it is psychological as well as practical. The strongest, most well-defined brands result in more engaging advertising and promotion. Branding is both strategic and creative, and this course will explore the fundamental nature of branding as well as best practices and methodologies. We will examine existing brands in various categories including Fashion, Automotive, Entertainment, Hospitality, and Healthcare. Through exercises and projects, the class will come to understand that branding is the cornerstone effective marketing communications.

MB 351C - Financial Planning - Carlson
This is a course for students who want to develop financial and economic literacy. In a time when 82% of future retirees are confident they will have enough to live comfortably in their retirement years, but only 42% of people actually calculate what they need, this course will introduce a framework for developing comprehensive and dynamic personal financial plans. Students will gain the tools to understand complex financial planning including: the accumulation, preservation, and depletion cycles of investing; a fundamental understanding of capital markets, investment alternatives, and strategies for implementing a plan; a critical analysis of the potential impact of changes in government policy; and an understanding of how macroeconomic conditions may affect plan implementation. This course covers the following dimensions for studying management and business in context: I, VI. Prerequisite: EC-103 or EC-104. Open to non-business majors.

MB 315C - Sustainability in the Business Context - Coulombe

Ever wonder who makes your clothes, where your food comes from and how companies such as Ben & Jerry's and Patagonia have managed to build extremely successful companies all while keeping sustainability as a core value? In this course, students will explore a variety of sustainability related topics, including environmental and social sustainability issues in managing supply chains, sustainable marketing, standards for measuring and certifying sustainable operations and sustainability efforts in our local community. The course will introduce students – through a series of case studies, projects and guest lectures from industry leaders – to concepts, theories and models related to sustainability. Sustainable and ethical business practices will also be a major theme in the course.

MB 336H - Diversity and Discrimination in the American Workplace: Is the Melting Pot Boiling Over? - Prasad
America's broad commitment to multiculturalism and plurality is not without considerable challenge and tension. Nowhere is this more evident than within the workplace where employees and managers representing diverse sexual, ethnic, racial and age backgrounds come together and interact on a day-to-day basis. This course examines past and contemporary challenges facing workplace diversity by adopting historical, psychological, cultural and legal perspectives to understand multiculturalism at work. Conflicts between mainstream corporate and bureaucratic America and different social identity groups such as African Americans, women, Latinos and Latinas, gays and lesbians and older workers will be examined in this course. The course also examines formal institutional attempts at combating discrimination as well as informal institutional factors that keep discrimination alive.
Note regarding MB240:
ATTN: 2nd and 3rd Year Students - The MBD strongly encourages you to enroll in MB240, Coaching, Mentoring and Teamwork Service-Learning Experience prior to going abroad. You may enroll in the course immediately after completing MB 234 and concurrently with MB 235.
Note: Prospective majors do not have to take MB 107 in the fall of their first year in order to complete the major. Many students start this course sequence in the spring semester (taking EC 103 or 104 in the fall; MB 107 and EC 103 or 104 in the spring; and then MB 234 and MB 214 and/or MB 224 in the fall of their second year). Still, fewer majors start their coursework in fall of their sophomore year (taking MB 107 in fall of their sophomore year (along with EC 103 or EC 104).
Fall 2020
Spring 2021
MB-107: Business Organization and Management ~OR~
MB-234: Foundations of Financial Accounting ~OR~
EC-104: Introduction to Microeconomics
~OR~
EC-103: Introduction to Macroeconomics
MB-224: Foundations of Org Behavior
~OR~
MB-214: Foundations of Marketing
WLL* (first world language or literature course)
EC-103: Introduction to Macroeconomics
~OR~
EC-104: Introduction to Microeconomics
WLL* (1st or 2nd foreign language or literature course)
*For students who plan to study abroad in their junior year, MB 234, MB 235, and EC 237 or MS 104 or SO 226 must be completed before you go abroad. In addition, students are strongly encouraged to take both WLL courses as well as MB240 before going abroad.
A sample course plan looks like this:
1st Take
Next Take
Then Take
Lastly Take

MB 107

EC 103 or EC 104 can be taken concurrently with MB 107

EC 104

MB 234

MB 214

MB 224

WLL

* these 5 classes in any order or some simultaneously

EC 103

MB 235

Stats (EC 237 or MS 104 or SO 226)

WLL

MB 240

MB 306

MB 338

MB 349

(MB 349 - Senior Year Only)

MB 300 level elective

MB 300 level elective

MB 300 level elective
Registration Info for MB Minors
To minor in business, students are required to complete MB 107, MB 214, MB 224, MB 234, and two additional courses in business, at least one at the 300 level. The following courses may not be used to satisfy any of these requirements: MB 240, MB 299, MB 360 (effective Fall 2014), and MB 399. Minor requirements are posted here.
Other Relevant Information:
Welcome to studying Management and Business (MB) at Skidmore! In this academic department, you will study the functional areas of MB (management, marketing, accounting, finance, and strategy) in context so you can become well-rounded leaders in an increasingly complex world. Some key things every MB student at Skidmore should know are…
MB Degree Audits – Students should follow your own progress towards your college degree by accessing your Degree Audit on the Student System. This information "audits" what courses you have taken, what major/college requirements you have already taken or are currently taken (in progress – IP), and what you still need to take care of before you graduate. The Degree Audit is something you should pay attention to whenever you meet with your advisor and think about course registration.
Going abroad – Did you know about 60% of Skidmore students study abroad? BTW, MB is one of a handful of academic departments sending the most students to study overseas. What a great way to enrich your academic career! Students should explore study abroad programs and options with the Off-Campus Study and Exchange (OCSE) office. That office will also help you access a system in which your courses taken abroad can be considered for Skidmore credit. Go see them on the 2nd floor of Starbuck or https://www.skidmore.edu/ocse/. Moreover, be sure to meet with your advisor to plan your course sequencing well in advance.
Summer courses – Consider taking courses at Skidmore in the summer. Alternatively, if you want to enroll in an off-campus program with hopes of earning transfer credit, know that you must get approval BEFORE taking the course. Both the institution and the course content must be approved for transfer credit – this approval comes from the Registrar's Office and MBD's Associate Chair who both must approve the course content for transfer. All approvals require the use of the forms. Always feel free to communicate with your advisor if you have questions.
Jobs, internships, and career planning – MB students are strongly encouraged to work with Skidmore's Career Development Center early and often in their academic career. The experts in that office can help you with your resume, with searching for internships/jobs, with prepping for interviews, with exploring career options, and so much more. Go see them on the 2nd floor of Starbuck.
Need help?
Here is whom you should go to for help with particular issues. Please plan and make use of faculty office hours (office hours are usually drop-in…no appointment needed). On the other hand, if you need an appointment with faculty outside of office hours, it helps to provide a day or two of notice. E-mail is the preferred method of initial contact.
Dr. Christine Page (Associate Chair): Go to Professor Page for any off-campus/study abroad questions, study abroad approvals, transfer credit approvals, internship approvals, independent study approvals, finding an advisor in the MBD and signatures on major/minor declaration forms. Any other issues should be addressed with your advisor or the MB Department Chair.
Office: PMH 265
Email: cpage@skidmore.edu

Dr. Tim Harper (Chair): Go to Professor Harper for any/all other issues not listed under Professor Page (or when Prof. Page is not available).
Office: PMH 205
Email: tharper@skidmore.edu

Terri Kindl (Administrative Support Staff): If you cannot find Professor Harper or Professor Page, see Terri. She is usually the person "in the know" about where we are or can direct you accordingly.
Office: PMH 208A
Email: tkindl@skidmore.edu