John B. Moore Documentary Studies Collaborative
Peter & John (2015)
Movies from Marlboro

October 5, 5:30 pm, Bolton 282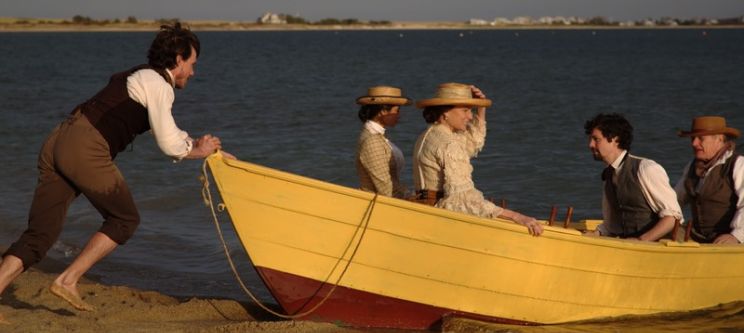 Co-sponsored by Media & Film Studies
Director Jay Craven leads Movies from Marlboro, a semester-long production project for undergraduate students at Marlboro College (Vt). This fall, Craven screens the 2015 film Peter and John, and discusses filmmaking. The spring 2016 project is an adaptation of Rudy Rucker's award-winning sci-fi novel Wetware (1988).

"Peter and John" is based on the 19th century novel "Pierre et Jean" by Guy de Maupassant and it's set in 1872 Nantucket, during the island's "ghost period"— after the decline of whaling, before the rise of tourism, and in the New England shadow of the Civil War. The film tells the story of two brothers whose relationship strains when the younger one receives news of an unexpected inheritance—and both brothers become attracted to the same young woman who arrives on their island.
Maupassant's novel was widely credited for helping to change the course of narrative fiction through its detailed psychological characterizations. Tolstoy and Nabokov both cited the novel as an influence. In a letter to his brother Theo, Vincent Van Gogh cited Maupassant for the visual power of the novel's detailed seaside setting. Henry James wrote, "Monsieur de Maupassant has never before been so clever" and he called Pierre et Jean a "masterly little novel" for its potent themes of family, status, self-discovery and the lengths to which someone will go to reveal or suppress the truth.
_____________________________________________________________________________________________________________
"Peter and John" stars 2014 Golden Globe winner Jacqueline Bisset ("Bullitt," Truffaut's "Day for Night"); Christian Coulson ("The Hours," "Harry Potter: Chamber of Secrets"); Shane Patrick Kearns ("Blue Collar Boys"); Diane Guerrero ("Orange is the New Black," "Jane the Virgin"); and Emmy-winner and Tony nominee Gordon Clapp ("NYPD Blue," "Flags of Our Fathers," "Glengarry Glen Ross"). The supporting cast includes Nantucket actors Susan McGinnis and Vince Veilleux.
"Peter and John" was shot on Nantucket in the spring of 2014 and it was produced through the Movies From Marlboro (MfM) program, a biennial film intensive semester jointly produced by Marlboro College and Kingdom County Productions. For this ambitious production, 22 filmmaking professionals mentored and collaborated with 32 students from 12 colleges (Wellesley, Mount Holyoke, Boston College, University of Vermont, Lyndon State College, Dartmouth, Smith, Sarah Lawrence, Emerson, Antioch, London School of the Arts, and Marlboro). A 2016 Movies from Marlboro production is now in development (info at Movies.Marlboro.edu).
Jay Craven's seven feature films include Disappearances (2007 with Kris Kristofferson) and Where the Rivers Flow North (1994 with Rip Torn and Tantoo Cardinal). His pictures have played 58 countries and 73 festivals, including Sundance—with special screenings at The Smithsonian, Lincoln Center, Le Cinémathèque Française, the Constitutional Court of Johannesburg, and others. Craven's commitment to New England place-based filmmaking was recently profiled by Orion Magazine that wrote: "Jay Craven has come closer than any other filmmaker to realizing (American poet, essayist, and film theorist) Vachel Lindsay's dream of a vital regional cinema that embodies the character and genius of a place in all its mystery, magnificence, and pain. For more information, go to KingdomCounty.org or contact Jay Craven (jcraven@marlboro.edu).
For more about Craven and Movies from Marlboro, see the program website.