Skidmore-Saratoga Memory Project
---
The Skidmore-Saratoga Memory Project is an ongoing exploration of the contemporary and historical life of Saratoga County and Skidmore College. The Skidmore-Saratoga Memory Project (SSMP) documents the rich history and cultures of Saratoga County and the contribution of historical and contemporary figures on the national and international stage. The Memory Project balances critical inquiry with the goals and interests of community partners and the broader public. Available to students from any discipline, the Project supports independent studies and for-credit internship opportunities in the documentary arts.
The SSMP has worked with area archives, museums and historians; arts organizations; community organizations; and Skidmore faculty, staff, retirees and alumni. Initial projects include an oral history database, collecting and exhibiting area maps and helping the Adult and Senior Center of Saratoga Springs tell the story of 60 Years Young in a documentary video and exhibit. For details, see the website.
In 2016, the SSMP and History Department partnered with the Humanities Action Lab (Project HAL) to participate in the nationwide States of Incarceration project, which culminated with an exhibition and series of events in September 2017. Work has begun on the 2018–20 collaboration with more than 40 colleges and universities on the next project, centered on environmental justice.
To suggest a person, story, topic or organization for one of the projects below, please write to mdocs@skidmore.edu - include your name, contact info, name of the person/place/thing and a little information about the subject.
Skidmore-Saratoga Stories:
Long-form audio and/or video interviews of faculty, staff, students and residents whose stories will become part of the Skidmore College Special Collections.
Skidmore-Saratoga Shorts:
A series of 5-7 minute videos revealing the hidden histories of the city and college.
The People of Saratoga Springs: In progress.
A project to develop a database based on Saratoga Springs census records and city directories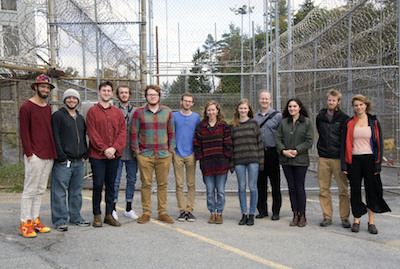 Memory Project Practicum
A 1–4 credit course that provides a way for students to get course-credit for hands-on work on a memory project, often in collaboration with a community partner. Click here to learn more.
(image) States of Incarceration—Mount McGregor Rehabilitation Facility showcased in student-led gallery tour