Student Highlight: Nat Cabrera '17 captures the many faces of Trump
December 14, 2015
Interviewed by Emily Rizzo '18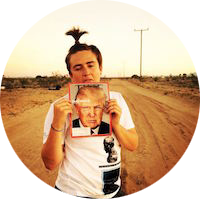 "So this summer I started working on a documentary project. It started off by … I flew to California to stay with my friend for a few days and then from there we decided to drive across the country back to school.
"We knew that we wanted to do a documentary project, but we weren't sure exactly what we wanted to do. But, right before we left, Clara's mom jokingly came outside and gave us a picture of Donald Trump, which was on the cover of the New York Times Magazine. And she just like, laughingly gave it to us and we weren't really taking it seriously and he had a really serious face in this picture and the text just said, "Just deal with it."
"So from LA we went to Las Vegas and then during that time period we decided this was a really good picture and it's really aggressive. Donald Trump is such a huge, idolized person right now in the media, both in the liberal and conservative media, whether he's portrayed as bad or good he's just extremely popular. So we decided from there that we should take pictures of people with the poster over their faces and also us with the poster over our faces.
"Our trip started from LA to Las Vegas then to Utah, Colorado, Kansas, Missouri, Ohio and then straight to New York from there."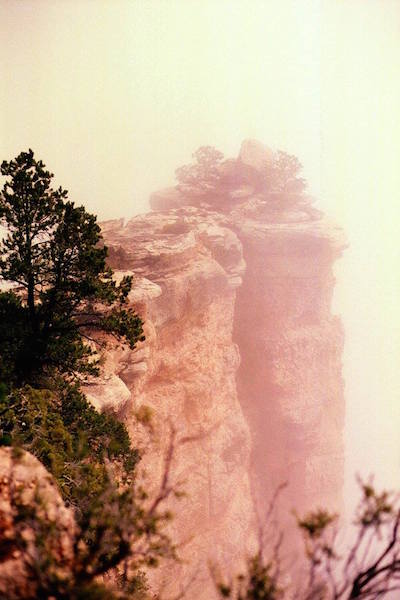 Photos by Lisa Moran (lft) and Nat Cabrera (rt); location: Grand Canyon, Utah
AUDIO CLIP #1: Nat talks about their photos taken in the Grand Canyon
Photos by Lisa Moran (lft) and Nat Cabrera (rt); location: Kansas
AUDIO CLIP #2: Nat discusses the juxtaposition of these photos
Photo by Nat Cabrera; location: Colorado hot springs
AUDIO CLIP #3: Nat talks about the hidden messaging behind this photo


AUDIO CLIP #4: Nat discusses her experience creating this doc photo series
Nathalie Cabrera is a sociology major, media and film studies minor and will be studying abroad in Amsterdam and exploring through film and photography.