Faculty and Staff Biographies
Katie Hauser, Director
Click here for her department biography
Cassie Deason, Administrative Assistant
Cassie Deason has worked at Skidmore since August 2010, where she started as the Associate Director of Operations in the Admissions Office. In spring 2015, she transitioned to the academic side of campus, becoming the Academic Administrative Assistant for the departments of Arts Administration, Art History and Media and Film Studies. She holds a Bachelor of Arts Degree from Hamilton College.


John Anzalone
Hi. I'm John Anzalone, professor of French and Media Film Studies. I've taught film seemingly forever, in four different college or universities here and in France. I've been responsible for the French cinema offerings at Skidmore since I arrived here in 1985. For 18 years I was the Review Editor of The French Review and I continue to serve on the journal's editorial board for film. My particular areas of interest and publication are the great directors of the 1930s in France (Jean Renoir, Jean Grémillon, Marcel Carné), the French New Wave period (Jean-Luc Godard and François Truffaut, Agnès Varda, Alain Resnais), and contemporary new directions in French Film. Outside of France I'm particularly interested in pulp fiction/ genre based cinema such crime and gangster films, film noir, Science-fiction and Fantastic cinema. I've been an avid reader and collector of comic books and graphic novels for as long as I remember, and am a committed enthusiast of sequential narratives—I'm now preparing several courses in these areas. On a more personal note: I am really thrilled that Skidmore has at last created the media film studies program that faculty like me have been working towards for many years.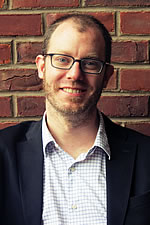 Paul Benzon, Associate Director
Paul Benzon is currently Visiting Assistant Professor and Associate Director of Media and Film Studies at Skidmore, where he teaches courses on topics including digital culture, hybrid genres, and media theory. His research and teaching combine interests in contemporary literature, cultural studies, and the history and theory of media ranging from the typewriters of the late nineteenth century to the networks and screens of the contemporary digital moment. He is often drawn in both his classes and his writing to moments of artistic experimentation and formal extremity—encyclopedism and textual overload, surplus and excess, remixes and reproductions, errors and deletions. Taking these aberrations as points of departure, he explores questions of textual materiality, the archive, and the aesthetics and politics of media change.

Paul's recent research has focused on a wide and eclectic range of media phenomena, including tapes, libraries, trees, tanks, dust, and robots. His work has appeared in Media-N (as part of a special issue he guest-edited on "The Aesthetics of Erasure"), electronic book review, CLCWeb: Comparative Literature and Culture, PMLA (where it won the William Riley Parker Prize for an Outstanding Article in 2010), Narrative (where it received the James Phelan Prize for the Best Contribution to Narrative in 2013), and Publishing as Artistic Practice (Sternberg Press, 2016), and is forthcoming in the Routledge Companion to Media Studies and Digital Humanities (2016, Routledge) and the Routledge Companion to Media Technology and Obsolescence (2018, Routledge). He is also currently at work on two book projects: one entitled Archival Fictions: Materiality, Form, and Media History in Contemporary Literature and one entitled A Partial History of Deletion: Absence, Obsolescence, and the Ends of Media.
Paul Hembree
Paul is active as a composer, creative technologist, and educator, working in the borderlands between experimental music and interactive media.

His recent projects include the score and sound design for Goodnight Traffic City (2017), a game by developer Loren Schmidt and artist Kia Labeija, and Cerebral Hyphomycosis (2016), a duo for real and virtual cellists, premiered by T.J. Borden. His audiovisual improvisation environment, Apocryphal Chrysopoeia (2016), was featured at National Sawdust on the 2016 New York City Electroacoustic Music Festival, as part of the New York Philharmonic's biennial celebrations.

As a computer musician, he has collaborated with many prominent performers of new music, including the JACK Quartet, Irvine Arditti, the International Contemporary Ensemble, Ensemble Signal, and the Callithumpian Consort, on compositions by Pauline Oliveros, Brian Ferneyhough, Kaija Saariaho, and Roger Reynolds, among others.

In 2015 he received his PhD in music, specializing in composition and computer music, from the University of California, San Diego, where he taught music theory, history, composition, and game.
Aaron Pedinotti
Aaron Pedinotti is a visiting assistant professor for American Studies and Media and Film Studies. He received an MA in Modern History and Literature from Drew University and a doctorate in Media Studies from New York University. He researches and teaches about numerous topics, including the history and political economy of modern technology and media, the social and political effects of the US military-industrial complex, the impact of neoliberalism on American and global society, and the aesthetics and politics of popular culture and entertainment. Sub-specialties within those topic areas include the histories and formal characteristics of print, film, radio, television and new media; the role of video-gaming in American society and culture; the history and practice of independent media production (with a particular focus on radio); and the critical study of genre fiction, including science fiction, fantasy, horror, and several types of comics. He has published essays in the journals Films for the Feminist Classroom and Communication +1 and in the edited volume, Global Manga: Japanese Comics without Japan. At present, he is working on a book that explores anticipations of virtual reality in the history of British and American gothic aesthetics from the eighteenth to twentieth centuries. It involves a trans-medial analyses of gothic architecture, aesthetic theory, literature, film, and videogames, with a focus on how the motif of sublimity informs the creation of virtual environments. Further down the line, he has plans for two additional books, one examining gender dynamics in speculative representations of cybernetic warfare and another exploring thematic and conceptual similarities in the work of medium theorist Marshall McLuhan and legendary comic book artist Jack Kirby.
Adam Tinkle
The short version: I am an artist, a scholar, and a teacher. I focus predominantly on sound; secondary interests include moving images, environments and histories. Now back to the beginning: I was born and raised in Portland, Maine, where I played in bands and participated in all-ages DIY scenes that gave me an abiding appreciation for participatory culture. I also had the great fortune of attending a unique jazz camp where I first learned of the outer realms of music, and which influenced my decision to seek out more such esoterica at Wesleyan University, where I earned a BA (magna cum laude), double-majoring in Music and Intellectual History. While there, I caught the academic bug, buried myself in cultural theory and wrote an honors thesis (under the supervision of ethnomusicologist Mark Slobin) on the 1960s-70s countercultural back-to-the-land movement, focusing on whiteness, pastoralism, and the aesthetics of country-rock. There, again, I was an active participant in a uniquely rich campus music scene. So, in addition to studies with Anthony Braxton, Alvin Lucier, Ron Kuivila, and Andrew Raffo Dewar, I played gamelan, made rock records, created installations, and collaborated on scores and immersive environments for dance and theatre. After spending a 5th year at Wesleyan on a Ford Fellowship, teaching academic writing and helping to lead the college's Writing Workshop, I decided to pursue graduate study at the University of California, San Diego in Integrative Studies (Music), a program that I chose because of its unique support for people pursuing both artistic and scholarly ways of making and knowing.
At UCSD, I began to develop a series of community engagement projects that would lead to my dissertation, The Expanding Universal: Participation and Pedagogy in Experimental Music, researched and written with the support of the UC President's Dissertation Fellowship, a UC Institute for Research in the Arts grant, and grants from the Yankelovitch and Samuel Lawrence Foundations. At a community center in Spring Valley, CA, a low-SES, underserved area of San Diego County, I co-founded the Universal Language Orchestra, an ensemble of novice musicians aged 8-12 who built their own instruments and composed their own experimental scores, and who met weekly throughout large portions of 2010-2013. (This project was the subject of a 2015 article in Leonardo Music Journal).

Flowing from the questions raised in the course of my teaching, which morphed into fieldwork, I developed a hybrid ethnographic/historical research project on the novice-accessible, "non-musician"-oriented dimensions and potentials of experimental music-making from the 1950s to the present. (One thread of this project, addressing pedagogies of listening, was published in Organised Sound in 2015.) My book manuscript in progress theorizes a dialectic of skill/deskilling/reskilling to rethink our culture's habitual yet pernicious divisions between "musician" and "non-musician." I look at artistic practices like soundwalks, graphic scores, documentary phonography, noisemaking, sonic meditation, and free improvisation to suggest ways in which musical experimentalism can inform both artistic and political ontologies, as well as, more practically, to suggest useful paths for participation-focused artists and community-oriented educators.

At UCSD, I studied music with some of the luminaries of the avant-garde world, including Anthony Davis, Mark Dresser and Charles Curtis, while studying musicology with David Borgo, Amy Cimini, and Jann Pasler. Some of the West Coast projects I am proudest of include audio recordings like Eidolon and etape, the record label Risky Forager, the Shantytown Scrapblaster (a sound sculpture permanently installed at the Media Arts Center, San Diego), and the Backcountry Sound Pilgrimage (a participatory anti-festival I curated at the Institute of Perception).
My work has been presented in venues ranging from the San Diego Museum of Art to the Birch Aquarium, from abandoned naval bases to the coat room underneath the stairwell of the Hammer Museum of Art (UCLA), from Joshua Tree National Park (where I was artist-in-residence) to the San Diego airwaves, where, as a founding broadcaster on KNSJ 89.1FM, the region's first community radio station, I made the inaugural sunrise broadcast.

Most relevant to my current teaching interests, I also began to do documentary-inspired narrative audio work while in San Diego, creating A Mess of Things, my first evening length performance, as my master's thesis in 2011. This piece incorporated live music, video projections, and audio interviews to create a layered exploration of memory and hoarding that draws on both radio documentary aesthetics and contemporary opera. The piece toured both coasts, winning prizes at both the 2011 Hollywood Fringe Festival and the 2013 San Diego Fringe Festival. In 2015, I produced a podcast with science-fiction novelist Kim Stanley Robinson that refigured material from a sound installation that I had made with Marina Abramovic. I am currently creating a locative augmented reality sound map on the grounds of a 250-year old farm in Bennington, VT.

At Skidmore, I have taught courses in Music, Arts Administration, Media Studies, Documentary Studies, and the Opportunity Program, and have served as a guiding faculty member in the MDOCS Storyteller's Institute.. My classes all ask students to combine artistic and academic ways of thinking and working. I have done a number of really fun projects at the Tang Museum, most recently SoundMind, a monthly series of site-specific workshops blending mindfulness, bodywork, and participatory soundmaking.