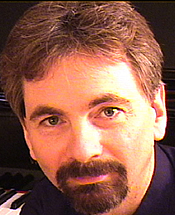 Anthony Holland
Associate Professor of Music
Composer, Conductor and Performer
Director: Electronic Music Studios
Conductor: Skidmore College Orchestra
Office: Zankel Music Center #320
Phone: 518-580-5328
Email: tholland@skidmore.edu
Conducting Positions and Repertoire
Selected Biography
Composer, conductor, electronic musician and performer Anthony Holland attended the Baldwin-Wallace Conservatory of Music in Berea, Ohio and received the Bachelor of Music degree in 1978 with concentrations in composition and vocal performance. From 1978-82 Holland was a scholarship student at The Cleveland Institute of Music and Case-Western Reserve University in Cleveland, Ohio, graduating with a Master of Music degree in composition, another Master of Music degree in music theory and a Doctor of Musical Arts Degree in composition. Holland's composition teachers have included Walter Winzenburger, Loris Chobanian, Donald Erb, and Eugene O'Brien as well as masterclasses with Olivier Messiaen, Joseph Schwantner, John Cage, Karel Husa, Robert Hall Lewis, Hale Smith, and Leslie Bassett. His conducting teachers have included Arthur Saarinen, Walter Winzenburg, Richard Stamp (London Sinfonietta) Dwight Oltman (Cleveland Ballet, Ohio Chamber Orchestra & the Baldwin-Wallace International Bach Festival), and Kenneth Jean (Cleveland and Chicago Symphony Orchestras).

During his college career, Holland worked as conductor and performer for The Cleveland Civic Light Opera Company in Cleveland, Ohio. During this same period he garnered much experience as a guest conductor for such groups as the Baldwin-Wallace Annual International Bach Festival and "Reconnaissance", a chamber group specializing in contemporary music. In addition to his work in conducting, he has appeared in many vocal performances in both choral and solo capacity. He has performed as counter-tenor soloist for the Bethesda Schola Cantorum and has given numerous performances with "Opera Excelsior", an opera troupe centered in the up-state New York region of the U.S.. Holland made his international singing debut in Darmstad, Germany in the summer of 1990 and most recently was a featured soloist with the Czech Republic's "Praha Musica Antiqua" in Telc, Czech Republic (1996).

Since 1982 Holland has been an Associate Professor of Music at Skidmore College in Saratoga Springs, New York. Director of the Electronic Music facilities at Skidmore College, Holland also serves as Skidmore's orchestral conductor. In 1988, Holland was Visiting Composer at Stanford University's Center for Computer Research in Music and Acoustics (CCRMA). Holland's works have been performed live and broadcast on radio across the United States, South America, western and eastern europe and in China. His works are published by Zalo, Southern Music and Cimarron Music. In 1991, Albany Records released a Compact Disc of his work "Three Poems Without Words" which has received international critical acclaim. In 1997, Albany Records released an entire CD devoted to the compositions of Anthony Holland. This CD included his critically successful concertos for piccolo and violin. Holland has won numerous awards and grants including several from Meet The Composer, the New England Foundation for the Arts, the Massachusetts Cultural Council, the W. M. Keck Foundation and the National Endowment for the Arts.

Professor Holland has written numerous well known works for flute, piccolo and flute ensemble, many of which have been performed at past National Flute Association Conventions including: The Global Village Samba [1994 NFA convention in Kansas City: National High School Flute Choir], Three Poems Without Words [1993 NFA convention in Boston] , Angstrom [flute ensemble][1994 NFA convention] , The Visions of Timberlaine [flute ensemble][1994 NFA convention] , Four New England Poems [1993 NFA convention], Concerto for Piccolo and Chamber Orchestra, Nostradamus [solo flute], Fanfare [solo flute], Saloon Music No. 2 [flute, clarinet & percussion] and Epitaxy [solo flute and computer generated tape]; and in 1990 made his Carnegie hall conducting debut in the World Premiere Performance of his work Sun Flight [flute ensemble and orchestra], which was commissioned by the El Camino Symphony of Palo Alto, California.
Hobbies
I have a number of interesting hobbies. Well, at least I think they are interesting. As you can see from the photo below, I very much enjoy traveling and most of my hobbies usually involve some form of travel. [If anybody from the I.R.S. is reading this, you'll also note that most of my travel is PRIMARILY for business reasons!]. I've seen a fair amount of the U.S. as well as western and central Europe. I spend a fair amount of time travelling in the Czech and Slovak Republics and have received a number of commissions from performers in those countries.
Anthony Holland relaxes in a gondola on the canals of Venice

About to dive the wreck
of the Chester Polling
off the New England
coast (depth 90+ feet,
water temp. 53
degrees F.)
My other hobbies "feed off" my love of travelling. SCUBA DIVING, for example, is one of my great loves. Sometime soon, I'll start posting my descriptions of dive trips I've been on. I've had the great opportunity to dive among the schooling hammerhead sharks of the Sea of Cortez in Mexico, after that, nothing much in life bothered me too much(!) The greatest dive locations in the world seem to be either in the Carribean or at the Breat Barrier Reef (GBR) in Australia. I'm slowly building up my dive resume until I have the confidence to dive two weeks on the GBR. Meanwhile, COZUMEL is probably my favorite dive spot in this hemisphere. If you haven't been there, and you are a diver.......you've just got to go!!
My dive certifications include: Advanced PADI Openwater & Senior SSI diver. I've seen some pretty wild stuff....including last summer when my dive buddy came up in Lake George and was paralyzed by the bends (he's about 99% recovered since then). That's when I learned that upstate NY is NOT a good place to get the bends!!!!! (long trip to the chamber in NYC !)
Little known historical fact: Here I am doing my share to help beat down the Berlin Wall just a few months after the official opening of "THE WALL".

After a while.....

I was able to make a few holes in the wall......
Here I am (center) meeting composer
John Cage (right) at the very last time
he was in Darmstadt, Germany
Related to my love of travel, I have always been interested in meeting other composers, dead or alive. The photo above, for example, is during a musical trip to Italy, when I took a brief time out to visit the grave of Igor Stravinsky on the cemetery island of San Michele, and some years before that I had some fun while in Paris, when I looked up the telephone number of the great French composer and organist Jean Langlais, phoned, and the next day spent several hours listening to him improvise and discussing the world of music. It was a thrill for me.
For a brief time I had little fun skydiving, but I thought that was just a bit too risky, so I took up fencing (weapons: foil and sabre). I managed to win a meet in college, of which I'm quite proud (1st place men's foil division), and the fencing seemed to go hand in hand with my conducting work (watch out horns!). I'm hoping to start up fencing again someday soon, its something nice to do in winter, when the local lakes are frozen over (forget it, I'm NOT an ice diver!).