One grad's journey
May 22, 2014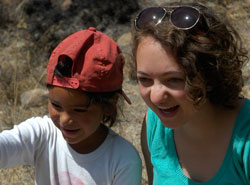 Sherpa with a member of her Mexican host family.
Eliza Sherpa's devotion to environmental issues has taken the form of grassroots organizing, collaboratively engaging with like-minded individuals, even civil disobedience. While a Skidmore student she acquired knowledge in navigating governmental and non-profit organizations, an ability to articulate her concerns, and gained valuable experience as an environmental advocate.
In her second summer of college, Sherpa, the daughter of Carrie Cohen and James Sherpa of Brooktondale, N.Y., spent 11 weeks bicycling across Massachusetts to promote environmental sustainability. She and 30 other college students participated in the New England Climate Summer, which promotes decreased reliance on fossil fuels.
Climate Summer students spread the message about the need for a rapid, responsible transition from burning fossil fuels for energy. It was one of many ways in which Sherpa worked with other students to spread awareness about environmental issues. Another such effort involved working with the Skidmore Environmental Action Club to raise awareness about the dangers of developing the Keystone XL pipeline and to protest the pipeline in Washington, D.C.
During the summer of 2012 Sherpa interned with Shaleshock in Ithaca, N.Y., where she learned the importance of grassroots organizing and direct action on key issues. She worked on anti-fracking initiatives across New York state, and collaborated with others to prevent access to the Hobet strip mine in Lincoln County, West Virginia. She was among 20 people arrested and charged with trespassing.
The arrest, said Sherpa, was "an important step for me to take, one that I believe strengthened my academic goals. It challenged me personally and intellectually and strengthened the skills I gained through grassroots organizing and anti-oppression work."
In the fall of 2012 Sherpa headed abroad with IHP Cities in the 21st Century, a program she pursued specifically "because it was not an environmental studies program." She explained, "I don't see environmental issues as isolated from other issues of inequality and oppression. I wanted to experience applying my standpoint to issues that don't appear as directly environmental." She spent four months traveling in Sao Paulo, Brazil; Cape Town, South Africa; and Hanoi, Vietnam; looking at urban inequalities, studying the major problems each city faces.
The experience prompted her to pursue additional courses in Skidmore's government department upon return. "While I appreciate what I've gained from my environmental studies at at Skidmore, I also wanted a deeper understanding of policy systems, violence, and other issues of inequality and oppression within the U.S. without solely an environmental lens," she said.
But before returning to Skidmore Sherpa took a semester's leave in the spring of 2013 to work with the Mexico Solidarity Network "to learn from social movements and those organizing autonomously in Mexico and to increase my Spanish proficiency."
As a junior Sherpa won a Greater Research Opportunity (GRO) Undergraduate Student Fellowship from the Environmental Protection Agency. Initially she hesitated to accept the award because it required working for the EPA as summer intern. She said she was torn between fulfilling the grant requirements and working on climate change issues that she felt "needed more urgent social action. I was hesitant to give up a summer's time that might be spent working on what I believe are crucial grassroots campaigns," Sherpa explained.
Visiting Istanbul
However, she said, "It's important for me personally to learn about the system that is allegedly in place to protect us and pressure government for stricter regulations and improved policies." She worked in the EPA's New York City office as an intern last summer, where her assignments included communications and specifically, blogging. She found people there who were "passionate and committed to their work," and said it was a valuable to learn "how to navigate these very complex systems."
A significant part of her senior year was devoted to her senior thesis, titled "An Exploration of Racial Dynamics in West Virginia's Coalfields," in which she looked at how issues of environmental justice were framed in the context of the fossil fuel extraction industry and the ways in which race intersects with coal extraction and mountaintop removal in West Virginia.
Sherpa has impressed her teachers. Her advisor, Bob Turner, associate professor of government, said, "She is destined for great things." He continued, "She is very passionate in her commitment to environmental change. In my environmental policy class, Eliza wasn't interested in what was going to be on the test, she was interested in the material because she wanted to change the world. Her passion and commitment to intellectual engagement in the issues was contagious for her classmates."
Associate Dean for Infrastructure, Sustainability, and Civic Engagement Karen Kellogg said, "Eliza is uniquely positioned at the intersection of business, policy, and activism, and she understands the powerful perspective she has gained through her early experiences. I can't wait to see what she does with her professional life—it will be amazing."
Skidmore, said Sherpa, was "a very challenging experience. I love learning and doing research. The College has supported the development of my ideals and given me time to learn complicated issues. Skidmore has been great in backing me and giving me flexibility to explore."
This summer Sherpa will head to California, where she plans to find a grassroots organization to which she can apply her considerable skill set. She is interested in learning more about prisons and incarcerated populations and looking at supporting reform of that system. She sees herself in the next five to 10 years as being "very drawn to macro scale policies around climate. I also think it's important to work locally and remain committed to one place and bettering it."