Bromberg concert at Skidmore
May 17, 2016
With his influences and partners ranging from Pete Seeger and Emmylou Harris to Keb' Mo' and the Beastie Boys, it's no wonder the New York Times has called David Bromberg "part of everything contemporarily musical"—not to mention "a brilliant entertainer." The eclectic, bluesy guitar virtuoso and singer is bringing his David Bromberg Quintet to Skidmore's Arthur Zankel Music Center on Friday, June 10, at 8 p.m. Tickets (buy online here) are $30 for general admission and $15 for students.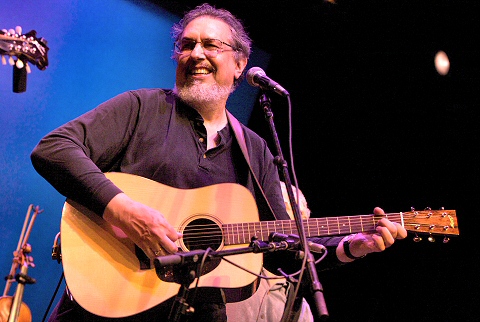 A Columbia University musicology major in the 1960s, Bromberg became a backing musician for Tom Paxton, Jerry Jeff Walker, and Rosalie Sorrels, among others, ultimately playing on hundreds of records by such greats as Bob Dylan, Link Wray, the Eagles, Ringo Starr, Willie Nelson, and Carly Simon. His solo at the 1970 Isle of Wight Festival in Great Britain led to his own recording contract, and his folk- and blues-based material expanded with each new album to encompass bluegrass, ragtime, and country.


But in 1980 he chose a slower lifestyle, moving to Chicago to study violin-making and then to Wilmington, Del., to start a retail and repair business for high-quality instruments. Later, in jam sessions with friends, his music-making and performance desires were rekindled, leading to the 2007 release of the Grammy-nominated album Try Me One More Time. Next came the 2009 Use Me, for which friends like Levon Helm, Los Lobos, Widespread Panic, Dr. John, and Linda Ronstadt each wrote or chose a song and produced Bromberg's interpretation of it; the documentary film Unsung Treasure tells the story of the album's creation. And in 2013 he and his band released Only Slightly Mad. In that album, his website promises, "fans will find blues, bluegrass, gospel, folk, Irish fiddle tunes, pop and English drinking songs happily coexisting," and newcomers will discover "an astonishing performer whose range and musical depth have delighted devoted audiences for over forty years."

For more about the concert and other Zankel Center offerings, click here.