Scrabble champ
September 25, 2017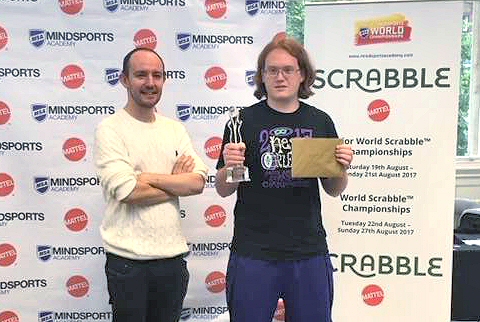 If you ask Matthew O'Connor '20 how his summer went after his first year at Skidmore, he'll just tell you that it was successful. Fact is, it was world-class successful. Coming home from England with £1,000 in his pocket, O'Connor began his sophomore year as a global Scrabble champion, having won the 2017 MSI Junior World Scrabble Championship, August 19–21, in Nottingham, UK.

O'Connor was one of four competitors who represented the United States at the tournament, and all of them finished in the top 20. He took first place with a 20-4 +2,236 record and a 15-game winning streak. Heading into the tourney, he says, he'd spend three to four hours each day studying and practicing.

He knows that drill, because he has already participated in more than 130 tournaments around the world and taken home 32 trophies. "I have been playing Scrabble against my mom since I was 4," O'Connor explains, "but I started tournaments when I was 8. I won a couple of youth events, and then started winning Division 1 tournaments in 2013."

His "junior" classification will last until his 21st birthday, when he will move into the unrestricted World Scrabble Championships, vying against even more experienced players.

O'Connor's highest-scoring word? Chorizos, for 221 points.