Art and science collide on the icefield
April 12, 2019
Imagine waking up at 7 a.m. enveloped in a vast, glacial landscape 3,000 miles from home.
There are no familiar signs of morning — no phone alarm, no TV, no showers, no toilet. It's just you, 22 new faces, your 46 skis and 50 glaciers.
Grace Juneau, a junior studio art major at Skidmore, certainly never imagined this. That is until her friend jokingly shared a listing for a student artist position in the Juneau Icefield Research Program, or JIRP.
Juneau humored her friend's joke about sharing a name with the frozen Alaskan locale. But then the humor faded.
"I liked the idea of not letting go of one of my passions," Juneau recalled. "I wanted to hold on to both art and science."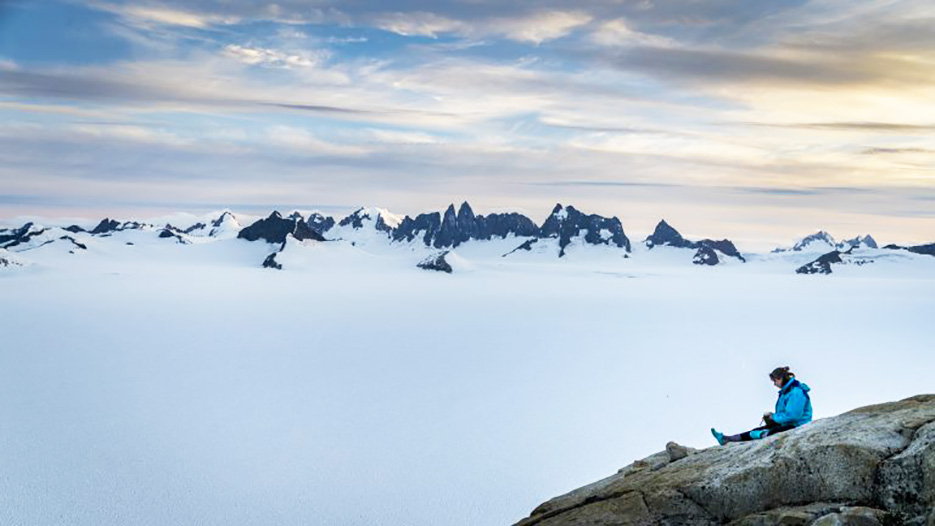 Grace Juneau on the Juneau Icefield
JIRP is an eight-week immersion in the wilderness of the Juneau Icefield, during which participants traverse from Juneau, Alaska, to Atlin, British Columbia. The Skidmore student artist selected for the opportunity participates in the expedition alongside other students and conducts scientific research while creating artwork.
Juneau took a risk and applied to the highly competitive program. Intuitively, she knew it was right, though she admits to second-guessing it because she "knew very little about glaciers or ice."
She landed the coveted spot and, thanks to an award from Skidmore's Career Development Center's Summer Experience Fund, would soon find herself in unfamiliar territory.
When Juneau arrived in Juneau, Alaska, the first leg of her journey required her to hike 8 miles and 4,500 feet in elevation to her first camp on the ridge of the Lemon Creek Glacier.
"I'd usually start the day with some oatmeal, dropped by helicopter. Then I'd ski alongside our geomatics research group," Juneau said.
"As the student artist, my main role was to help visualize the science, landscape and JIRP community. This ranged from sketches of life in the camp communities to timed paintings and small-scale drawings."
"But no matter how hard I tried, finite drawings just could not capture the sheer vastness and loneliness of the world up there," she said.
An illustration of the Llewellyn Glacier by Grace Juneau
JIRP includes multiple faculty-led, student-powered research expeditions covering everything from soil development in deglaciated zones to carbon weathering cycles and the isotopes that make up the various glaciers. Juneau's geomatics group was there to measure and interpret glacial movement and elevation changes in the ice field.
"It was a mix of research and extreme sports," she said.
Though Juneau considers herself to be an outdoorsy person, eight weeks skiing across the northern tip of the planet isn't quite the same as a casual jaunt in Skidmore's North Woods.
The expedition came with a strict exercise routine to "whip you into shape," said Juneau. "I ran, lifted weights and did core exercises twice a day for two and a half months prior to the trip. By the end of the training, I was hiking 10 miles with hills while wearing a 50-pound pack."
But even with this routine it was tough, she said, wincing at the memory of hours of skiing and achy hips. However, she said being "thrown into it" forced her to adapt.
Soon, life without toilets or mirrors, postcards instead of texts, wasn't so bad.
"It's amazing when something so strange becomes so normal," she recalled.
"Falling asleep each night, knowing you were going to wake up to that enormous emptiness again, always frightened me. It was so hard to think that it just goes on forever."
Upon returning to Skidmore, with abundant access to toilets and technology, Juneau began to unpack — physically and emotionally. As her inner artist looked at her scattered drawings with a new perspective, her greater work revealed itself.
"When I pieced together the scattered sketches and notes from my journey, I found a way to make sense of it all. Apart they were messy. Together they became concrete evidence of an experience that felt like a dream," she said.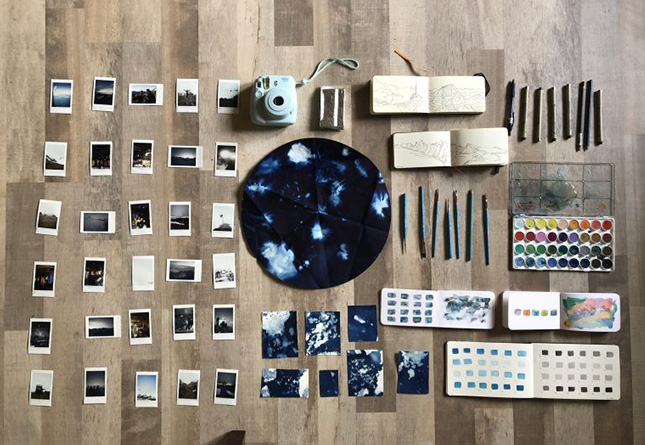 With the passage of time, Juneau said she has experienced a "maturing" of her memories.
She said the program "was an eye-opener for the range of transformational experiences available at Skidmore" and the importance of doing things that seem out of character.
"Here, everyone finds a unique opportunity to do something cool," Juneau said. "In its own way, Skidmore is a dream, too."