What comes next? Class of 2021 members look forward
May 21, 2021
Last August, the Class of 2021 arrived at Skidmore, or logged in virtually, for what proved to be an uncharted final year of college.
Making plans for life after college has never been easy as students and recent graduates continue to rediscover themselves and their places in the world. A global pandemic, political and social turmoil, and an unpredictable job market have further reshaped plans and raised new questions.
At the same time, the entire Skidmore community has found much to celebrate in the profound resiliency of these strong, capable, determined and prepared students and their many accomplishments during one of the most tumultuous years in recent history.
Success in this moment, and for all those down the line, will mean something different to each member of the Class of 2021, as it has for decades of Skidmore College graduates. As we look forward to celebrating all our 2021 graduates in the coming months and years, several already have some exciting news to share.
Michael Kamara
Major: Management and Businesses
After Skidmore: Working as an analyst for Blackstone
Michael Kamara has been working toward his goals since he first stepped foot on campus. He completed eight internships and five career and leadership development programs spanning the top names in the finance industry. He has also worked closely with Skidmore's Career Development Center to pass the knowledge he gained from his experiences on to other Skidmore students.
"When I embarked on this journey back in 2014 at Credit Suisse, I had no idea how much it would change my life," said Kamara. "Being a Black, first-generation college student and an immigrant, I truly hope this helps others who share my background see what's possible, inspiring them to not only apply, but achieve."
Jane Cole
Major: Art History
After Skidmore: Working at the Swiss Institute in New York City thanks to a grant from Skidmore Summer Experience Fund
While at Skidmore, Jane Cole worked and held several intern positions at the Tang Teaching Museum. As the 2019–20 Carole Marchand '57 Endowed Intern, Cole was invited to curate her own exhibition, "Enlivened, Aware, Awake: Symbols of Activism."
Through the exhibit, Cole sparked important conversations on campus about the origins and representations of three visual symbols — the Black Power fist, the LGBTQ+ Pride flag and the Wide Awakes eye — derived from and used in social justice movements in the United States over the past several decades.
"My work at the Tang Museum has had an enormous impact on my interests, skillset and ambition to work in the museum field post-graduation," said Cole. "I am so grateful for the guidance and support I received from Tang staff, especially Rebecca McNamara, Rachel Seligman and Ian Berry."
Atticus Rego
Major: Theater
After Skidmore: Pursuing a master's degree in opera and vocal performance at the University of Cincinnati College-Conservatory of Music.
Atticus Rego came to college not knowing what he wanted to do. He was passionate about singing and performance and (now retired) Senior Artist-in-Resident Will Bond helped him build his confidence on stage. But it was Sylvia Stoner-Hawkins '94, senior artist-in-residence, who, after seeing Rego perform in an a cappella group, encouraged him to formally pursue vocal performance as an art.
"I began studying opera and the more I learned, the more I enjoyed it. I then went abroad in the fall of my junior year and studied with a Royal Opera House singer and, upon returning to America, studied voice another baritone singer associated with the Metropolitan Opera."
Rego will graduate a voice competitor at the national level. Nominated for a Periclean award for his voice recital, he has a full-length opera performance under his belt, along with numerous other performances. Now, his dream is to sing opera all around the world.
Korotoumou "Katy" Ballo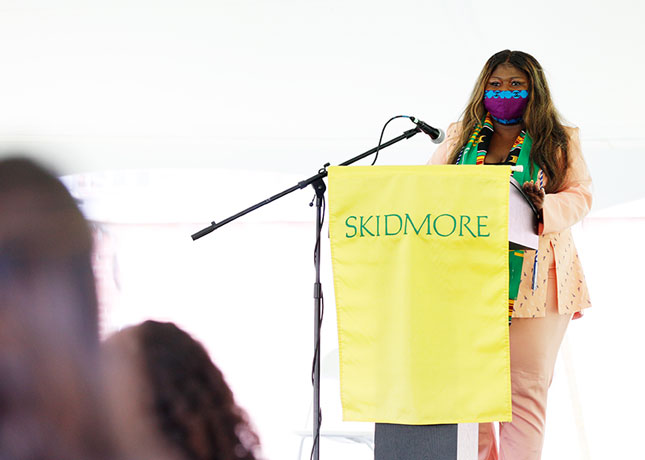 Majors: International Affairs and Management and Business
After Skidmore: Building the first community library in Anyama, Ivory Coast
When Korotoumou "Katy" Ballo first arrived at Skidmore, she said that her goal was "to be a voice for unheard girls." Particularly, fighting for girls' rights to education in developing countries. Four years later, she has made it happen.
As a winner of multiple grants over her time at Skidmore, including the Davis Project for Peace Award and a $15,000 Skidmore Post-Graduate award, she is spending her summer in service to children and families on the west coast of Africa before beginning a career in financial services at Ernst & Young (EY).
"I believe that education is a great equalizer to rebuild my community," said Ballo. "My solution is to bring the words of Nelson Mandela into action and build the first community library in Anyama that will be a center for peace and collaboration."
Shawn Sharifi
Major: Spanish, pre-nursing track
After Skidmore: Pursuing a master's in nursing at Johns Hopkins University to become a pediatric nurse practitioner.
As a two-sport athlete, student government member, brass instrumentalist, a former first responder, microbiology researcher and peer health educator, Shawn Sharifi had big choices to make about his time after Skidmore. All along, he felt called to help heal others and was encouraged by his mentors to follow what felt right.
"My advisors and research mentors made a huge difference in my life at Skidmore," said Sharifi. "They supported my journey as a first-generation college student. which helped me find success in ventures both personal and academic."
Even more news and plans
The students above are just five of the over 500 graduating seniors who are creating and defining their post-Skidmore lives. There will be more to celebrate in the coming weeks and months. And, in the meantime, a few more names and places our seniors are headed include the following:
Ayco, a Goldman Sachs Company
Benenson Strategy Group
Columbia University, Graduate School of Journalism
Columbia University, Teachers College
Columbia University, Arts Administration Program
Depository Trust & Clearing Corporation
EY
Federal Reserve Bank of New York
George Washington University, Environmental Resource Policy Program
Northeastern University, D'Amore McKim School of Business
Planned Parenthood
PURE Insurance
Rutgers University, Graduate School of Applied and Professional Psychology
Southern Teachers Agency
UCLA, Physics and Biology in Medicine Program
University of Pennsylvania, Dental School
University of Michigan, Social Work Program
Teach for America
The University of Southern California, Price School of Public Policy
Seattle Children's Theatre
Weill Cornell Medical Center
Yale University, School of Nursing