Skidmore receives national ranking for study abroad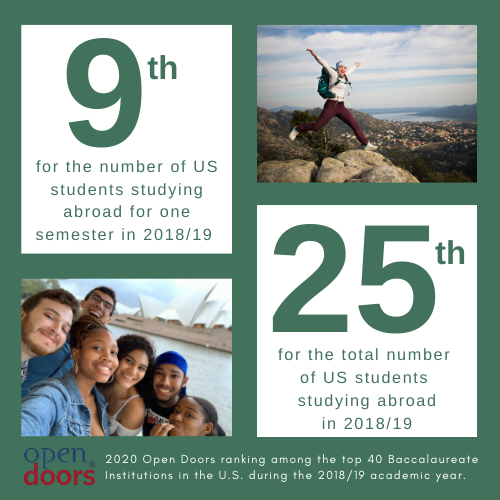 Saratoga Springs, N.Y., November 18, 2020 – The 2020 Open Doors Report on International Education Exchange, released on November 16, 2020, ranks Skidmore College 9th among the top 40 Baccalaureate Institutions in the U.S. for the number of students studying abroad for one semester during the 2018/19 academic year. Skidmore College is also ranked 25th for total number of students studying abroad in the same institutional category.
During the 2018/19 academic year, 360 U.S. students at Skidmore College studied abroad for academic credit, a 20% increase over the previous year. While the Open Doors Report only records U.S. citizens and permanent residents, an additional 47 international students also studied abroad during the same timeframe.
The majority of Skidmore students study abroad for a semester but Skidmore also saw an increase in students studying on short-term programs like faculty-led travel seminars. Skidmore College follows national trends with the United Kingdom, Italy and Spain as top destinations. Other top destinations for Skidmore students during 2018/19 were Denmark, Japan, France, and New Zealand.
The Open Doors Report announced that, nationally, 347,099 U.S. students studied abroad for academic credit during the 2018/19 academic year with about 16% of all students pursuing a Bachelor's degree choose to study abroad during their undergraduate program. In contrast, at Skidmore College, close to 60% of each graduating class chooses to study off campus at some point in their academic career.
The annual Open Doors Report, released by the U.S. Department of State's Bureau of Educational and Cultural Affairs and the Institute of International Education (IIE), is a comprehensive information resource on international students and scholars studying or teaching at higher education institutions in the United States, and U.S. students studying abroad for academic credit at their home colleges or universities. The U.S. study abroad population is defined as U.S. citizens and permanent residents enrolled in a degree program at an accredited, degree-granting higher education institution in the United States during the 2018/19 academic year, including summer 2019.
For more details, please see the Open Doors website or contact Skidmore College's Off-Campus Study & Exchanges office.