The London School of Economics & Political Science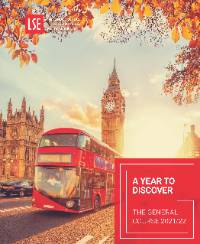 Situated in the heart of London, the London School of Economics & Political Science is one of the foremost social science universities in the world, specializing in a wide range of social science disciplines, including economics, politics, sociology, law and anthropology. LSE continues to be ranked among the top universities in the world.
Skidmore students can apply for the General Course at LSE which is a full-year program only. General Course students may study any combination of the 300+ undergraduate courses taught at the School.
Students on the General Course are fully integrated into the university – in classes, housing, and student life. In addition to the 200 clubs and societies run by the LSE Students' Union, we offer a tailored calendar of social events and subsidized weekend trips to European destinations, exclusively for our study abroad students.
Academics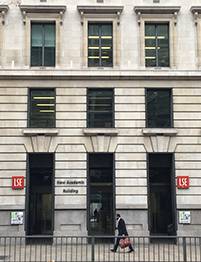 LSE offers a unique opportunity to study the social sciences in a university with a worldwide academic reputation, while enjoying the cultural, social and recreational facilities of one of the world's great capital cities. The School offers courses not only in economics and political science, but also in the full spectrum of social science subjects, taught within a range of academic departments and interdisciplinary institutes.
Skidmore students accepted to the General Course at LSE will be assigned to one of the 16 academic departments that offer undergraduate degrees. General Course students may study any combination of undergraduate courses across our academic departments, and their host department need not reflect their major interest. Please also view the undergraduate course guides , which provide information about all the courses currently available.
At LSE, classes are called units. Students are required to enroll 4 LSE units for the year at LSE, equivalent to 32 credits at Skidmore. The majority of courses at LSE are year-long, and a 1 unit course at LSE is equivalent to 8 credits at Skidmore. Some courses are designated as "half-unit" and would be equivalent to 4 credits at Skidmore. Typically, teaching for half-unit courses takes place only in one term. However, all courses, including half-unit courses, will have exams in the Summer term.
Eligibility
Preference will be given to students who meet the following requirements:
A minimum cumulative GPA of 3.3 for qualitative subjects or a minimum cumulative GPA of a 3.5 for quantitative subjects;
At least junior standing at the time of program participation
Ability to demonstrate, through personal essay and recommendations, the level of maturity and self-motivation needed to succeed abroad.
Applicants who wish to study only qualitative subjects at LSE, such as Geography, Government or Sociology, should have a minimum cumulative GPA of 3.3. Applicants who wish to study predominantly quantitative courses at LSE, such as Economics, Finance, Mathematics and Statistics, should have a minimum cumulative GPA of 3.5, including higher level calculus and linear algebra.
LSE will review each applicant's recent university academic record, what subjects have been studied, and the level of success in those studies. LSE is primarily interested in a student's academic work in social science subjects and will be especially interested in the quality of work in the fields which they might wish to pursue at LSE.
Any student receiving academic or physical accommodations at Skidmore should contact OCSE as soon as possible to discuss your program selection with a Program Manager and what accommodations may be available in London.
Housing
Students must apply for accommodation directly with LSE's accommodation office after being accepted. Please note: In the UK, housing is called "accommodation".
LSE offers a variety of styles of accommodation, all of which is within walking distance of the School. There will be a diverse mix of students in your Hall: undergraduates and postgraduates, home and overseas, men and women. All rooms feature high-speed internet access, and the vast majority of rooms are single, although there are a limited number of twin rooms available for those who prefer to share. When considering housing options, "catered" means that some or all meals are provided by the residence hall. "Self-catered" means that students have access to a shared kitchen and are responsible for cooking their own meals.
Program Dates
Students can only apply to study at LSE for the full-year.
Full-year dates: mid-September to mid-June
Upon arrival, students will participate in an orientation with IES Abroad, Skidmore's partner for additional student support in London. After the IES orientation, students will move into their university housing assignment and participate in the LSE orientation for study abroad students.
The year at LSE consists of 3 terms – the Michaelmas term (September-December), the Lent term (January-March), and the Summer term (April-June). The Michaelmas and Lent terms are teaching terms and the Summer term is a final exam period.
The application process for Skidmore in London: London School of Economics & Political Science is a two-part application process. Students must first submit a Skidmore in London application to Off-Campus Study & Exchanges (OCSE) to be approved for off-campus study at LSE. In addition, you must also submit an online application directly to LSE's General Course, which may include the submission of supporting documents. LSE will make the final decision on your application.
Application deadlines
March 15*

for the fall or full-year
*Early applications are strongly encouraged.