University of Westminster
The
University of Westminster
, one of the largest in the United Kingdom with over 22,000 students, operates on four campuses in London: Regent, Cavendish, Harrow, and Marylebone. Each campus is divided into schools specializing in distinct academic disciplines and departments.
NOTE: The Harrow Campus is not located in central London. The Harrow campus is about a 25 minute train ride from central London, and is located in London transportation zone 4.
With students from over 150 countries, Westminster is truly an international campus, offering our students a diverse community in which to study and live. The Westminster Student Union, a gathering place created and managed by students, offers exhibitions and shows, drama and cultural organizations, and club nights. In addition, the school houses excellent sports facilities, with an especially strong rowing tradition, and an integrated system of seven libraries that serve the major campuses.
Click on the photo below to access the webinar about studying at the University of London!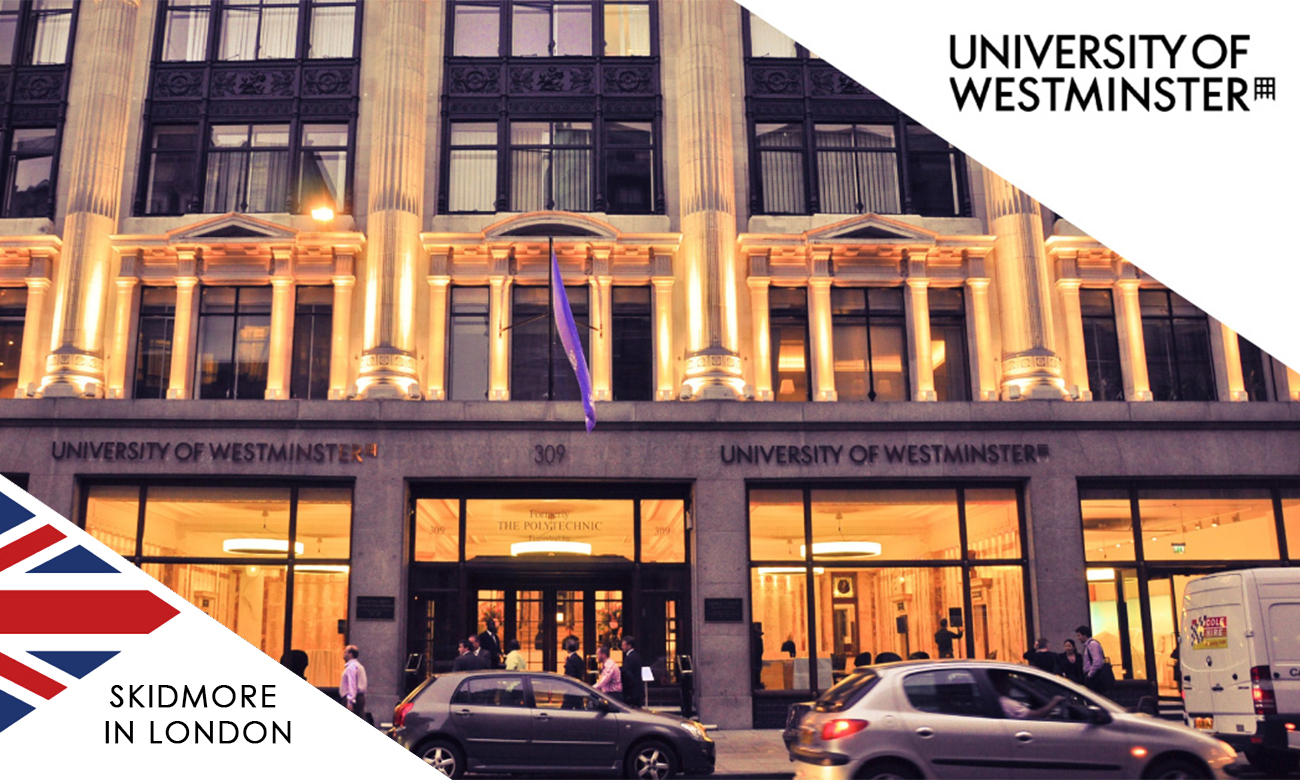 Academics
At Westminster, Skidmore participants are fully integrated into the British university system. Classes combine lectures with seminars or tutorials, the latter of which allows students to interact with their lecturer in a group discussion format. This is a typically British university in that students are expected to work much more independently than is the norm in the United States.
Students can choose the standard Study Abroad program at Westminster (enroll in 4 courses or modules) or the Internship Program (enroll in an internship + 3 modules). Each module at Westminster is worth 4 credits for a total of 16 credits for the semester.
Students can choose coruses from a wide spectrum of departments, including architecture and urban planning, biomedical and mathematical sciences, business and marketing, economics, English literature and cultural studies, geography, history, information systems, languages, linguistics, politics, psychology, sociology, and socio-legal studies.
Internship Programme
On the Internship Programme, students will participate in a part-time, unpaid internship for academic credit and choose 2-3 additional courses (or "modules"). Internships* are available in art, business and management, environmental studies, marketing, political science, psychology, and social sciences.
To earn academic credit for the internship, students are required to enroll in the Professional and Personal Skills Development module along side their internship. Internships are part-time and run for 12 weeks, until the end of the teaching period. Students will be expected to work approximately 14 hours over two to three days per week in their internship placement. Students will receive 5 credits for the Professional and Personal Skills Development module and hours worked in the internship placement.
Students on the internship programme enroll in the Professional and Personal Skills Development module (5 credits) and three modules (4 credits each) for a total fo 17 credits.

*The internship placements are final and those accepted into the internship program at Westminster are not able to withdraw from this option at anytime time. Please speak to the Program Manager if you are considering this option.
ELIGIBILITY
Preference will be given to students who meet the following requirements:
A minimum cumulative GPA of 2.75*;
At least sophomore standing at the time of program participation;
Ability to demonstrate, through personal essay and recommendations, the level of maturity and self-motivation needed to succeed abroad.
*Students taking classes in the subjects of Media, Arts and Design on the Harrow campus must have a 3.0 minimum cumulative GPA and may be required to submit a portfolio.
Any student receiving academic or physical accommodations at Skidmore should contact OCSE as soon as possible to discuss your program selection with a Program Manager and what accommodations may be available in London.
Housing
At the time of application, students must select to live in Westminster university housing and give their residence hall preference. Please note: In the UK, housing is called "accommodation".
Westminster provides housing for study abroad students in central London at Marylebone Hall and Alexander Fleming Hall. Students taking more than 1 course on the Harrow campus, will live on the Harrow campus in Harrow Hall, which is outside of central London. It takes approximately 25 minutes by train from Harrow Hall to the Marylebone campus.
All halls feature single rooms with common cooking and social areas. Some halls will offer private bathrooms (en-suite).
Program Dates
Students can apply to study at Westminster for the fall, spring or full-year.
Fall term dates: mid-September to mid-December
Spring term dates: early January to late May
Full-year dates: mid-September to late May
Upon arrival, students will participate in an orientation with IES Abroad, Skidmore's partner for additional student support in London. After the IES orientation, students will move into their university housing assignment and participate in the Westminster orientation for study abroad students.
The application process for Skidmore in London: University of Westminster is a two-part application process. Students must first submit a Skidmore in London application to Off-Campus Study & Exchanges (OCSE) to be approved for off-campus study at Westminster. In addition, you must also submit an online application directly to Westminster, which may include the submission of supporting documents. All students will be required to submit a portfolio as part of their application to Westminster. Westminster will make the final decision on your application.
Application deadlines
October 1 for the spring semester
March 15

for the fall or full-year