Brandon Borges '21
Undecided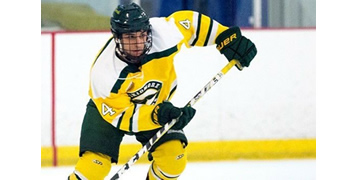 Brandon Borges

Achievement on the 2017-2018 academic year (including last summer)?
This past summer I completed the OP summer program. This fall I was fortunate enough to use the tools that were taught to me over the summer and apply them to my first semester, and earned a 3.64 GPA.

How did you choose your major?

I am currently undecided. My plan for trying to find a major that best fits me is by taking classes in different disciplines and eventually figuring out what best works for me. I am currently thinking about education or business.

What do you plan to do after Skidmore?
After Skidmore it would be a dream come true to be able to continue my hockey career overseas for a few years. If that doesn't work for me then I would love to use that connections made through Skidmore and try and get the best job possible.

Recommendations for incoming OP students?
My recommendation for incoming OP students is don't be afraid to ask questions, take advantage of the resources given to you, and most importantly take full advantage of the summer program, because that is what will have you ready for Sidmore level work.