April 2018 Opportunity Program Newsletter
Director's Note
Greetings from OP!!!
It is truly an honor to work with such amazing students. I love waking up each day and watching them grow. OP students continue to shine both inside and outside of the classroom. I am simply in awe. Similarly to all trends in higher education, OP continues to grow and change. With new staff and initiatives, we are excited to offer our students a holistic approach to support while here on campus and beyond. First and foremost, we want to support our students within their academic endeavors. While our students are bright and innovative, the rigors of Skidmore can be a challenge for anyone. That is why providing top-notch academic support, beginning with the five-week Summer Academic Institute, is a priority. We are fortunate enough to partner with other departments to ensure our students receive supplemental instruction but also gain additional skills that will lead them beyond the classroom.
My name is Kelli Johnson and I am the director of the Opportunity Program here at Skidmore College. While I have only been in this role for a year and a half, I have been working with HEOP since 2009 and grant- funded programs since 2003. I am originally from Upstate New York, but traveled to Arkansas (yes, I said Arkansas) for both my undergraduate and graduate degrees. Eventually, I missed family and four seasons, and decided to come back home. It feels so good to be settled back home and working with students who inspire me every day.
We all know that learning happens outside of the classroom as well. It is also our mission and practice to provide our students with social support, exposure to new opportunities, and a place to feel welcome and safe to express themselves. Through workshops, lunches, hikes, individual conversations and more, we aspire to equip and empower the students with skills that will help them now and beyond graduation. Opportunity Program students continue to be leaders in the classroom, student organizations, internships, and post-graduation positions.
Thank you for taking the time to read a little more about the Opportunity Program at Skidmore College. With close to 50 years of existence on this campus, we look forward to a continued partnership with the college and New York State Education Department as a way of changing lives.


---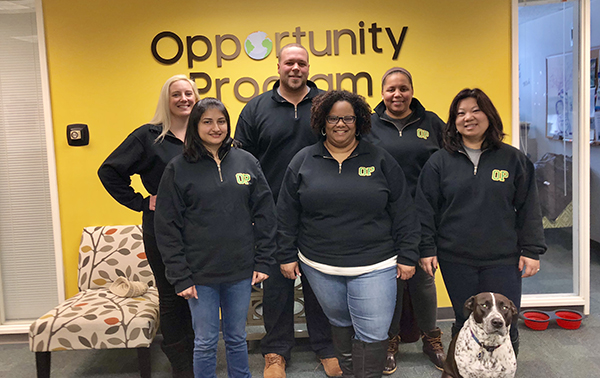 Staff News

Aaron Ray, OP's Coordinator of Admissions and Summer Academic Institute, submitted his final capstone for the Master of Science in Organizational Leadership from Quinnipiac University in Hamden, CT on December 16th, 2017. He will be walking at graduation on May 12th, 2018. While he believes this degree will help him in his work here at Skidmore College, Aaron hopes to start a non-profit college access organization one day that serves students, similar to that of OP, who are starting and navigating the college admissions process.
Zartasha Samson, OP's Learning Associate for Writing and the Humanities, recently graduated with a doctoral degree in English Literature and Language from Binghamton University with a concentration in Creative Writing. She is the creator and editor of our online literary magazine Chrysalis. She will be leaving us this summer for a new beginning in Silver Spring, Maryland with her husband and two children, where she plans to devote more time to her family and writing.
Meghan Carpentier, the newest addition to the OP office, is the Coordinator of Success and Retention. Meghan joins us from Binghamton University where she worked in career services for their School of Management and Watson School of Engineering and Applied Sciences. She has also worked in Residence Life for 4 years. Meghan earned her B.S. in Psychology from Fordham University and her M.Ed. from the University of Delaware where she focused on Higher Education Administration. Meghan is originally from the Albany area. Outside of work Meghan enjoys Broadway shows, watching the NFL (Patriots specifically!), relaxing and seeing family.
Devin Madkin, our Administrative Assistant, is the face of our office. She joined the OP team on March 8th, 2017, and has been spreading lots of love and sunshine ever since. Devin is a Music Industry major (2014) who loves to sing and socialize. She always makes our students feel welcomed and is supportive of everyone. She is obsessed with the TV show Scandal; and we hope to be as supportive of her as she has been of us, when the show ends in April.
Eun-sil Lee, Coordinator of Upperclassmen Initiatives, has a doctorate in Social Welfare and has a passion for research. She has created and oversees a semester-long academic research mentorship program for the past five semesters called the Growing Outstanding Aspiring Leaders (GOAL) program. The GOAL students do research and community service each semester. This semester, students have chosen to support a fellow OP classmate who is from an indigenous tribe in Mexico. Students will be organizing a collection during the months of April and May for Spanish Language books and recreational sports equipment to be donated to their classmate's former schools in the Oaxaca region of Mexico.
---
Student Spotlights
Amanda Gomez
, a first-year student, is a member of UJIMA, an Afro-descent Caribbean club, and is part of their Step team. She is also a member of the Raíces club which supports students from Latin-American backgrounds and spreads awareness about the Latin culture and history. She is interested in sociology and hopes to work in education as a teacher and therapist. She is currently taking introductory courses in sociology and intergroup relations to explore issues of social justice and racial identity. Amanda is also a blooming artist and poet. Her work has been featured on
Chrysalis
.

Brittany Watts-Hendrix
, a sophomore and creative go-getter, brings her ideas to life. She wanted to provide others a safe place to be themselves. The radio show
Pass the Mic
is her brain-child. It is a platform where underrepresented folks are given the opportunity to be whole and talk about themselves and their unique experiences. Guests from all walks of life are invited once a week and are asked to participate in conversations about personal and social issues. Brittany also writes poetry. Her poems and other work has been published in
Chrysalis
. She recently acted on stage in a play called
The Colored Museum
.

Cambel Iribuka
is an International Affairs and French double major. He is the event coordinator for African Heritage Awareness (AHA) and an office assistant for the Opportunity Program. Most days he can be found at the OP office greeting visitors and assisting the staff with several projects. Cambel also plays for Skidmore's intramural soccer team.

Olga Kanyansi
is a senior and an International Affairs and Business double major. She is a student worker in the Business department. She is also a student consultant for Freirich Business Competition, where students compete to win $20,000 to pursue their business venture. Olga also works as the Head Tour Guide for Admissions and arranges special tours. In the past, she has been the co-president of African Heritage Awareness. Olga also had the opportunity to study abroad in UAE, where she attended Arabic and religious studies classes.

Eleuterio Ramirez,
a senior, is working on completing his degree as a Math major with a minor in Physics. Eleuterio had two photography exhibitions in 2017, one of which told his story in photographs from his hometown in Oaxaca, Mexico. His second exhibition showcases work by his 3rd-6th grade students who learned the art of photography from Eleuterio. He has won two photography competitions. Currently, he is working on a documentary about his hometown and working towards setting up a library there. Eleuterio is very proud of his Triqui heritage.

Tenzin Gyaltsen
is a Chemistry major who is also minoring in Physics. He moved to the United States from Nepal in 2013. Currently, he is working on developing a urine test to detect malaria. In the summer he built an instrument to analyze chips that are used in detecting the disease. Tenzin is also the vice president of Asian Culture Awareness (ACA). He loves to sing, and has performed for several ACA events in the past.

Edvinas Rupkus is double majoring in Economics and Business. He is also Skidmore's star athlete. Edvinas has been playing basketball since the age of 5. He is not only proud of being a student at Skidmore but he is very proud of being a student athlete. Edvinas likes to support other teams on campus. He wants to have an impact on the community and young people, and wants to show that both education and sports are integral to an individual's growth. Edvinas is also a part of the Investment Club which was created many years ago. He and other members are trying to reinvigorate it through donations from alumni and other sources. They want to start a legacy and give back to the college. Edvinas was recently selected to the 2017-18 CoSIDA Academic All-America® Division III Men's Basketball team for the second straight year.
---
OP Events
UPCOMING EVENTS
April 9th, 2018, 6-9 p.m.
Natural Hair Care Workshop
Gannett Auditorium
April 12th, 2018, 6-8 p.m.
Financial Planning Workshop,
Session Three: Debt Debunked
Palamoutain Emerson Auditorium
April 17th, 2018, 5-7 p.m.
Interview Workshop with Aaron Ray
& Meghan Carpentier
Ladd 206
April 19th, 2018,
11:30 a.m.-1:30 p.m.
OP Lunch: Life Skills
ICC, Case Center
We are happy to announce an exciting learning opportunity for our students, the OP Mentorship Program, which was made possible by our alumni and their desire to give back to the OP community. Autumn Bush '07, Cynthia Cheung '06, Jose De La Rosa '07, Marleny Diaz '07, Sophia Ferguson '06, Dolores Osei-binfor '06, Karina Perez '07, and Gil Rodriguez '07 have generously partnered with us to provide our current students with life and career coaching. On February 3rd, 2018, these amazing alumni made time to speak to our students about their own experiences and challenges during their time at Skidmore.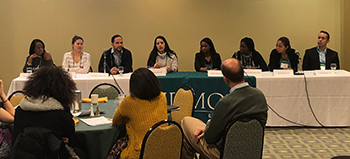 It was a proud moment for the entire OP family to see our former students return as successful professionals, whose careers range from medicine, education and research, to information technology and business. Our students received wonderful advice on surviving difficult transitions in life and academics. Everyone on the panel frankly spoke of their initial resistance to change and eventual acceptance of life at Skidmore. When asked what they would tell their younger selves, they all agreed that they would encourage themselves to ask for help and fully utilize resources offered by the program.
OP works hard to create opportunities for students to socialize and learn things that will benefit them in their academic careers. Once a month, we invite our students to lunch at the OP office, where guest speakers from other departments join us to share information regarding various topics, such as the study abroad program and MDOCS. Our future topics include stress relief and life skills.
This year OP students also campaigned against proposed budget cuts to HEOP and other funding which would increase student debt in the future. Some participated in the 2018 Legislative Advocacy Day and met with state legislators to discuss this issue, while others advocated through post cards and Twitter. We are happy to report that full funding for HEOP, TAP, and the Foster Youth College Success Initiative has been reinstated.
Currently, OP is offering Financial Planning Workshops to help students obtain valuable information about topics like budgeting, savings, and dealing with debt. These workshops are led by financial experts who patiently take our students through the process of gaining financial literacy and answer questions as they arise.
In addition to the Alumni event and the Financial Planning Workshops, OP regularly offers other programming and learning opportunities for students. Last fall, Dr. Samson and Dr. Lee chaperoned the Academic Writing class on a field trip to the historic village of Sleepy Hollow, New York, where our students took an exciting guided tour of Sleepy Hollow Cemetery. Our students had the opportunity to learn about the history of its famous residents and study various popular architectural designs used in building extravagant mausoleums. The students even had a rare chance to stand inside the receiving vault where bodies were kept before burial in the pre-1900 era.
In the Fall, Mr. Aaron Ray and Dr. Lee took our students to the scenic Cascade Mountain for a hike. Cascade Mountain is located in the Adirondack Park and is known for its many waterfalls. The students braved the winds and the cold to scale the mountain and returned with a sense of achievement. We hope that these small challenges revive and give them the assurance that anything can be accomplished through hard work.
Our students also went to New York City for the Kettering experience to see Wicked on Broadway. Some of them had the pleasure of visiting Time Square and Central Park for the very first time. We will continue to provide them with new learning experiences and hope such opportunities polish them as individuals and encourage them to seek adventures of their own.
---

OP Pets
The Opportunity Program office is one of the most pet-friendly offices on campus. Occasionally, you'll find the OP students and staff gathered around some furry friends for fun and relaxation. Colleges across the country are realizing the benefits of pet therapy which reduces stress and helps students break away from the pressures of school.
We are thankful to Dr. Eun-sil Lee, and our students, Celeste Munoz Perez and Katie-Anne Matraw, for sharing their pets with us. Dr. Lee's baby boy Bayou, a 4-year-old German shorthaired pointer mix, is a regular visitor to the office. He is a very well-behaved dog who loves walks and interacting with people. He is patient and will make you fall in love with him. Bayou spent many tireless weeks seeking attention from Kelli Johnson and Zartasha Samson, and we are happy to report that the three are now good friends.
Celeste's puppy Ollie is another addition to the OP pet family. This adorable little guy loves attention, and gets more than his fair share when he visits the office. Although not a regular visitor, Katie-Anne's kitten Serena wows everyone with her beauty and grace. Our pet friends are so popular that students and the campus staff often stop by for some playtime between business and classes. We love pets! If you want to show off yours, come on down to the OP office.