Fall 2022 Opportunity Program Newsletter
a warm welcome to our class of 2026 students
The 2022 Summer Academic Institute (SAI) offered an enthusiastic welcome to 29 new OP students. Drawing from as far away as Kenya and as near as Troy, New York, we brought in some truly unique folks with astonishing, diverse interests. Their energy and excitement were a breath of fresh air and made for a really fun summer!
In our ongoing efforts to keep the SAI experience updated and exciting for these bright minds, we were proud to announce a brand-new credit-bearing course: Intro to Gender Studies! This offering joined Breakthroughs in Physics and Intro to Anthropology to ensure there was something in the summer curriculum that would excite everyone; the students learned and experienced so much in all of the courses. These electives were paired with the usual fare of Critical Reading, College Writing, and countless workshops on campus resources to leave our students as thoroughly prepared for the academic year as possible. As always, it was truly awesome to witness their growth over the five weeks as they got their first experience of Skidmore.
Though a rigorous academic schedule is always at the core of the SAI experience, one of the biggest pieces of news to celebrate for 2022 was a return to a full schedule of off-campus weekend excursions. Some of our major traditions, such as a trip to Great Escape, a boat cruise on Lake George, a tour of Howe Caverns, and a day of roller-skating and go-karts at The Fun Spot, were back in action and full speed ahead!
Even just on campus, students managed to fill the summer with good times. We had many talented singers and musicians go all out for a talent show, and we even had some skateboarders rolling around campus. We really aim to give students a taste of what both the Skidmore campus and the surrounding community have to offer with the summer activities, and the students had a blast.
All of our new OP scholars did such impressive work over the summer, and they've already started to rack up creative projects and outstanding achievements. We're so happy to have them join our community!
---
2022 Events and Programming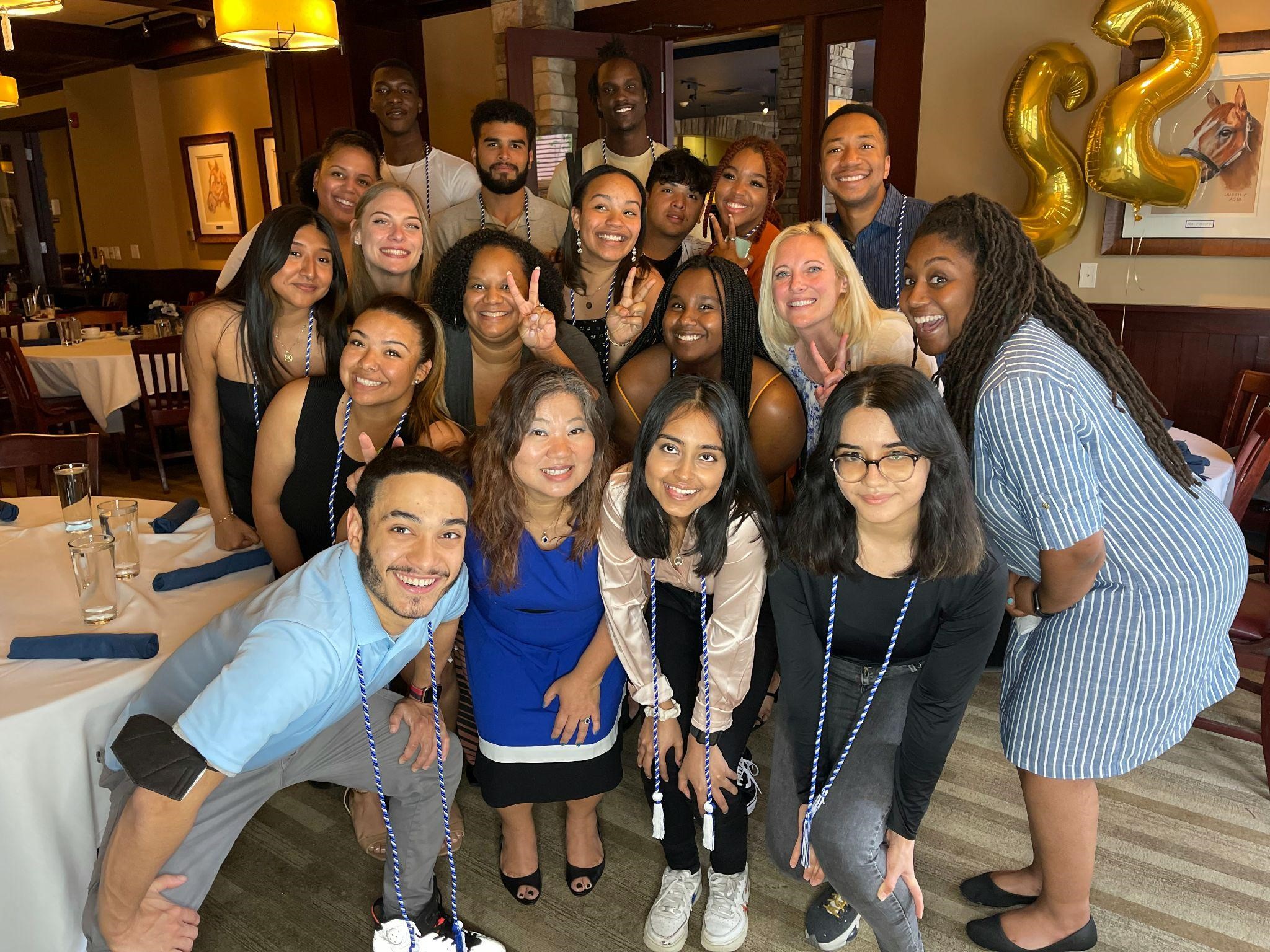 During the spring semester and into the summer, our calendars overflowed with fun events and programming. Sometimes it was hard to even keep track of all the goings on, but we got to see so many smiling students!
Many familiar — but important — events from past years reappeared throughout the spring, including wellness programming, a March Madness career and internship prep series, Adulting 101, and a finance workshop. OP staff and our partners across campus and the local community offered a little of everything to make sure students were supported from all angles. Kelli Johnson also returned with the second installment of her wildly popular Cooking with Kelli virtual culinary demonstration. This time, students at home followed along to customize their own mouthwatering stir fry recipes.
Adding to our more delicious offerings, one of the biggest pieces of news for the semester was the return of catering to academic programming. We celebrated the easing of pandemic restrictions with a Chat and Chew event in which we drew a huge number of students back into the OP office to mingle and eat to their heart's content. It was so much fun, and the food wasn't too shabby either!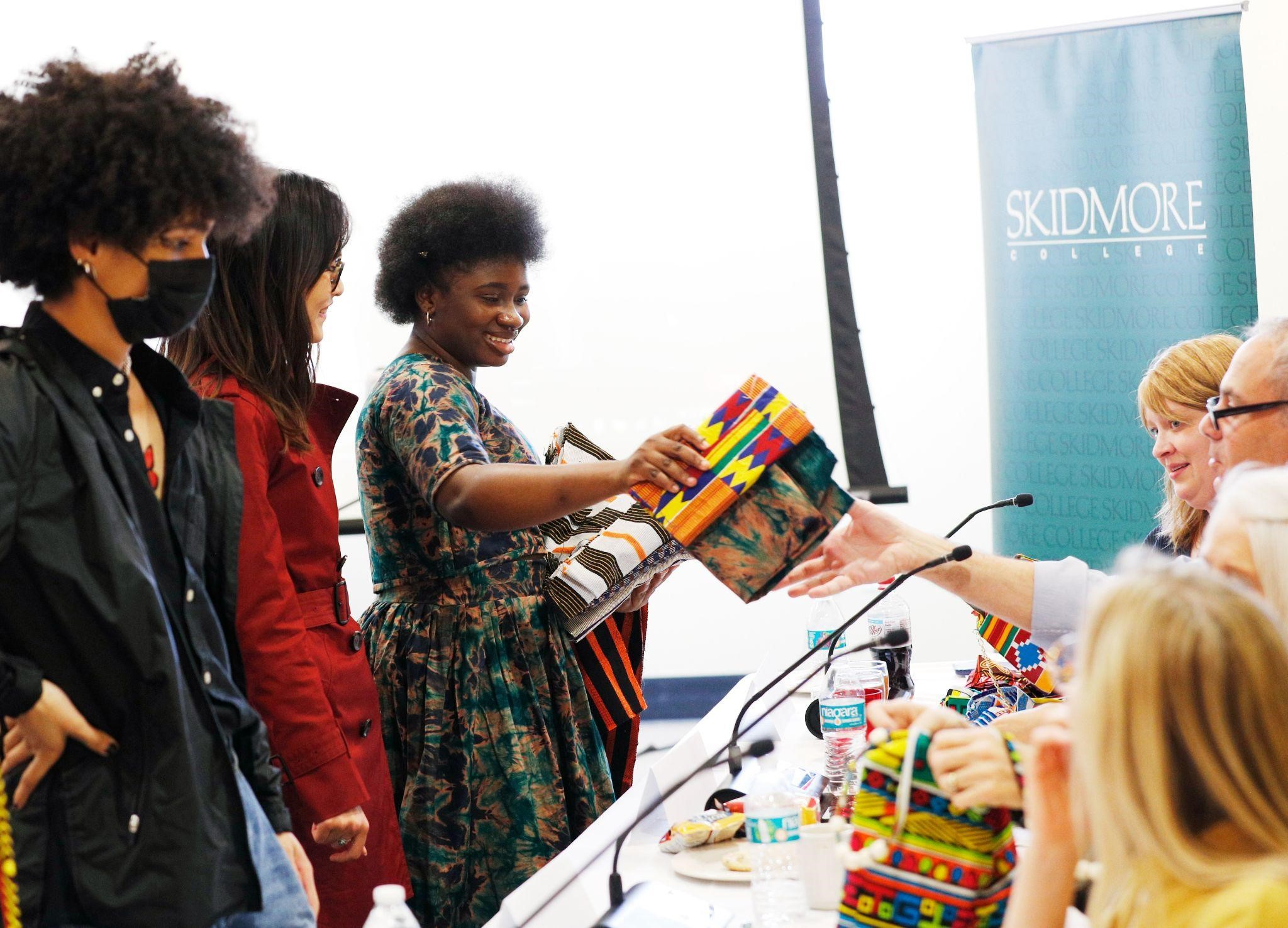 As always, though, the real news is all the amazing accomplishments of our wonderful OP students. Malika Sawadogo '24 took fourth place in the Kenneth A. Freirich Entrepreneurship Competition and secured some handsome funding for her textile and clothing business focused on traditional prints from Burkina Faso. Keep an eye out for her amazing goods and for the forthcoming documentary on traditional fabric-making techniques that she shot in Burkina Faso over the summer. In Davis Project for Peace Awards, Ntsetselelo Dlamini '24 took the top prize and secured funding for his exciting project to give fresh perspectives to STEM education in Eswatini. We have no doubt that this award is just the start of some truly transformative work he'll do there. We couldn't be prouder!
Closer to home, we had a number of scholars stick around throughout the summer for faculty-student summer research and S3M research opportunities. It was great to bump into Leo Parra '24, Jonathan Ramirez '25, Brigitte Yunda '23, and A'Myilah Wright '25 around campus all summer, and their presentations and posters on their STEM research were all very impressive. We look forward to seeing these sharp minds contributing even further to their fields in future projects.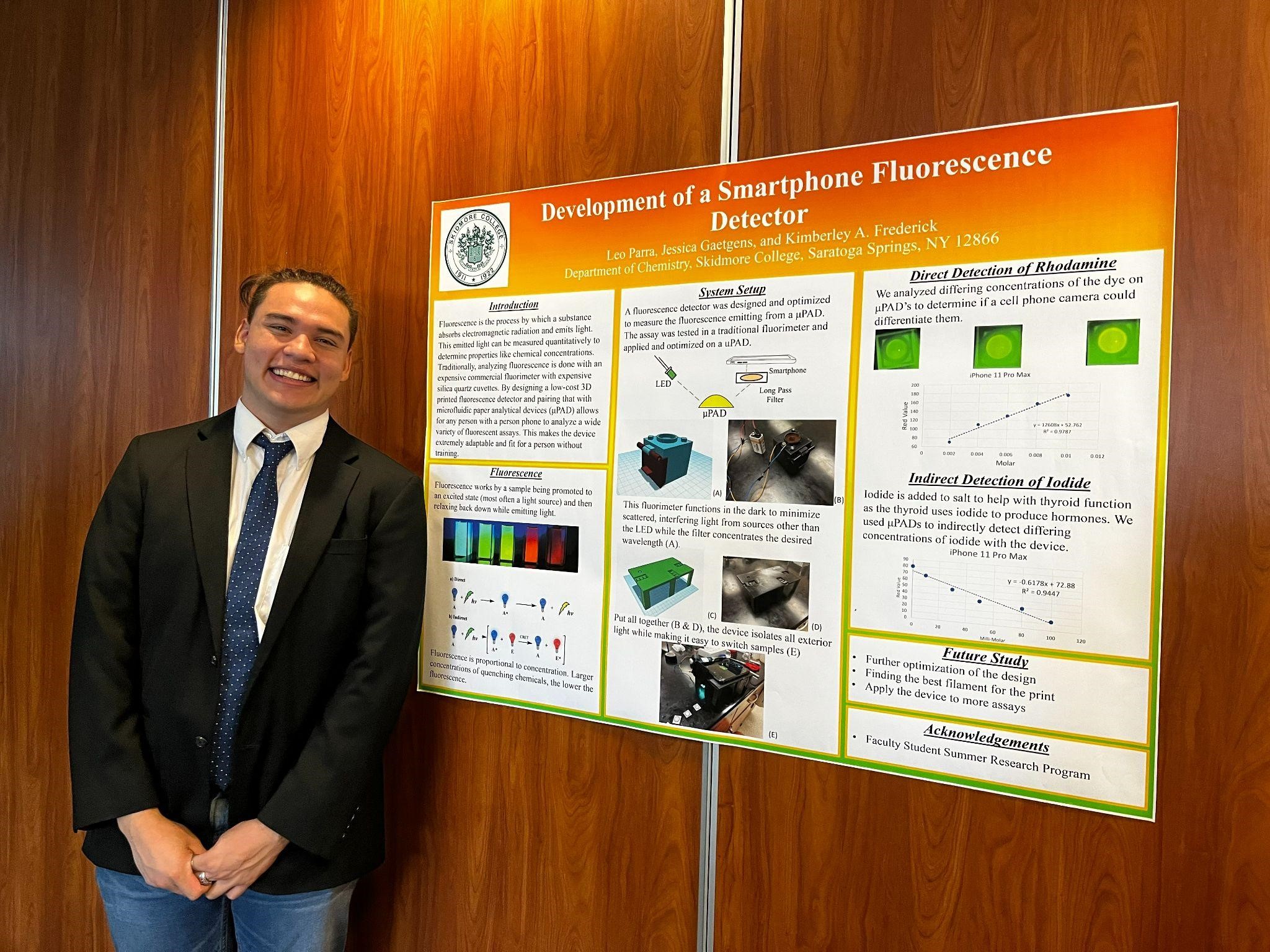 OP's Growing Outstanding Aspiring Leads (GOAL) program also had another successful year, with two students taking on mentored research projects in the social sciences. End-of-year presentations from Yasmin Reyes '24, focusing on "Social Capital Rehabilitation and Recidivism," and Katherine Norales '24, examining the topic "School to Prison Pipeline," drew an eager audience and led to thoughtful conversation.
Fittingly, the academic year ended with a slew of fun events and trips to calm everyone's nerves during the hectic finals period. Our Ohio OP students from the Kettering Program took a weekend jaunt to New York City for their yearly trip. They toured the Met, did some shopping, and hit as many delicious restaurants as possible.
New York City for their yearly trip. They toured the Met, did some shopping, and hit as many delicious restaurants as possible.
The OP community also feasted on a bittersweet dinner for our Class of 2022 Senior Send-Off Celebration. OP staff and the graduating class gathered at Jacob & Anthony's in Saratoga Springs for one last hurrah while they were officially Skidmore students. The event served up delicious food and bountiful memories. We will really miss the Class of 2022, but we know they will go on to change the world.
Finally, amidst all the hectic activity of SAI and the preparations for fall, we couldn't forget about our international students who are stuck on campus during the summer months. In August, OP and Student Academic Services (SAS) teamed up to host a kayaking trip on Saratoga Lake specifically for international students and some friends who were still around campus. We had quite a turnout and launched our own Skidmore armada to take over the lake. A number of folks were out paddling for the first time, and they took to it like naturals as we explored every corner and even caught some fish!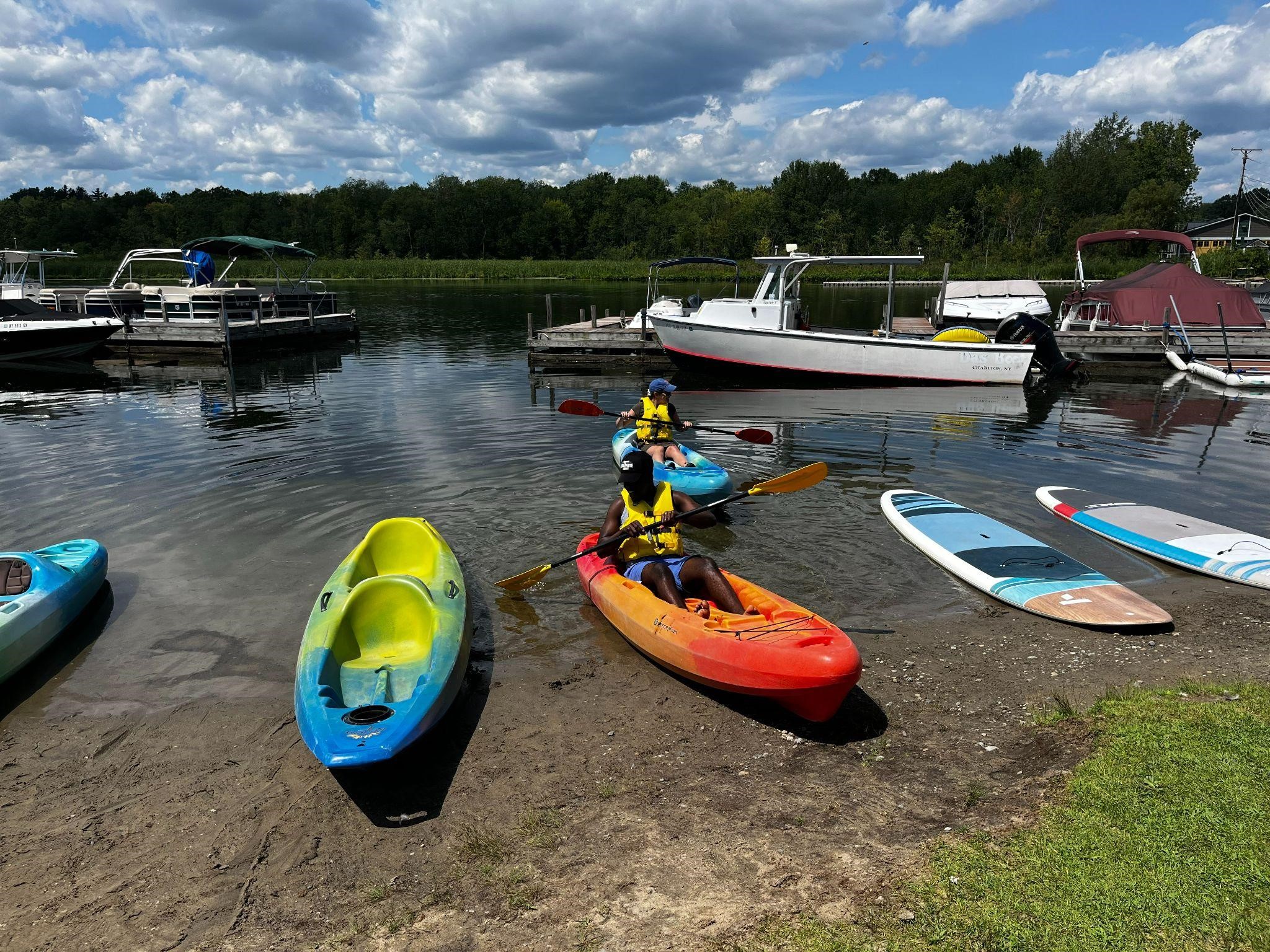 It has been an excellent year so far, and we can't wait to update you on all the adventures we have in store for the fall!
---
op student spotlight
My name is Brandon and I'm from Queens, New York. I'm navigating toward a degree in management and business. I come from an Ecuadorian household and have always been taught to challenge myself and to find opportunities that could strengthen my character and make me more knowledgeable.
I heard about Skidmore through my high school teacher and guidance counselor, who helped me throughout the application process. I was told that Skidmore was a rigorous and challenging institution, something I knew I needed to expand my knowledge and overall mindset. After having so many experiences with many cultures and groups of people in the city, I had grown accustomed to my community and had not planned to move away. However, with the help of my teacher, I later realized that a change in environment could benefit me and help me distinguish my strengths and faults as an individual. After being accepted into Skidmore through the HEOP program, the next step was completing its SAI program. It was a rigorous program, but with the support of the staff and resources, I felt challenged but comfortable at the same time.
In my personal time I tend to skateboard alone or with some friends, and I enjoy weightlifting. I find that doing any type of physical activity brings me a sense of calm afterward. Other than that, I also tend to resell sneakers, which is very popular in the city and is what began my interests in finance, commerce, and business.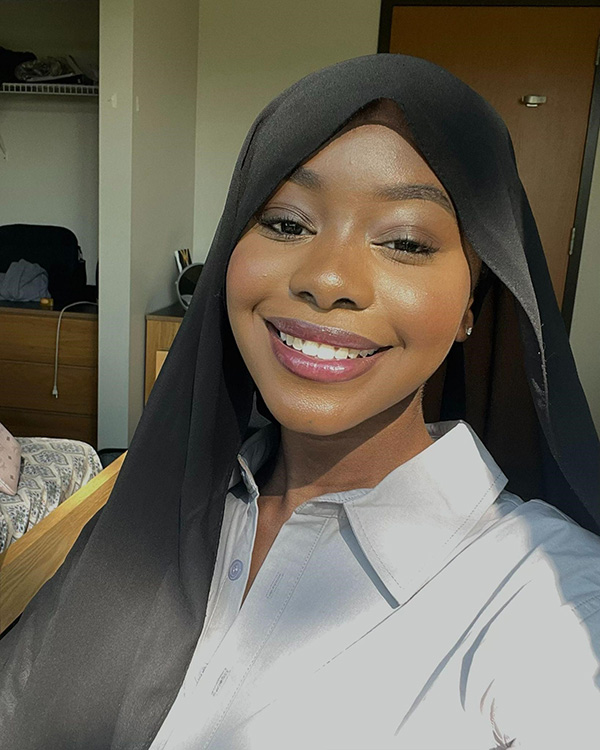 Haja Trawally '26
My name is Haja and I am an OP first-year student at Skidmore. I was born and raised in New York City. I came to Skidmore partly because it isn't too close or too far away from home, and partly because I want to be academically challenged; I know Skidmore is the place for that. Aside from school, I love going out to eat with friends, traveling, and watching movies.
At Skidmore, I plan to pursue computer science and possibly minor in Black studies. In the future, I hope to pursue a career in the STEM field as either a computer engineer or software engineer. As of right now, I am stuck between computer science and engineering, and both fields are definitely areas that I will look into during my time here.
During this academic year, I plan to participate in some of the clubs that Skidmore has to offer, such as Ujima, the Muslim Student Association, and the African Heritage Club. If anything, I would love to try something new and step out of my comfort zone. Embarking on this journey as a college student definitely won't be easy, but I am excited to see what Skidmore has to offer! I am also open to any suggestions, as well as opportunities in any of the fields mentioned above, so please feel free to reach out!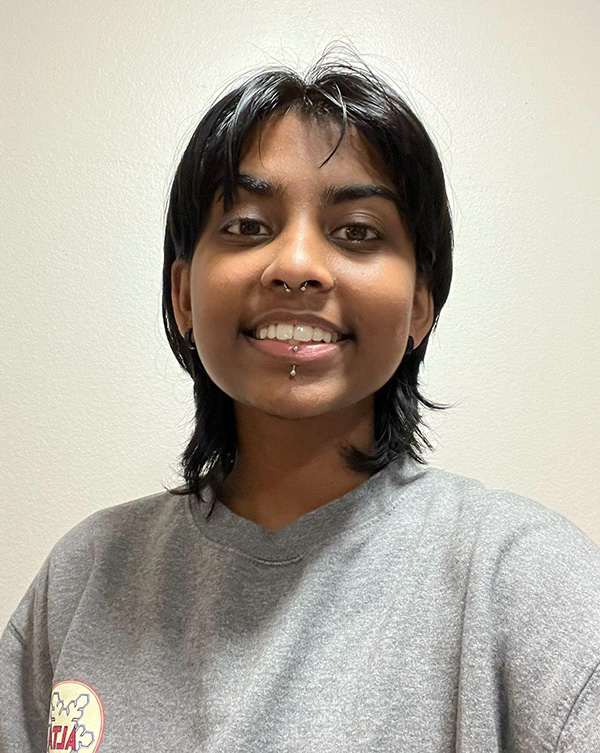 Soren Balkaran '24
My name is Soren and I am from Jamaica, Queens, in New York City. I am currently a junior majoring in art with a focus on digital media. I found myself at Skidmore College in the Opportunity Program because of a last-minute recommendation by a college advisor who was a recent Skidmore graduate and thought I would be a great fit for the school. I have always been interested in studio art, so when I entered Skidmore, I decided to take up the art major and digital media concentration. I take classes related to design, animation, and photography.
In most of my free time, I am trying to develop my art, but outside of that, I take Japanese language classes. I am in the Japanese club on campus, and I hope to study abroad in Japan during my time at Skidmore.
After my time at Skidmore, I hope to pursue further education in digital art. I am interested in 3D animation and 3D modeling for games and possibly animation projection. I hope to build up the portfolio and resources to freelance and create and share my own story through my work.
Ntsetselelo Dlamini '24
I was born and raised in the Kingdom of Eswatini, located in the heart of southern Africa. However, my journey to Skidmore College began in Freiburg, Germany, where I was completing an international baccalaureate degree. That is when I first heard about Saratoga Springs.
I am a mathematics and economics double major. I decided to pursue this combination because I am always in awe of the beauty of mathematics, and I am interested in its application to solve problems in economics. In the future, I might pursue a graduate degree in economics because I would like to work in the field of development economics with a focus in Sub-Saharan Africa.
Outside of class, I am a member of the African Heritage Awareness club, for which I also served as treasurer. I also love playing soccer recreationally. On Fridays, you would most likely find me on stage at Comedy Works in downtown Saratoga Springs, where I perform stand-up comedy.
I was born in Veracruz, Mexico, but I was brought to the United States when I was 5 years old. My parents wanted a better future for me and my sisters, so they made the tough decision to leave their family and friends and move to a small home in Texas. I was too young to understand the depth of that decision at the time, but I caught on to the weight of it years later when my cousins were traveling back to Mexico and I was not allowed to. Regardless of that limitation, my parents always made sure to remind me of my roots and keep our native language intact in our household.
As I grew up, I would constantly see my parents leave our home before the sun rose and come back extremely tired. I was, and still am, immensely grateful for all of their sacrifices and hard work. Nevertheless, the feeling that I would get when I would see their bodies extremely exhausted gave me the motivation I needed to strive to be the best in my classes. Therefore, I had to see that their decision to leave their home country reaped the benefits that we all deserved.
I applied to Skidmore and became the first person in my family to move away from Texas and go to college. Although it was difficult to move away from my family, I am proud to have created a blueprint for future generations and to make my parents proud.
My name is Juemoore and I was born and raised in Brooklyn, New York. I am a first-generation student majoring in management and business and minoring in international affairs.
Before attending Skidmore, I participated in a College Now program where I was able to take an actual college course with a professor. Fortunately, I got to take a marketing course that sparked my interests in having a career in the business field. The College Now program helped me affirm my aspirations for going to college and achieving my dreams. When I applied to college, I found myself wanting to go to huge campuses like Syracuse to have a new change of scenery. However, with my family's financial situation, it was tough to plan a four-year future there. Then I was accepted into HEOP for Skidmore College, which allowed me to be financially secured for my four years in school. It feels good to be able to graduate debt-free.
During my time at Skidmore, I've participated in several club events and projects to get a feel for the community. One of my proudest projects was building a social media presence for the Management and Business Department. I worked closely with the department chairs to research the most effective sites in building a community for current students and alumni. The sites also aimed to recruit high school students into the major and bring in much-needed representation. In my final year at Skidmore, I look forward to learning a new skill and to passing on the torch to the younger OP students.
---
Staff News
It's business as usual in the office, but some of the OP staff have some incredible personal announcements to share!
Kelli Johnson, director, was very excited to welcome 29 new members to OP. Members of the Class of 2026 come from places ranging from New York to Washington, Ohio, South Africa, and Kenya. This geographically diverse student body proved their talents both in and out of the classroom. We continue to value their intelligence, artistic and athletic abilities, and all that they bring to the Skidmore community. This fall, Kelli is most looking forward to some special events, including the OP fishing trip at Moreau Lake, another session of Cooking with Kelli, and a visit to recruit more scholars from the Greater Ohio Areas. She is also quite excited to be able to participate in the upcoming Higher Education Opportunity Program – Professional Organization (HEOP-PO) professional development conference. It has been more than three years since the OP colleagues have gathered in person. It will be a wonderful opportunity to share what we've learned throughout the pandemic and find new ways to better serve our students. In mid-October, Kelli may not respond to you for a while — but don't worry, she's just getting married! So, be on the lookout for future communications from Kelli Rouse!
Sade Moore, assistant director of student support and advocacy, remains the advisor for students returning from medical and personal leaves or having academic difficulties. This past semester, she collaborated with the Counseling Center to provide a health and wellness workshop series and lead a team for the Out of the Darkness Walk to support the American Foundation for Suicide Prevention. Sade also supported students as they spoke with members of the New York State Legislature for the second virtual NYS Student Aid Advocacy Day and created a weekly Self-Care Sunday Newsletter for students to learn and incorporate wellness strategies into their daily routine on their own time.
In addition to programming, Sade traveled to Dayton, Ohio, with the director to visit with some of the Kettering Partner Schools and the representative for the Kettering Foundation. Sade reviewed many applications to help identify the 29 students in the Class of 2026, and she served as the co-facilitator for the 2022 Summer Academic Institute. Outside of the office, Sade became a member of the College Access Consortium of New York (CACNY) and traveled for her first National Conference on Race and Ethnicity in Higher Education (NCORE) in Portland, Oregon, to connect with and hear best practices from colleagues across the country. She also continued to serve as the treasurer and chair of the Scholarship Committee for the Higher Education Opportunity Program – Professional Organization (HEOP-PO).
Meghan Carpentier, coordinator of student success and retention, had a great spring semester working on career preparation-focused programs and promoting the Summer Experience Fund for our students. She said farewell to her first SAI class of students, which was challenging, as they hold a special place in her heart. She is excited to see all of the amazing things they do in the world. Meghan kicked off her summer by attending the National Conference on Race and Ethnicity in Higher Education (NCORE) in Portland, Oregon. She had a rewarding and productive time learning from the many varied conference sessions as well as exploring the city. Meghan enjoyed being back in person for SAI this summer and is looking forward to continuing to work with the new first-year students this fall! Meghan also just got married and is enjoying newlywed bliss.
Adam Evans, learning associate for humanities/social sciences, had an enjoyable spring and summer. Throughout the spring, he was involved in a lot of fun programming, including the OP Book Club and tons of internship/career support connected to the Summer Experience Fund. He was excited to see so many students enthusiastically engaging with OP events during the academic year and far-flung experiences during their summers. It really felt like everyone was back to their usual busy routine of amazing projects, which was inspiring to see. He had a really busy end of spring and summer digging deep into Summer Academic Institute prep, but he also set aside some time for camping and fishing during a trip to Montana, which was a first. It was an amazing experience that rejuvenated him right in time for SAI! Outside of work, he spent the summer hanging out with the family and taking some weekend trips to New Hampshire and Maine.
Eun-sil Lee, coordinator of upper-class initiatives, was busy in the spring with advising, overseeing yet another GOAL program cohort, attending some student events, and shadow-coaching for an Intergroup Relations dialogue class. She enjoyed the engagement with alumni and students through the monthly Conversations with Alumni programming and was excited to bring back an alumni networking event that had been on hiatus since the start of the pandemic. In the summer, she enjoyed her eighth Summer Academic Institute, getting to know the incoming Class of 2026. She also enjoyed collaborating with SAS to take students on a kayaking trip to Saratoga Lake. Outside of the office, she is excited to be involved in working to help students from Malawi prepare for IB programs and volunteering for an educational nonprofit doing amazing work in Ivory Coast. She also took up paddleboarding this summer and has enjoyed being out on the water when feasible!
Devin Madkin, administrative assistant, celebrated her fifth year working for the Opportunity Program. A major highlight of the spring was leading the fourth annual Kettering trip with co-worker Eun-sil to NYC and, in general, she continued to maintain everyday functions, financial responsibilities, marketing, and social media for the office. During the summer, she prepared the office for the summer program, buying supplies for students and SAI staff. She successfully hired a summer office assistant after being without one for a couple years. She booked all the weekend trips for SAI and made sure everyone had what they needed on those trips. Once the summer program ended, she traveled to NYC to help put on the third annual alumni event. She spent the rest of her summer preparing for the fall semester. When Devin wasn't in the office, she made sure to spend as much time as possible with family and friends, attending birthday parties, going on a family vacation, and reuniting her brothers after 18 years apart.
---
ALUMNI events and opportunities
We've had a great year getting reacquainted with some folks who were sorely missed. We're waiting to hear from you!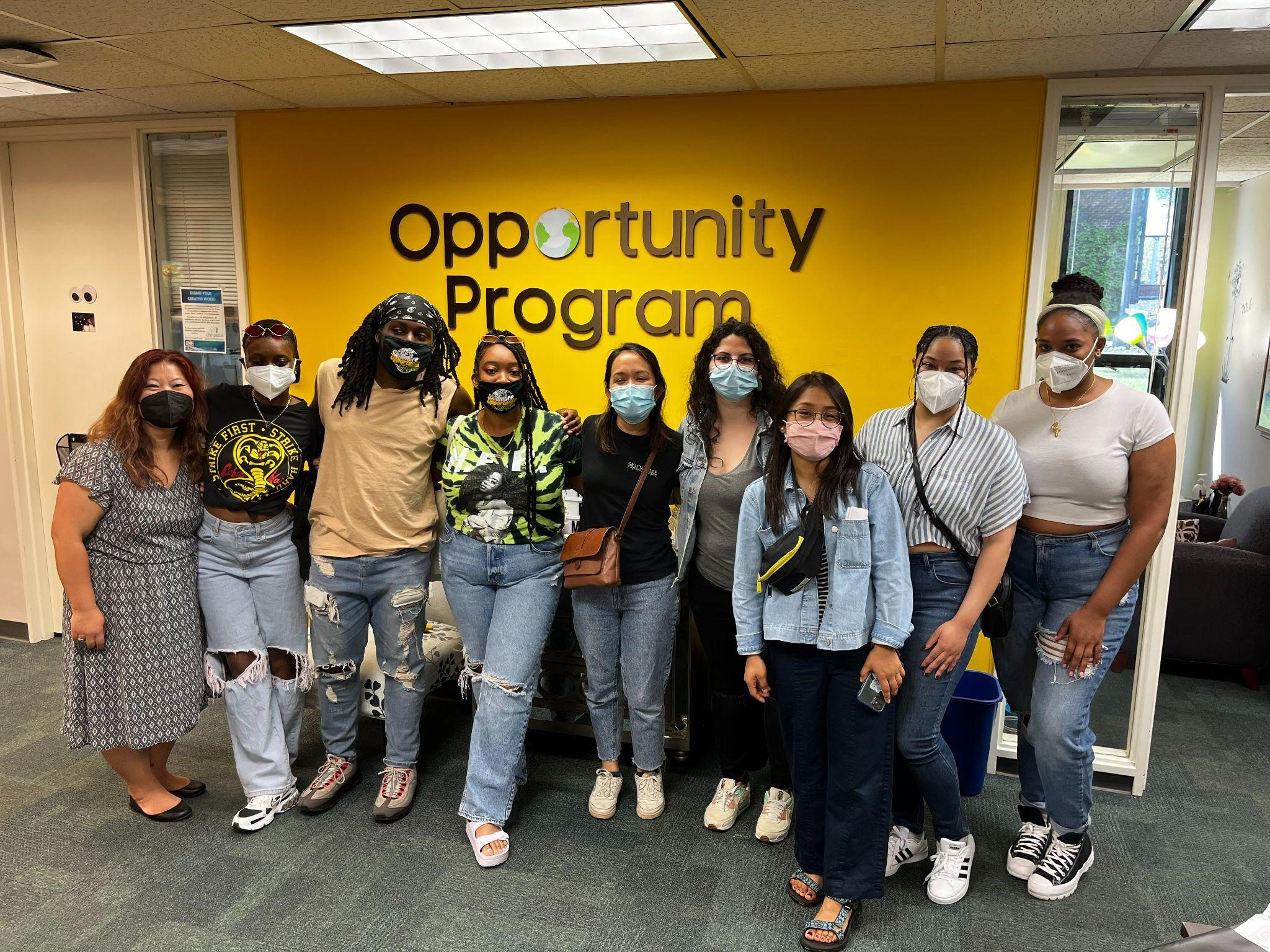 We caught up with so many familiar faces in the spring! During two Reunion Weekends, OP hosted an open house to welcome back alumni from the classes of 2016 and 2017. The office was abuzz with folks reliving the memories of their time here! OP alumni from the Class of 2020 also returned for their belated commencement ceremony, which had been delayed by the pandemic. It was heartwarming to get to see them more formally complete their long academic journey. They truly deserved the special honors. It was so exciting to see all these folks back on campus and to hear about all they've done since they last visited. We look forward to connecting with more of you!
Conversations with Alumni is a recurring one-hour workshop series created to foster connections and networking opportunities between current OP students and OP alumni. Each conversation hour is organized by industry or field of study. This past spring, we started off with two alumni who were international students with public health interests, then had an alum who was a physician's assistant, and we ended the series with alumni involved in research. We continue to look for alumni who simply want to share their experience and chat with our current students, through one of these sessions or as a mentor. Please contact Eun-sil Lee if you are interested in participating or have any general questions about alumni engagement and events! Additionally, we are looking for some alumni to be mentors to our upper-class students, so please contact Eun-sil if you are interested!
The Young Alumni NYC Networking Event was also brought back from hiatus, although on a smaller scale due to some lingering pandemic concerns. We gathered to dine, mingle, and keep those professional connections across fields energized. We hope to continue this next year and expand it.
Alumni Interest Form
The Opportunity Program is excited to have our alumni connect with current students, and there are multiple ways to get involved. Please check out our Alumni Interest Form to complete a short survey regarding ways you might be interested in engaging current OP students:
Our Alumni Engagement Network
As always, we continue to build our LinkedIn network to connect Skidmore OP students, alumni, and staff. If you're on LinkedIn, please join the group and get connected!