Summer 2019 Opportunity Program Newsletter
A Note from the Director
A warm welcome and an update on the state of Skidmore OP: We've got a lot to brag about!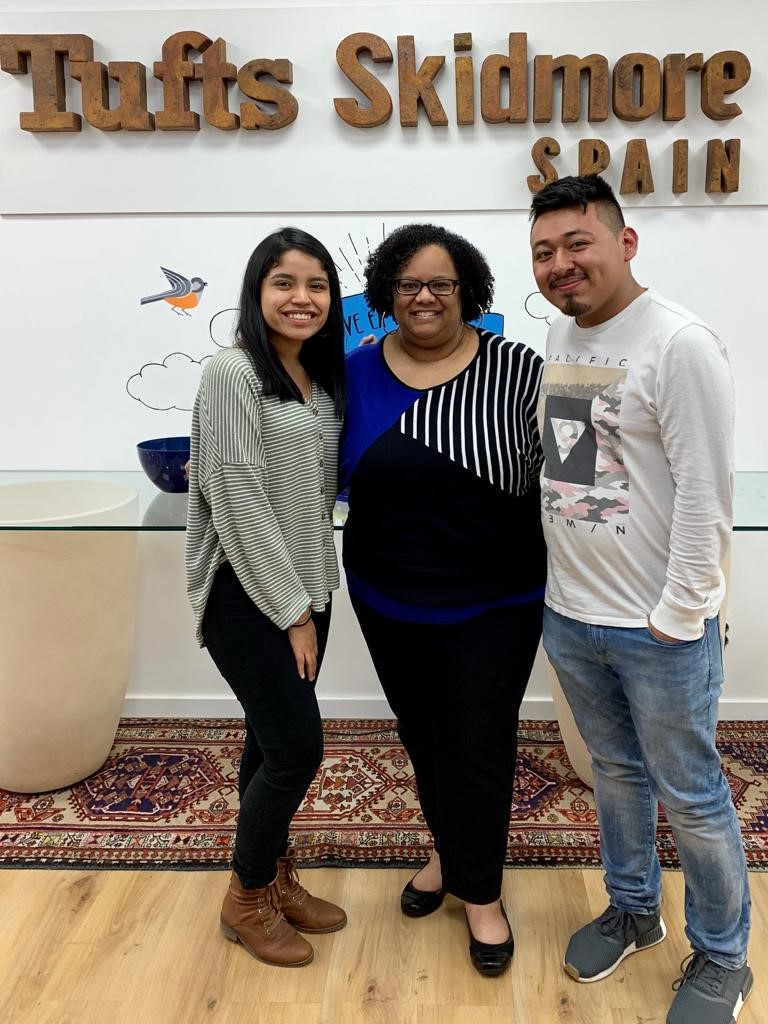 Greetings and well wishes, Opportunity Program alumni and Skidmore staff. This summer finds OP celebrating the successful end to a great 2018-2019 academic year and a new beginning with the incoming Class of 2023 Summer Academic Institute (SAI). Our program has been thriving in its continued mission to serve great students in a holistic manner, and, as you'll see from our news and events, we have many awesome student achievements and OP happenings to report.

We're excited to announce that our office is now fully staffed. Check out the "Staff News" section to meet our new assistant director of student support and advocacy. We were fortunate enough to greet our new class this summer with a full team, and the staff and students made some great connections for working toward future successes. It was an exciting summer, and we're eager to watch these students — and all OP classes — accomplish wonderful things in the fall.

The fall also marks the 50th anniversary of the Higher Education Opportunity Program (HEOP), and the Albany Region of HEOP will be organizing an event to bring together programs from across the state. This event will be a platform for reflection, further collaboration and appreciation of the accomplishments of all HEOP programs, and our office looks forward to taking part.

Skidmore OP's particular goals for the fall focus on continuing to build bridges with departments across campus. We'll be working with the Theater Department to host a Public Speaking Workshop, ensure our students have a thorough introduction to the department and take in a show together; we'll collaborate with the Office of Off-Campus Study and Exchanges for a Passport Day event, which covers the costs of passports for students; and we'll team up with Financial Aid Office for a night in NYC to provide information and guidance to admitted students and parents. As always, we strive with these and all our efforts to ensure the success of OP students at Skidmore and beyond.
---
Staff News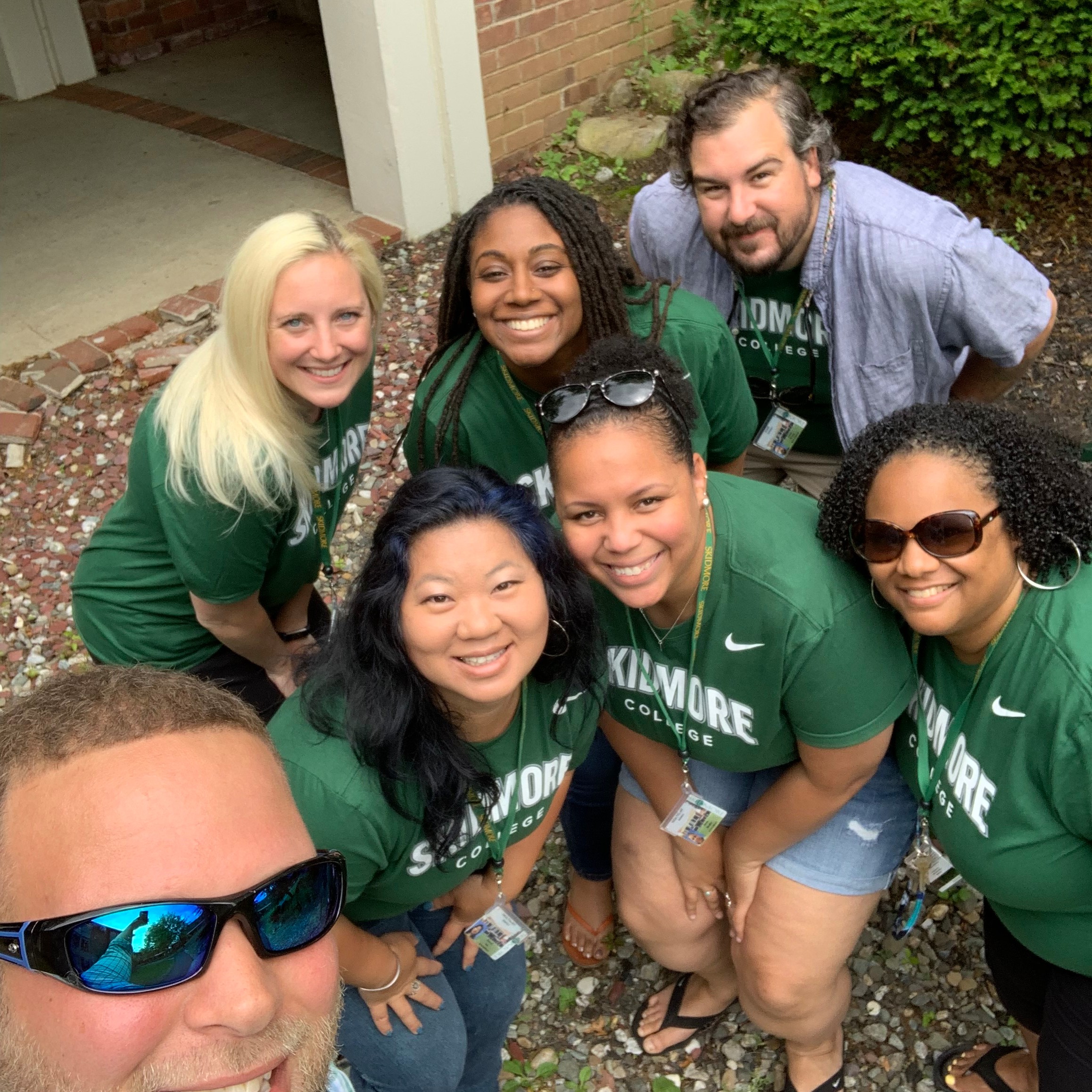 The OP office keeps growing and developing to serve student needs. Check out the new positions and news from the entire staff.

Kelli Johnson, director, is celebrating her third year at the helm of Skidmore OP. 2019 has been quite a busy year for her, as she took on the task of slightly restructuring the office staff in order to create and fill some new positions that will better enable us to serve our students. On top of this, Kelli's spring was filled with the momentous task of coordinating the office's collection of data for the 2019-2024 HEOP grant renewal and writing the new grant proposal. She's elated to announce that this process is complete and the program has secured state funding for another five years. This was quite a cause for celebration for the whole office! On a less labor-intensive note, Kelli had the chance to continue expanding her knowledge of Skidmore's student opportunities by visiting the Skidmore in Spain program in Madrid. She was able to do a site review of the program with the Office of Off-Campus Study and Exchanges and gained an intimate understanding of what Skidmore in Spain offers OP students. When she's not busy with all of this, she's been squeezing in some baking and enjoying time relaxing with her family.

Aaron Ray, assistant director of student outreach, was promoted to this new role in December 2018. In this position, Aaron leads the office efforts in recruiting and enrolling OP students, planning/directing the Summer Academic Institute, and continually working to build partnerships and opportunities for OP students on and off-campus. Aaron is also in the midst of leading the planning for the 50th Anniversary HEOP-PO Conference in November. He also presented at the 22nd Annual Coming Together Conference at LeMoyne College. His workshop, "Let's be Transparent about Transparency in College Admissions," challenged participants to think critically about how they engage prospective students on their campuses and within their communities.

Sade Moore, assistant director of student support and advocacy, is the newest addition to the Opportunity Program office. She is an Albany native who joins us from Maria College, where she also worked within Opportunity Programs. Sade earned her B.A. in psychology and black studies from the State University of New York at New Paltz and returned to the Capitol Region to complete a master's degree in mental health counseling at The College of Saint Rose. After completing the Summer Academic Institute with the Class of 2023, Sade is excited to start the academic year and welcome all of the returning students.

Adam Evans, learning associate for humanities and social sciences, has had an awesome year getting settled into OP. He's celebrating his one year anniversary in August, and he's eager to implement what he's learned during the year ahead. To get better acquainted with the broader Opportunity Program culture, Adam attended the Tri-State Consortium of Opportunity Programs Conference in Higher Education on Long Island in April. He enjoyed learning about the approaches of an array of programs and saw some great, inspiring speakers. Back at Skidmore, he's been keeping busy hosting writing workshops throughout the spring and adjusting to the rollercoaster ride of teaching writing in the Summer Academic Institute.

Devin Madkin, administrative assistant, has been busy with events and trips throughout the past year. During the spring semester, she and Aaron lead the Kettering trip, taking a handful of OP students to explore Boston. She also played an integral part in organizing the Class of 2019 Senior Banquet, in which she helped send off many graduating students with whom she had grown close. In addition to contributing to the planning of many of the summer events and activities, she also participated in the trip to Six Flags Great Escape, where she had a luxurious day with students in Hurricane Harbor. As the summer program wrapped up, Devin also played a substantial part in planning the End of Summer Celebration, and she traveled to New York City with Eun-sil for the OP Young Alumni Networking Event.

Eun-sil Lee, coordinator of upperclassman initiatives, spent her summer advising the incoming Health Professionals Advisory Committee (HPAC) OP students and planning some great alumni events. She co-taught the summer Study Skills course with Meghan, and she's looking forward to getting to know the Class of 2023 even more as she and Meghan co-teach Academic Transformations in the fall. She has also just wrapped up organizing the second annual Young Alumni Networking Event in NYC, which brought together many OP alumni from the past few class years. Expanding her HPAC advising resources, in the spring Eun-sil was invited on an adviser trip to St. George's University in Grenada, West Indies to learn more about the School of Medicine and School of Veterinary Medicine. Spring semester also saw Eun-sil initiate a research project in collaboration with Adam and Lisanny Manzueta Custodio, OP Class of 2018, focusing on support of historically underserved student populations. This ongoing study is in the process of collecting data from students across a few campuses in New York state.

Meghan Carpentier, coordinator of student success and retention, traveled to the American College Personnel Association (ACPA) conference in Boston in March. She attended workshops and talks on a wide-range of topics, with special focus on advising, inclusivity in higher education, positivity and thriving, and men's development. She is excited to continue to get to know and work with the new students from Summer Academic Institute as she co-teaches Academic Transformations in the fall, and she's busy at work planning a full schedule of events for all OP students. Meghan's spring was also punctuated by an enjoyable trip to Nashville in May, where she soaked up the 24/7 live country music, and now she's patiently waiting for football season to start up again!
---
Student Spotlights
Our Class of 2019 is already making great things happen. Here are just a few of the faces from the recent graduating class that help make OP exceptional. Get acquainted and get inspired!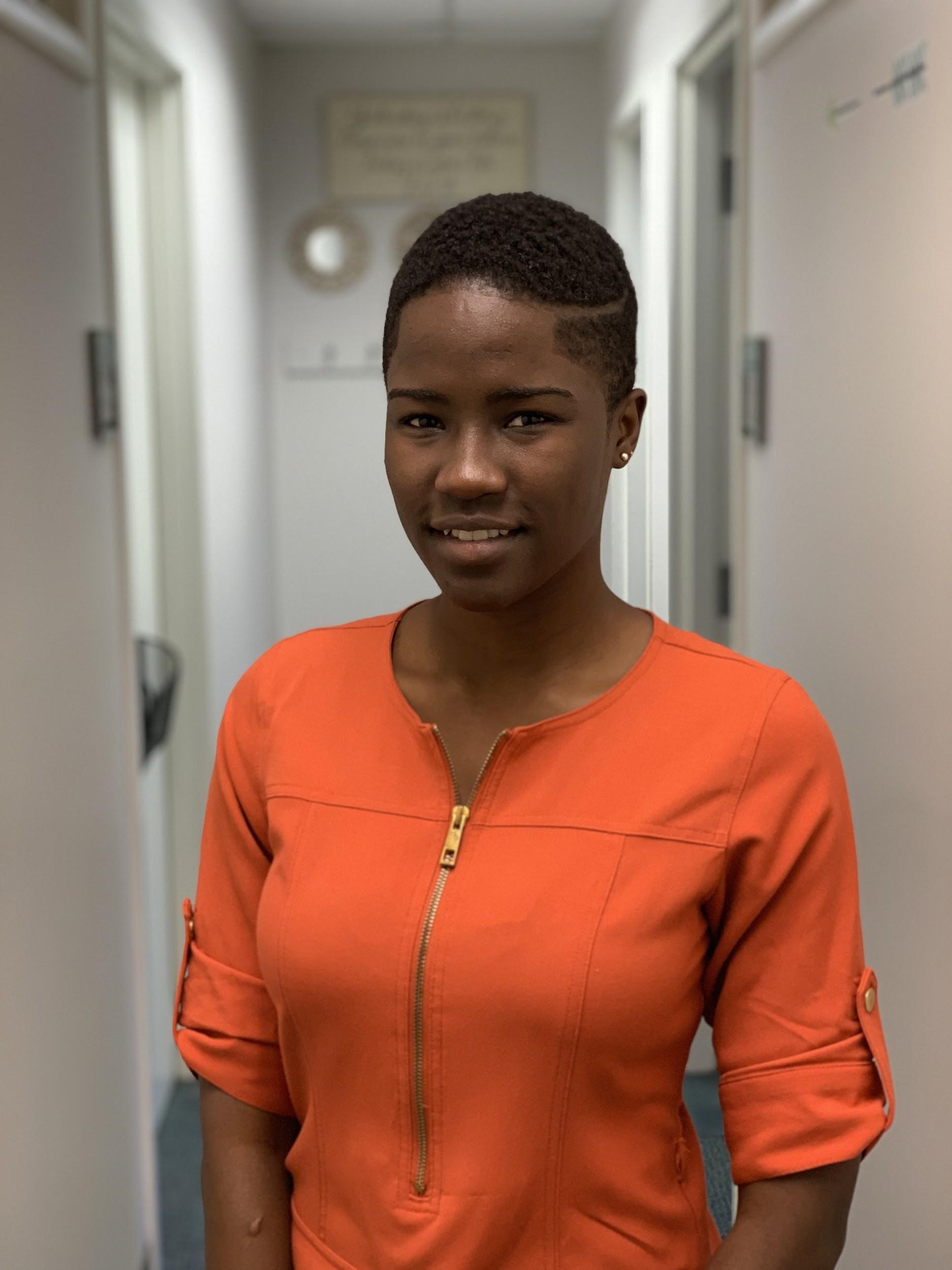 Lydia Bernard-Jones, Class of 2019 has been an ever-present shining star in OP. She'll be headed to the Princeton in Africa program in the fall to continue her awesome work in public health, but her absence at OP events will be bittersweet.
For the past four years, Skidmore has been a great experience despite the challenges of the harsh winters and being far away from my home of Sierra Leone. My time here has been full of lots of growth that I appreciate and am able to look back on fondly. I was able to find a family from staff, faculty, and — most significantly — from other African students on campus who shared my experience.
With a self-determined major in Public Health, I was able to spend my entire junior year in an off-campus experience in Washington, D.C, India, South Africa, Brazil, Switzerland and Morocco. During the summer of 2018, I was able to use the SEE Beyond grant to carry out my research for my senior thesis, which examined the factors that determine the choices of women in Sierra Leone to undergo childbirth in facilities or at home. I wanted my research to become a resource for others in providing data in the sector of maternal and child health. Through the Davis Project for Peace grant of $10,000, I was able to develop and implement workshop sessions aimed at 90 expecting parents and provide them with baby items for completion of sessions. Each session discussed topics from antenatal care to birth preparedness and birth plans. This gave me experience in project development and implementation, which I will carry into future projects.
For my next step in that direction, I will be moving closer to home in the fall of 2019 under the Princeton in Africa one-year fellowship, where I will be working for a nongovernmental organization called Last Mile Health as a program associate.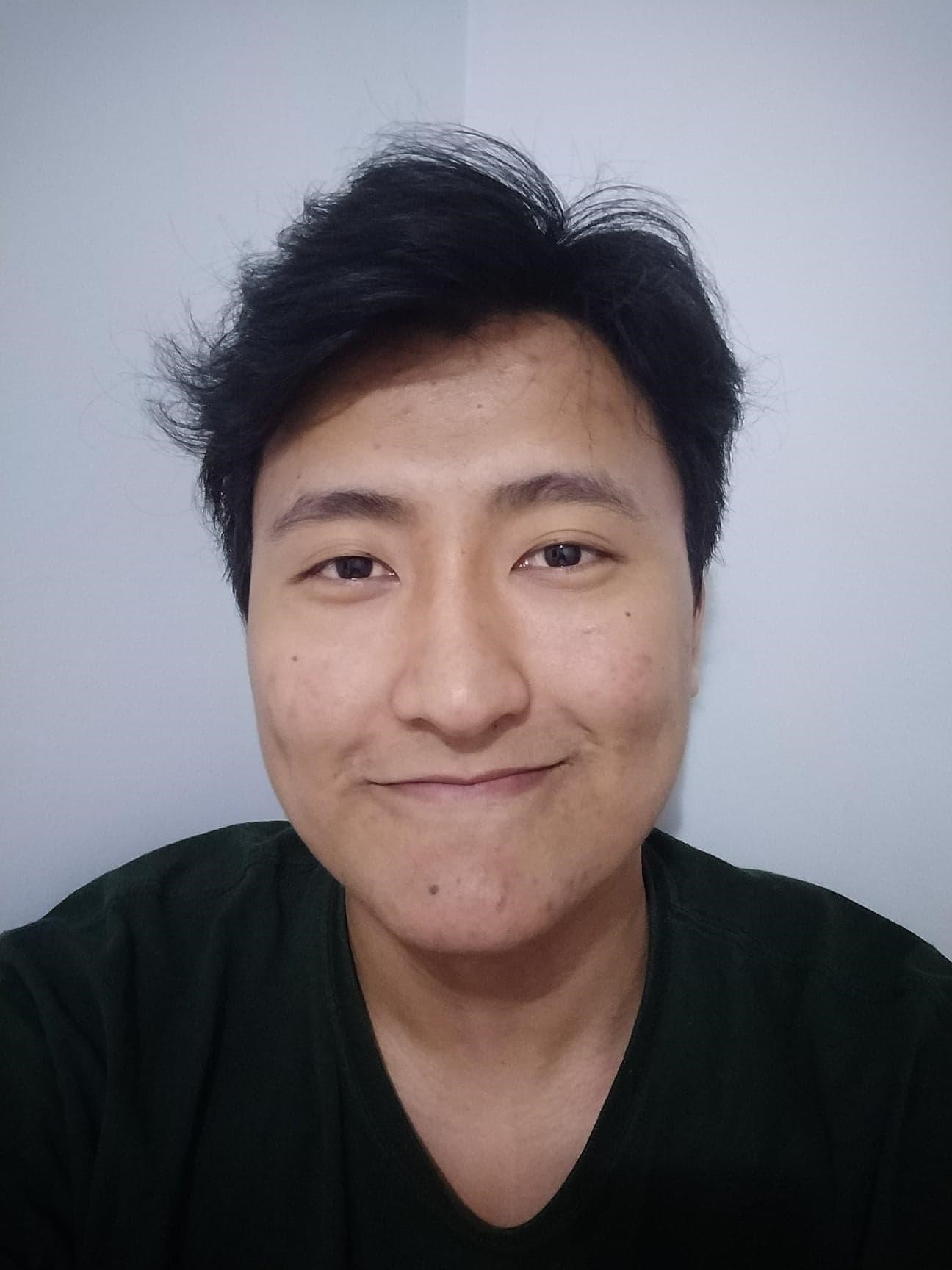 Tenzin Gyaltsen, Class of 2019, studied chemistry and physics at Skidmore, and the current work he's doing now with 3D printing just may revolutionize dentistry!
Hello! My name is Tenzin, and, at Skidmore, I was a chemistry major and physics minor with an interest in pursuing a career in engineering. I worked on 3D printing fluidic chips during my senior year, and I am continuing to learn more about 3D printing at the Department of Biomaterials at NYU College of Dentistry. We have a good mix of undergraduate and graduate students in the lab who have background in dentistry, biomedical and mechanical engineering, making for an impressive learning environment.
In short, we are working on 3D printing implants and scaffolds for bone regeneration. The implants and scaffolds are printed, implanted into animals, and then their response in the body is analyzed. The entire process from printing to analysis can take from weeks to months with many important steps, and, so far, I have been introduced to most of the steps in the process. This research feels significant and very prescient due to the role 3D printing may play in the future. It's customizability and ease of design have already attracted multiple researchers in designing models that mimic biological material such as bones, teeth, lungs and even the heart.
Although their application will take more years of research and development, I am certain that 3D printing will be widely adopted in the engineering field and more. I look forward to my work now being a part of that progress.
As a residential adviser, Joseph Hernandez was a pillar of OP's 2019 SAI summer staff. He kicked off his summer in Rome, and he'll be ending it working in Seattle!
My name is Joseph Hernandez, and I'm a management and business graduate of Skidmore's Class of 2019. Over the course of my final semester — and followed by a 17-day transformational trip to the Eternal City after graduation — I had the opportunity to immerse myself in Rome's history and culture. Professors Dan Curley (Classics) and Gregory Spinner (Religious Studies) built a successful program with broad appeal to the Skidmore population that helped a business student like me learn about the city in detail. These experiences allowed me to understand Rome as a living and layered urban environment. Did we visit and discuss ancient and religious stuff since Rome is a major religious and ancient site? Absolutely. However, these experiences especially emphasized for me the sometimes violent contrast between the old and the modern city. These trips allowed me to follow the narrative of prominent figures and study the idea of Romanness not just in a theoretical way but in a vivid, lived way. During my time in Rome I came to know the space as a transnational place, with people on the grand tour, shoppers from around the world and tourists alike participating in this long tradition of coming together to experience the history, evolution and scenery of the city of memory.

While sightseeing was my favorite part of the travel seminar experience, the academic work helped me to process my travels in a reflective way. I paused to write. I was stepping back from the moment, recording, and reflecting in a way that allowed me to really appreciate the city in relation to my own identity. As a result, I have created a body of work to document my time there. You can check out my blog here. Beyond the delicious food — like homemade pasta — and camaraderie, you'll see that I took many ideas about my own capacities and identity away from this experience.

After Skidmore, I will be a full-time financial trainee specialist for the Federal Deposit Insurance Corp. in the fall. My long-term professional goals are to have a career committed to my purpose: to do my part in creating a society where no matter who you are, you have the ability to follow your dreams, no matter what they are. Right now, this means the FDIC, but over time that may transition into other aspects such as public service.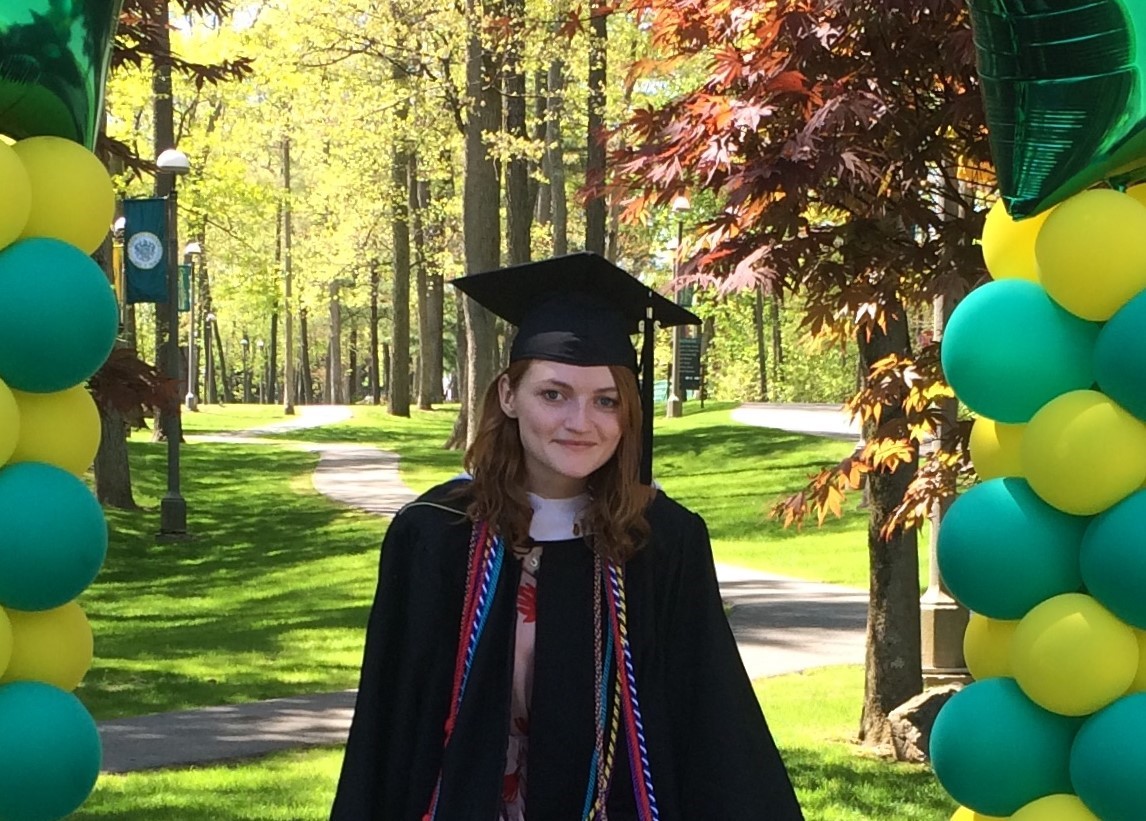 Mary's unique combination of knowledge from the field of sociology and experience working in film makes for an exciting take on social work.
I'm Mary Brimmer, Class of 2019, and I just completed my degree with a sociology major and a media and film studies minor. Looking back on my early days at Skidmore, I often found myself admiring the seniors and thinking that they had everything figured out. To me, they "ruled the school" with ease, wisdom and confidence, knowing that their futures were just within reach. As a recent graduate, I followed in their footsteps only to find that it was less about finding confidence and more about having trust.

I began my undergraduate experience with a desire to work in journalism, but over time, I gravitated toward sociology and media and film studies, seeking a way to pursue documentary film. I sought to understand society, primarily at the micro level, often wondering what made people the way they were and wanting to hear, document and share their stories. At times, I took my learning outside of the classroom, working various jobs or internships and studying abroad in Florence, Italy, and participating in a film intensive program, where I worked on the set of a feature-length film. Yet, time studying and working in these fields only made me develop more of a desire to work closely with others rather than from behind the camera or microphone. I wanted to develop long-lasting connections with my subjects and to help in ways beyond spreading awareness or challenging stigmas.

As a youth care worker at The Charlton School, I am beginning to fulfill these goals through pursuing my newfound love for social work. As a therapeutic residential school for females in eighth-12th grades with socio-emotional and mental health needs, Charlton gives me the opportunity to gain experience and knowledge in supporting and mentoring a population close to my heart while exploring where my particular focus lies. I aim ultimately to receive my MSW and licensure to potentially open up my own practice or school someday. I also still seek ways to incorporate my love of documentary into my work, using film as a therapeutic tool to help others, to promote worthy causes and organizations and to start grass-root initiatives for social justice.
---
OP Events
Spring & Summer Events
Spring was full of awesome accomplishments, and summer has been an absolute whirlwind. Get caught up with OP's impressive 2019 happenings.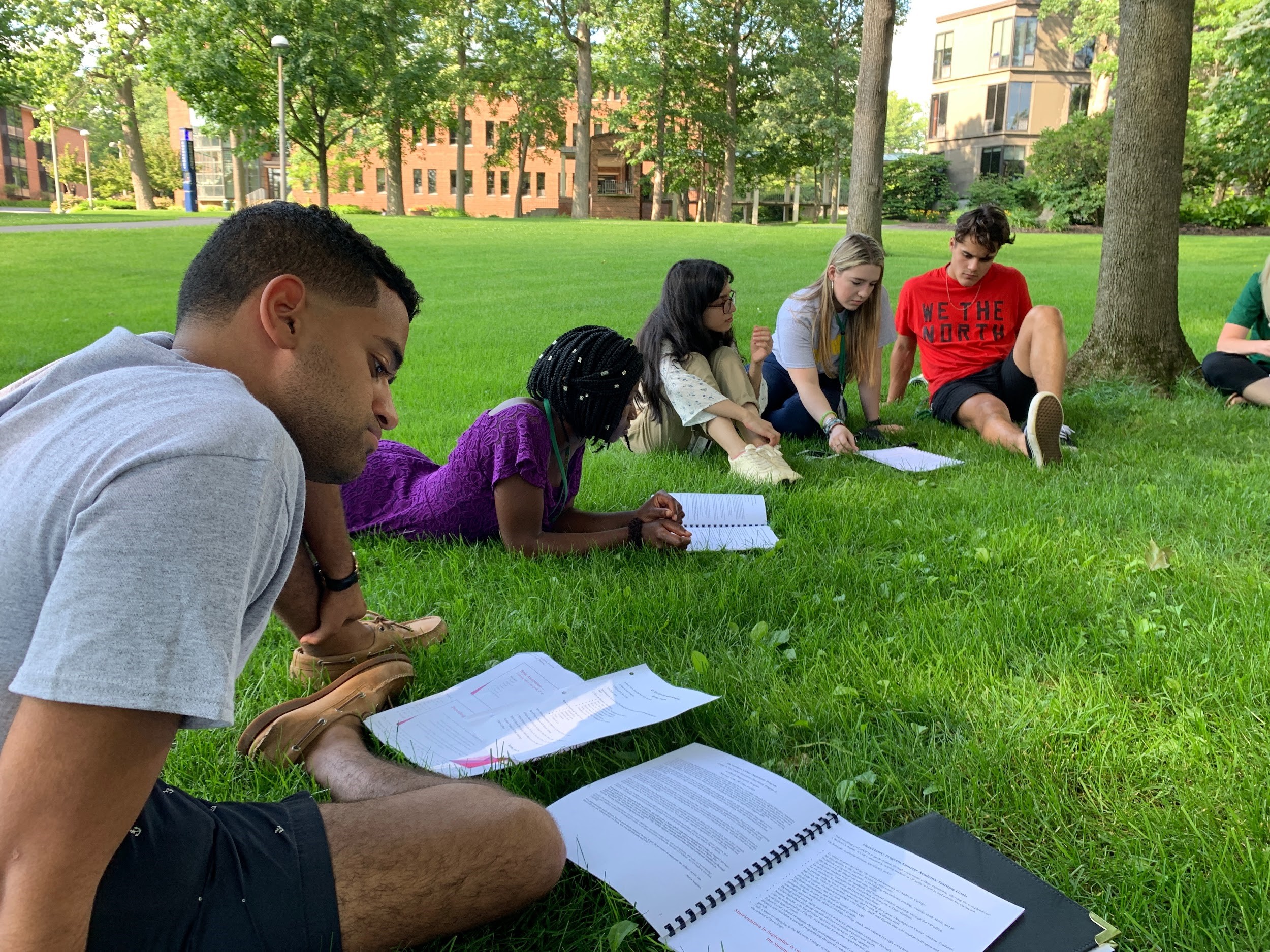 2019 has already been a year of great accomplishments for OP. On top of the usual schedule of workshops and OP lunches, the spring and the summer have been filled with a ton of impressive achievements.

Early in the spring semester, OP staff and students teamed up to take part in the Library's annual Altered Book contest. They transformed an illustrated book about the history of ports into a depiction of a stretch of the Hudson River, complete with 3D printed bridges created by Haja Baj '21 at Skidmore's makerspace, the Hub. The book took first place in the competition, and the OP office is now home to the coveted Lucy Scribner Library 2019 Altered Books Contest trophy.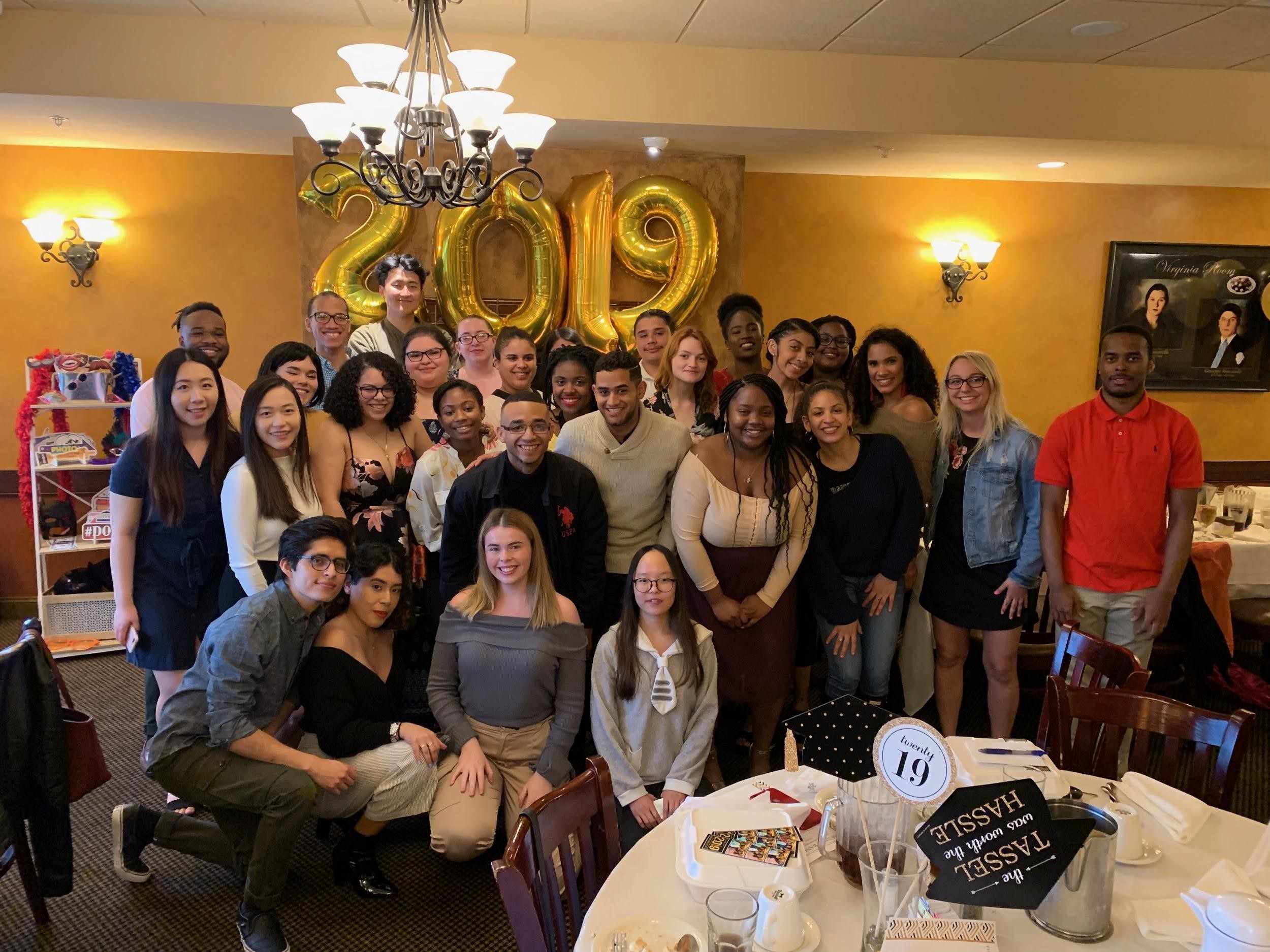 Also celebrating a huge victory is OP student Jessica Ndrianasy '20, who took first place in the Kenneth A. Freirich Business Plan Competition. Jessica is developing an agribusiness in Madagascar that provides quality organic produce and offers employment to unemployed local women. Her plan earned her $25,000 to move forward with developing the business.

As the 2018-2019 academic year wound down, the OP Class of 2019 wrapped up their final year with a senior banquet that will not soon be forgotten. The Senior Planning Committee put together a lovely evening at Moscatiello's Restaurant in Troy, filled with great food, music and dancing, superlatives and awards. The highlight of the evening was a photo booth that provided hours of funny photos and keepsakes of fond memories.

OP's Kettering students had an exciting trip to Boston near the end of the spring. They visited the New England Aquarium, where students were excited to meet some giant sea turtles and seals. They also took a whale-watching trip, but the whales proved hard to find. To make up for it they had a delicious hibachi dinner and caught up with OP Kettering alum, Dyanna Washington '18.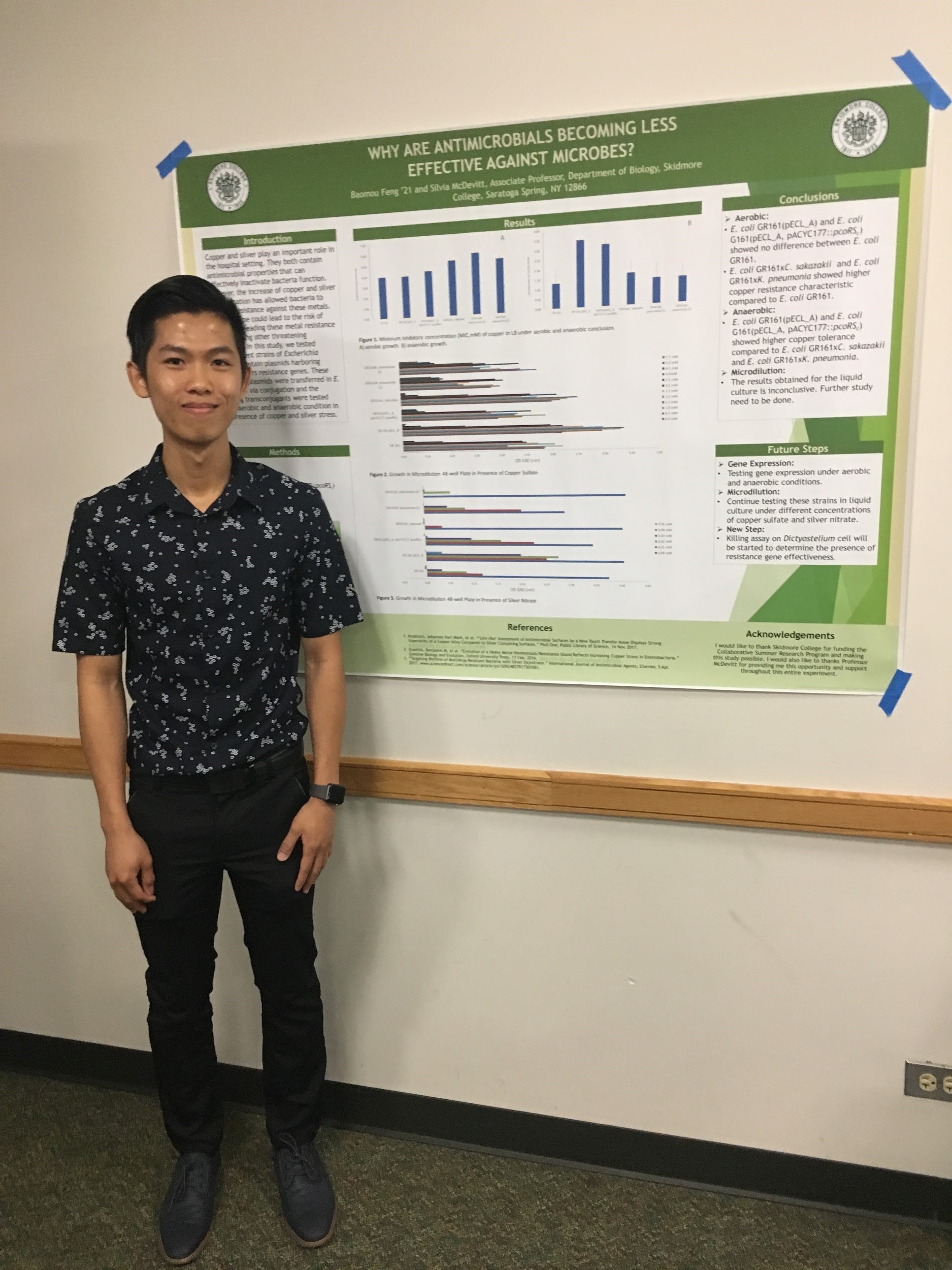 OP is exceptionally proud of a group of hard-working students - Bao Feng '21, Mastura Mukhamedova '22, Samantha Velez '20 and Adam Warner '22 - who are doing really interesting research in Skidmore's Faculty Student Summer Research Program. This program provides an opportunity for students to work closely with faculty over the summer to take on a major research project. Bao's biology research focused on resistance to antibacterials, Mastura's chemistry work examined water and soil testing, Samantha's sociology project studied migration across the Mexico-U.S. border and Adam's work in astrophysics experimented with mapping stars. It's impressive to see students doing such innovative work across such diverse fields.

The OP Class of 2023 has been diligently toiling away during Summer Academic Institute, but we've made sure it wasn't all work and no play. The new students kicked off the first week of the summer program with an evening of ice cream and fireworks in downtown Saratoga to celebrate Fourth of July. The Fun Spot in Queensbury provided another enjoyable outing, with students going wild playing laser tag, racing bumper cars and — with mixed results — showing off their roller-skating moves! They also spent a Saturday battling soaring heat at Six Flags Great Escape by hiding out in the Lazy River, and the summer events were capped off with a field day featuring SAI Olympics, Bubble Soccer and some challenges of the mind. Hopefully, they got in enough fun to balance out the heavy summer workload and are prepared to face the fall.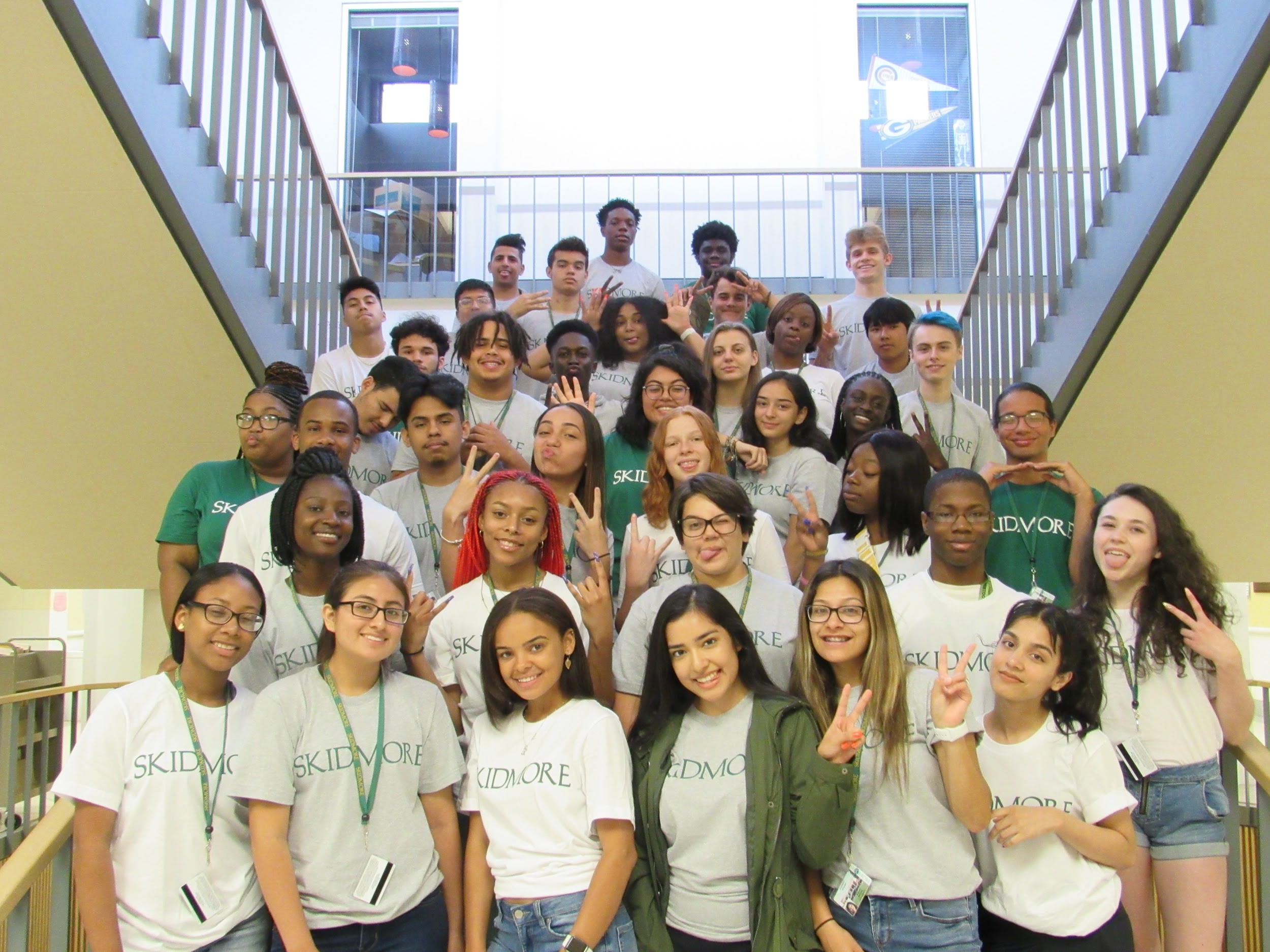 ---
ALUMNI news
Stay connected to OP's alumni outreach events and efforts. We want to feature your exciting accomplishments in future newsletters!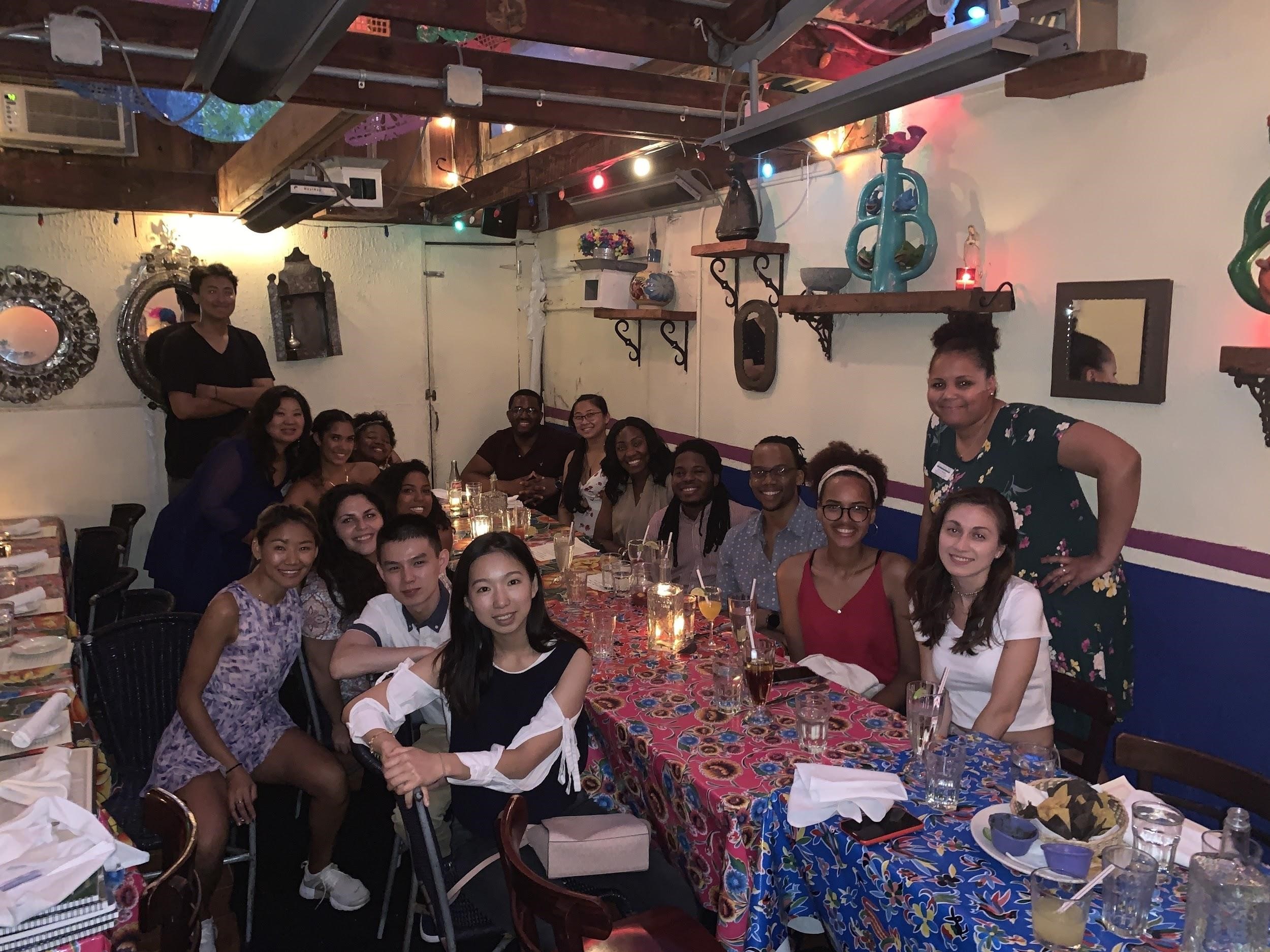 On Aug. 3, 15 OP alumni from the Classes 2015 -2019 came together for the second annual Young Alumni Networking Event. Eun-sil and Devin organized the two-part event as a group mixer at La Palapa Cocina Mexicana in New York City. Over appetizers, alumni spent time speed-networking with each other, and, after dinner, they had a light-hearted competition with some fun Skidmore trivia. Alumni caught each other up on where they are in their post-Skidmore journey and what they plan to do next. The dinner event was then followed by a day of one-on-one career consultation and advising. Be on the lookout for outreach about next year's event and information about a variety of OP alumni gatherings in the coming months.

Our OP alumni survey, initiated early in 2019, is ongoing. We've received great, detailed responses so far, but we're always looking for more information on how to better serve past and present students. Your experiences are important to us. If you have not yet completed the survey, please take a minute to do so here.

Click Here For The Survey.
We're also at work building a LinkedIn network to connect Skidmore OP students, alumni and staff. If you're on LinkedIn, please join the group and get connected!