Summer 2021 Opportunity Program Newsletter
Back in Our Groove: An In-Person Summer Academic Institute.
We did it! Summer Academic Institute is back to (semi-)normal as we offer a warm welcome to our new class.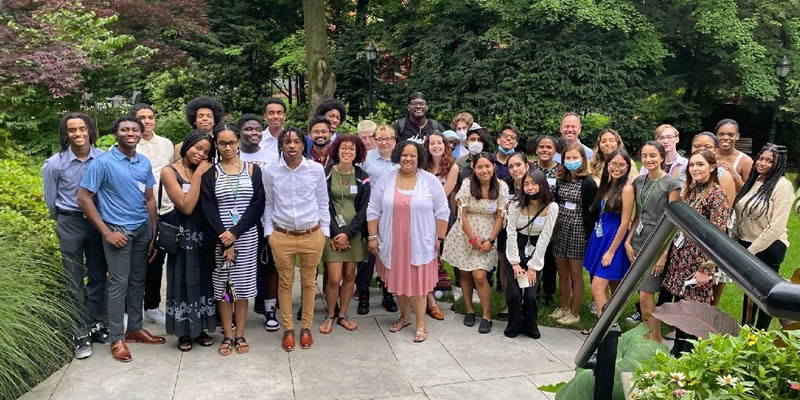 Thirty-seven incoming students from near and far, nine Skidmore faculty members, six tutors, three residential advisors, and one hectic OP office came together to make it all happen this summer: a successful return to the in-person Summer Academic Institute experience! We faced all manner of challenges, and the incoming OP Class of '25 came out victorious. We're happy to report that everyone stayed healthy, had fun, and learned a ton over the course of our five weeks together.
Students and faculty alike were excited to be back in the classroom together, and some really fantastic work took shape from this energy. We were impressed with how readily students dove into their coursework after a somewhat unconventional past year! They got to really shine under the tutelage of folks from all across Skidmore campus, with wonderful faculty from Physics, Anthropology, International Affairs, Sociology, English, and World Languages and Literatures offering a hand to guide the students into their college experience.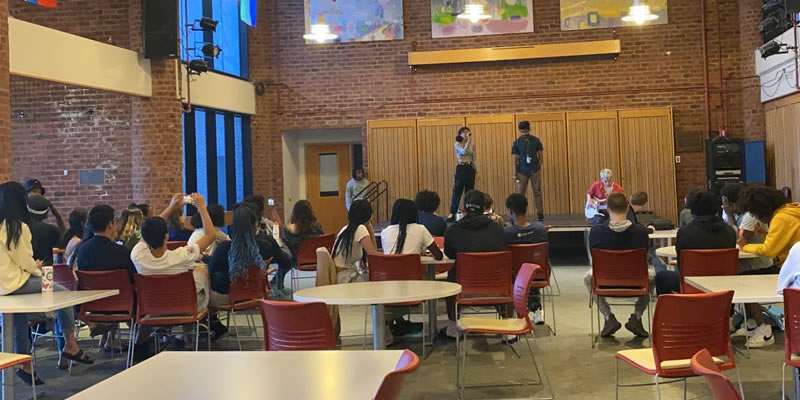 But the summer was not all work and no play! Many of the now traditional SAI off-campus adventures were back in action. Students got to experience a handful of quintessentially local experiences, from a fun day rollerskating, driving go-karts, and playing laser tag to a visit to a nearby farm for berry-picking. They also put together a talent show with some mind-blowing musical performances. These folks have real skill! The students spent their evenings playing games outdoors across campus and cultivating the practice - already taking shape as a new tradition among some - of twilight walks around the pond. They took to the Skidmore environs well and really did a thorough job of exploring campus. In future years, we hope to build on this inquisitiveness even more with SAI hikes and exploration of Northwoods!
As we had the good fortune that some pandemic precautions were lessened, OP Class of 2025 were also the first group of students to be welcomed to the Scribner House by President Marc Conner. They gathered for an afternoon ice cream and fruit social that included some frolicking in the lawn, some lovely chats, and even some dancing! OP was grateful for the invite, and we can't wait for our next visit with the President.
We have to give a hand to everyone involved with SAI for doing their best to make it a safe, fun, and productive summer! It was a fitting welcome to the great scholars of the OP Class of 2025!
---
2021 Events & Programming
OP kept the exciting events rolling through the pandemic and never slowed down. Our diverse programming focused on emotional support, career resources, and pizza that looked so good you could smell it through the computer screen.
Even while trapped in our Zoom boxes throughout the spring semester, OP events and collaborations managed a whopping 130 attendees. The shift in format couldn't impede our usual schedule of emotional support, intellectual stimulation, and even a little fun.
Way back at the start of the year, our programming kicked off with another - and hopefully our final! - round of quarantine programming for students arriving on campus during the worst of the pandemic. As these returning students were stuck in their hotel rooms alone, we tried to lighten the mood and keep them entertained with virtual events including an Among Us game night, a movie night featuring a screening of One Night in Miami, and some casual Zoom lunch hangouts.
The quarantine programming also featured the kickoff of our annual spring semester OP Reading Group, which then ran throughout the semester. Many students were drawn in by the energetic discussions of Karla Cornejo Villavicencio's recent book The Undocumented Americans. Students were floored at the way the book weaves together stories of undocumented folks across the country with Cornejo Villavicencio's own life story. Many students felt profound connections between the innovative storytelling and their own experiences. A group of Reading Group participants even got the chance to attend (remotely, of course) a spinoff event to hear Cornejo Villavicencio read and talk about her work.
Starting in March and continuing through the semester, some exceptional and essential wellness events took shape as OP teamed up with Skidmore Wellness, the Office of Student Diversity Programs, and Root3d, an Albany-based organization focused on mind/body/spirit practices. The series created space for students to increase their awareness of their own emotional needs, advocate for themselves, share wellness resources, develop stress management skills and wellness techniques, and create their personal self-care plans. We were very happy to see that these events had strong attendance and that students are prioritizing self-care. There will be more to come on this issue, for sure!
Also throughout the month of March, OP launched a multifaceted March Madness workshop series to hype students up for all things career-oriented. Though our NCAA brackets might have been busted quickly, this series was without question a safe bet with events focused on Job/Internship Searching, Interviewing & Networking, Summer Experience Fund Essay Writing, and Adulting. Each unique event tackled a different piece of the career prep, job search, and life skills puzzle, and we offered weekly walk-in hours to complement the formal events with individual support for students with further questions.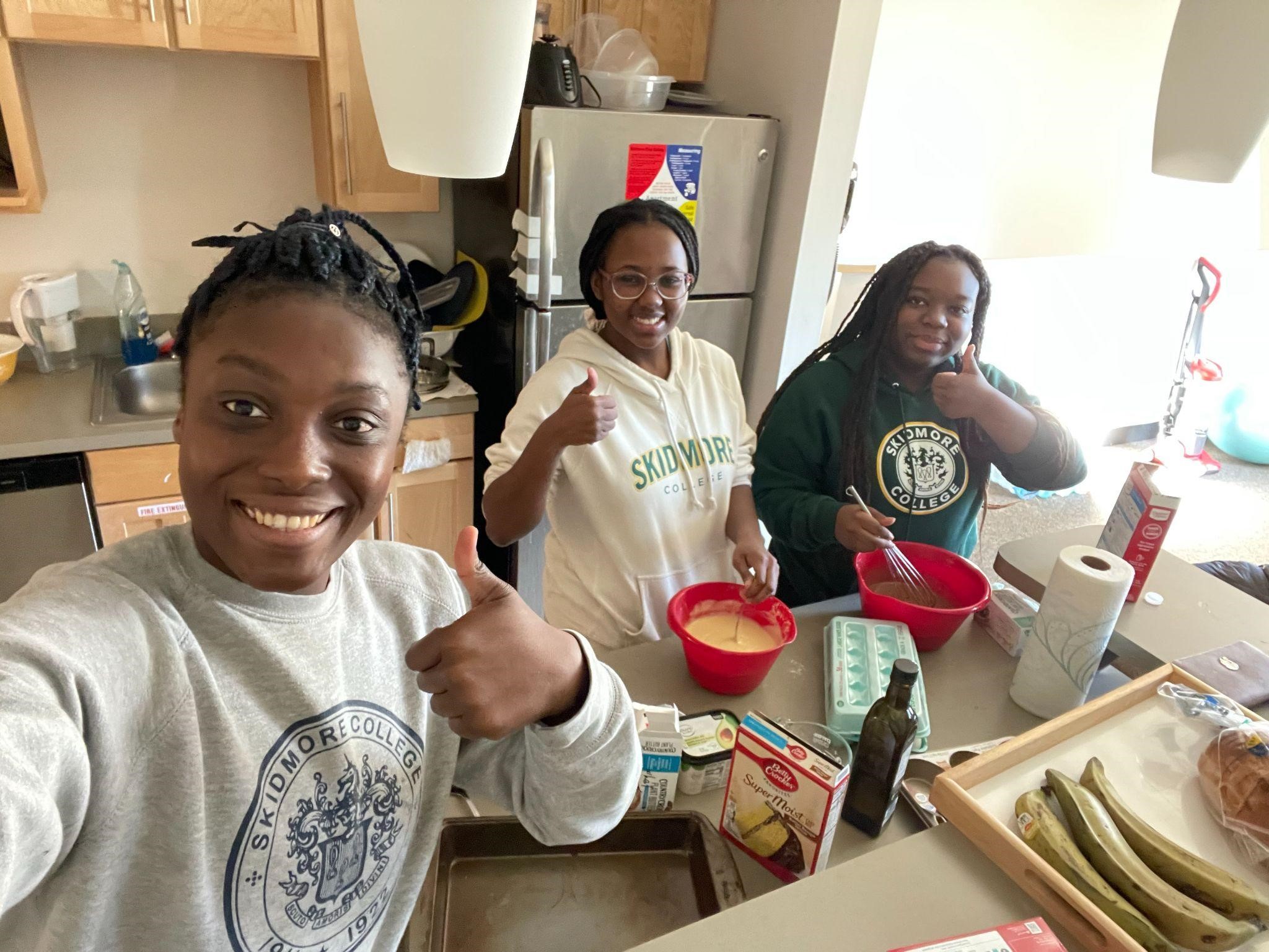 The inaugural OP Peer Mentoring Program concluded in May 2021, and some clear successes were visible in the program as mentor and mentee relationships took shape. The program retained 8 mentors who offered support and guidance to 18 mentees. Although this was a difficult year due to COVID restrictions, the pairs were able to foster valuable relationships and gain support through sharing their experiences. As we move into fall, the Peer Mentor Program Committee is excited that the new set of mentors will have even more opportunities to connect and build community with the incoming mentees.
Once again, OP students were focused and prepared in planning meaningful summer internships and experiences, which was reflected in taking home a bounty of Summer Experience Fund awards! 24 OP students in total secured funding through SEF to enable them to take on creative summer projects and to get experience in their fields. A huge congratulations goes out to Justin Adams '23, Haja Bah '21, Sarah Balkaran'24, Katy Ballo '21, Yalinel Beltre '21, Jeo Bravo '23, Yordy Cabrera Garcia'22, Bryan Cuzco-Sinchi '23, Nsetselelo Dlamini '24, Melissa Dowell '21, Kayleigh Duggan '24, Elizabeth Gimba '23, Juemoore Gordon '23, Ulele Kachilele '23, Jose Nunez '23, Ha Yun Park '22, Alexandra Polynice '22, Brianna Richute '21, Bella Rodriguez '23, Malika Sawadogo '24, Amber Soucy '22, Jordana Suriel '21, Julian Tushabe '22, and Valeria Visser Galván '23. We can't wait to hear more about what they accomplished as folks return for the fall.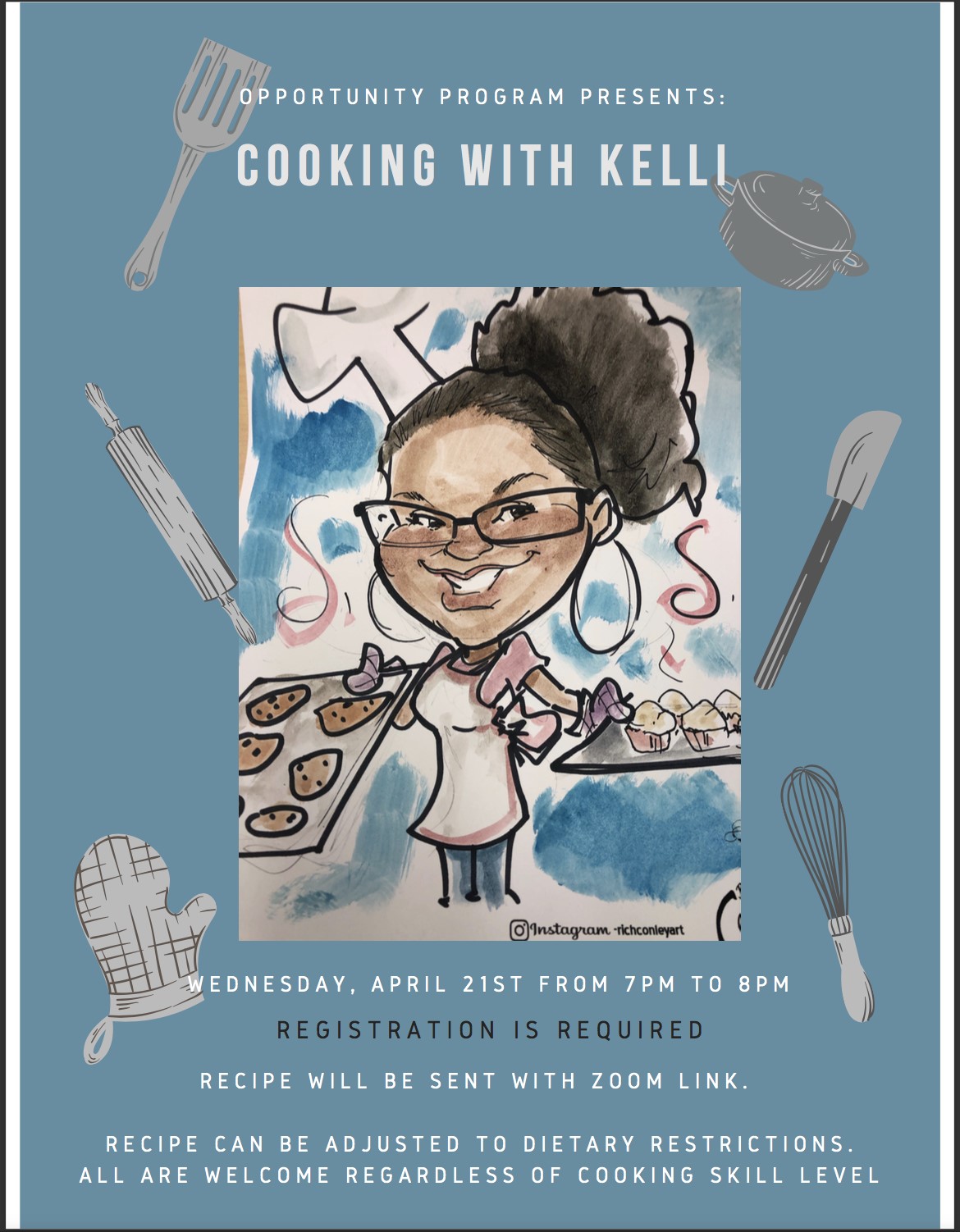 Our most popular - and most delicious - event of the year was a new edition: Cooking with Kelli! OP Director Kelli Johnson took her cooking acumen to the small screen and hosted her very own cooking show. She walked students through a step-by-step tutorial for making pizza from scratch, and she even included a Q&A to guide students through improvising the recipe with whatever cooking implements they had on hand in their dorms. Who would've thought you could make decent pizza in an air fryer? Everyone had a great time, and some delicious looking food resulted. This is an event we can't wait to experience in an in-person setting this fall!
We made the most of a challenging year and still managed exciting and productive programming, but now we're ready to ride that energy back into some in-person events! Fall, here we come!
---
op student spotlight
Meet some of the real stars of the show: The students of OP! The last year hasn't slowed down their amazing journeys one bit.
---
Staff News
Whether thriving or merely surviving - and there were moments of both - OP staff still managed to do wonderful things throughout the year.
Kelli Johnson, director, is quite proud of how, although this past year and a half has been quite challenging, the OP staff has continued to offer supportive services to our scholars during such difficult times. We stayed vigilant in coordinating with other offices to provide students with academic tutoring, social programming, and an awareness of mental well-being. During a spring social programming event, Cooking with Kelli!, she was pleasantly surprised to find that many scholars wanted to spend an evening learning to make their own pizzas over Zoom. With the recent departure of Assistant Director of Student Outreach, Aaron Ray, the spring semester proved to be challenging, but a new OP Class of 2025 was selected and has successfully completed the Summer Academic Institute. We were elated to have the students back on campus and are looking forward to seeing all OP scholars in the fall!
Sade Moore, assistant director of student support and advocacy, jumped right into the spring semester. She continued to serve as an advisor primarily for students returning from medical and personal leaves or having academic difficulties. She coordinated a three-part wellness series in the months of March and April with Root3ed, an Albany-based organization focused on mind/body/spirit practices, in co-sponsorship with Skidmore Wellness and the Office of Student Diversity Programs. Sade also worked with Skidmore Wellness to offer weekly meditation sessions via Zoom just for OP students. In May, Sade and the rest of the OP Peer Mentor Program Committee said farewell to their first class of mentors and mentees. She is excited to work with the next set of mentors to support the mentees from the Class of 2025.
To prepare for the 2021 Summer Academic Institute, Sade worked alongside Director Kelli Johnson to review applications and accept 37 students for the Class of 2025. For SAI, she served as an advisor, faculty liaison, and one of the COVID coordinators to support the student's transition into the Skidmore campus community. Outside of the office, Sade served as a member of Skidmore's Collyer VP for Advancement search committee. She also continues to serve as the Treasurer of the Higher Education Opportunity Program – Professional Organization.
Adam Evans, learning associate for humanities/social sciences, had a busy year of firsts to keep him on his toes. For one, he took on a handful of advisees throughout the academic year, which was an awesome experience of getting to know these exceptional students more closely. As this year was the first time that the recently redesigned SAI Reading and Writing courses would run in-person, he was excited to be part of the team finally teaching these linked courses in the format for which they were designed. In addition to his regular teaching duties with OP, Adam also had the opportunity to design and teach an EN 105 course for the English Department in the spring semester: Outsiders, Rebels, & Misfits. The course mined some wild territory and turned out really enjoyable! It also offered a valuable experience to get to work with excellent students at the terminal end of the Expository Writing sequence and to better understand the arc traced by many OP students starting in his HE 100: Academic Writing course and ending in EN 105. In other news - in case you were wondering - his fishing season this year has been quite productive, so he's really hoping for a return to the annual OP hiking / fishing outing this fall!
Devin Madkin, administrative assistant, has had her hands full preparing for SAI. She ordered backpacks, bedding sets, and all manner of supplies for the incoming students so that they would be comfortable and prepared when they arrived. She worked closely with the Head Resident Advisor during SAI to make sure they had everything they needed for weekend activities and events. She also planned another successful End of Summer Celebration. She maintains the OP social media presence to stay in touch with current and future students, and she is now preparing for the busy fall semester and working on hiring work-study students. Outside the office, Devin is working on a healthier lifestyle. She is taking a women's weightlifting class and trying to go to the gym regularly.
Eun-sil Lee, coordinator of upper-class initiatives, has had a busy year advising, overseeing the semester-long GOAL program, and co-teaching Academic Transformations with Meghan Carpentier this past fall - in addition to all sorts of programming, both in-person and online. She also was a part of the staff committee that kicked off the OP Peer Mentor Program, which will continue in the coming academic year. This summer, she was involved in her 7th Summer Academic Institute and was happy that it was mostly in-person, which was a treat after many Zoom events in the past year. The Conversations with Alumni series was also successful this past academic year, and she's looking forward to another year of connecting students with alumni! She also participated in an IGR faculty-staff workshop, making some new connections with faculty and staff around campus. Outside of work, she has been busy supporting the program planning for the upcoming Saratoga Book Festival.
Meghan Carpentier, coordinator of student success and retention, spent the last 8 months working remotely from the Las Vegas area. She loved the sunshine and heat, but she is returning to Saratoga Springs to be in person for the start of the fall semester. Meghan enjoyed coordinating and presenting workshops during SAI and getting to know the incoming first-year students. She can't wait to get back to meeting with students and having in-person events again! Outside of work, she's been enjoying Vegas and indulging in lots of good food and fun experiences. She continues to do a lot of traveling when possible - including trips to Disney World, New Orleans, a destination wedding in Mexico, and Napa Valley - and she is looking forward to an upcoming international trip that hopefully will still happen if people stay safe! Looking back on the COVID year, she is very proud of the first year of the OP Peer Mentoring Program, as she saw some great relationships form. In general, though, she just loves working with her advisees and is excited to be back on campus with them!
---
ALUMNI events & opportunities
Dear OP students who have gone out into the world: We miss you! Get in touch!
Conversations with Alumni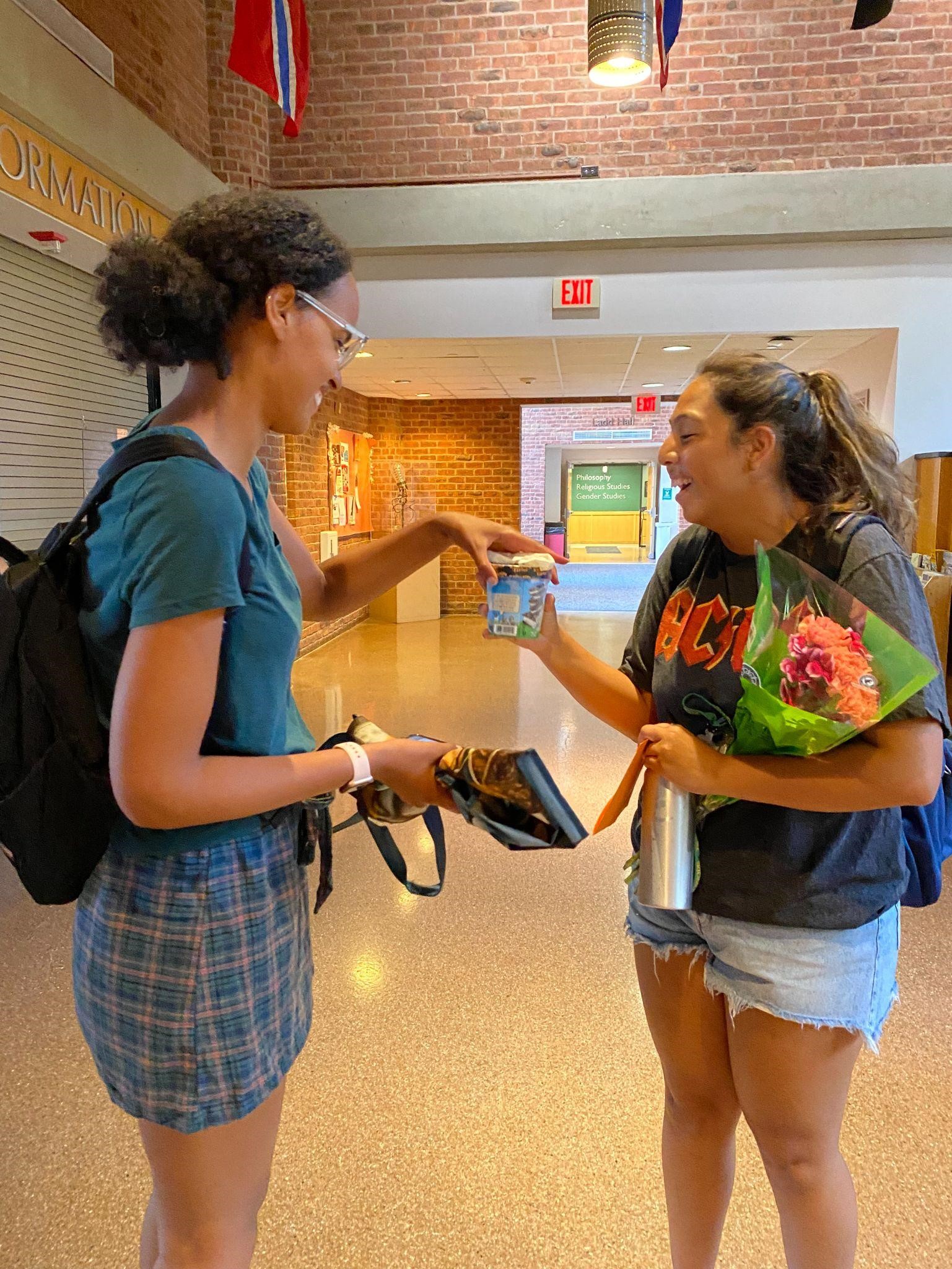 Conversations with Alumni is a one-hour series created to foster connections and networking opportunities between current OP students and OP alumni. Each conversation hour is organized by industry or field of study. For instance, in the fall of 2020 we held three conversation-hours: kicking off with alumni in September in various fields, alumni currently in graduate school during October, and alumni in the business/consulting/finance industry in November. In the spring, we had a session in February with alumni in the nonprofit/sustainability field and a session in April with alumni from NYC Schools and Daily Motion. We continue to look for any and all alumni who simply want to share their experience with our current students through one of these sessions or as a mentor. So please contact Eun-sil if you are interested in participating or have any general questions about alumni engagement and events!
Alumni Interest Form
The Opportunity Program is excited to have our alumni connect with current students, and there are multiple ways to get involved. Please click below to complete a short survey regarding ways you might be interested in engaging current OP students: Alumni Interest Form
Our Alumni Engagement Network!
As always, we continue to build our LinkedIn network to connect Skidmore OP students, alumni, and staff. If you're on LinkedIn, please join the group and get connected!