Winter 2020 Opportunity Program Newsletter
Greetings and happy new year to all!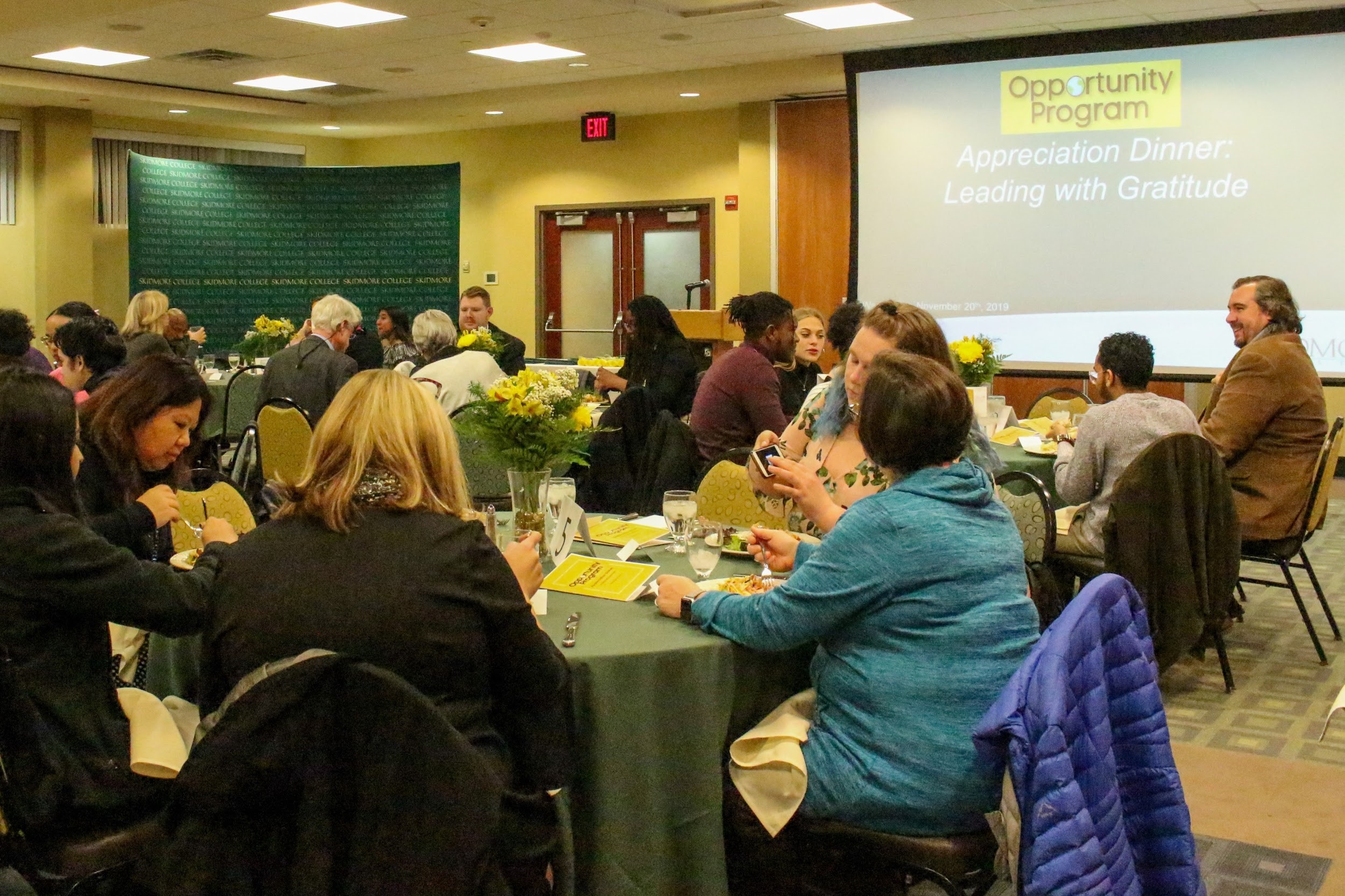 Skidmore Opportunity Program is looking back on another year of challenges bested and accomplishments recorded in our ongoing pursuit of supporting our students. We're especially proud of our role in weaving students into the fabric of the Skidmore community through the shared work we do with faculty and staff across campus, the intensive programming we provide to keep our students engaged and the support we offer our students both academically and personally. To this end, it has been an eventful year of innovation and collaboration to continue to stay in step with the most pressing OP student needs and to ensure students feel empowered to seek out the resources that will enable them to succeed as they advance along their journey.


Of the many events OP has been a part of over the past year (check out the Fall and Winter Recap section for more details), one that was most representative of the community of strong bonds and support surrounding OP at Skidmore was the inaugural OP Appreciation Dinner. Following the theme of "Leading with Gratitude," this emotional evening was designed to let OP students recognize the figures on campus who have helped them achieve their goals and find success. Twenty-three faculty and staff members and coaches were nominated by our students to share the evening and some heartfelt acknowledgements, and we were also joined by special guests President Glotzbach, Marie Glotzbach, Joshua Woodfork and Mike DeJesus from the New York State Education Department (NYSED). The night culminated with keynote speaker Erik Morrison, OP alum from the Class of 2015, and his moving reflection about an important mentor in his life, previous OP staff member Kathleen Dudley-Perry, who passed away in 2013. His talk was a powerful remembrance that will not soon be forgotten, and his memories stood as a testament to the vast importance of the mentor-mentee relationship.

With this in mind, OP looks to a new year and to the continued work of aiding our students in cultivating such relationships. We're building on a fall semester that included nearly 30 events — from trips into the forest to networking over appetizers — and a cumulative attendance of over 280 students! It's been an enjoyable and rewarding year, and we're excited to carry that energy forward.
---
Fall & Winter Recap
Our events calendar has been filled to the brim as we welcomed the new students of the Class of 2023, dove into the fall semester and finished out the first half of this academic year. OP hosted or collaborated on 27 events throughout the fall, including our OP Lunch series and numerous workshops on academics and academic life. We also had students and staff participating in a wide range of activities all over campus, from pumpkin-carving contests to African dance performances to workshops on how to land that dream job.

One event that kicked off the semester for us — and something we hope to make a yearly occurrence — was an OP Open House. Seeking to create awareness about our mission and strengthen our ties across all departments and programs, we formally opened the OP office space to the campus community for an afternoon of appetizers, OP swag giveaways and discussions about our shared concerns for student success. The well-attended event was a hit with delicious snacks and insightful conversation. We already can't wait for next year!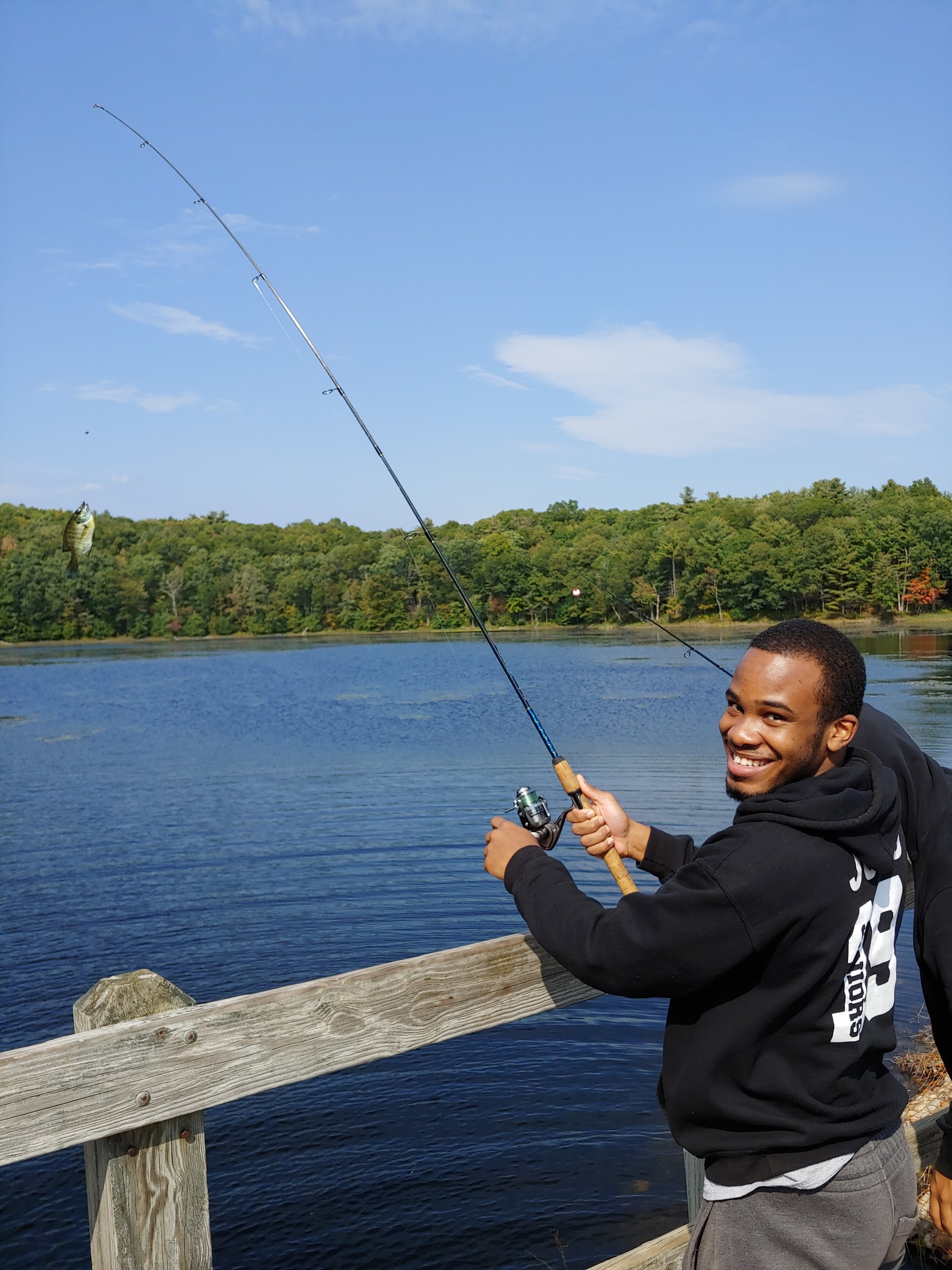 As has been recent tradition, another big event that signaled the kickoff of our semester was a nature-centric outing to enjoy some hiking and fishing in the great outdoors. This year's trip saw nearly 30 OP students and staff taking a day trip to Moreau Lake State Park. One group of students explored the numerous beautiful hikes along the park's wooded ridge dividing the lake and the Hudson River, while another bunch stuck by the lake to try their hand at fishing. The New York State Department of Environmental Conservation (DEC) graciously lent us two dozen fishing rods for the day, and students put them to great use, with some landing their first ever fish!

Back indoors, a number of more formal — but no less thrilling — OP events throughout the fall focused on academics and career development. In early September, Haja Bah '21 and Brian Alvarez '21 attended the Idealist Grad Fair in New York City to explore opportunities for public-interest graduate programs and nonprofit work after their time at Skidmore. They also enjoyed a dinner with a number of NYC-area alumni. For students not as far along on their career path, OP, in coordination with the Career Development Center (CDC), hosted a Networking Etiquette event to give students pointers on the essentials of proper attire and comportment at social mixers and non-seated events. Students showed up looking sharp, enjoyed some hors d'oeuvres and participated in a Q&A with the CDC's Soha Jafarzade. To complement those social skills, OP also hosted a LinkedIn Profile and Resume Workshop and a number of writing labs and study-day workspaces.

Our ongoing semesterly OP Lunch series, designed to bring students together monthly for a meal and discussion of a current topic of note, included a number of great events that highlighted speakers from on and off campus. Early in the semester, our first lunch focused on making sure OP students were familiar with both Professor Winston Grady-Willis' newly launched Black Studies Program and Professor Lisa Grady-Willis' work in the Intergroup Relations (IGR) program. Then, in conjunction with the November elections, Professor of Political Science Ron Seyb was the guest for a luncheon discussion about civic engagement. Both events included introductory talks from the faculty followed by lively Q&A sessions. The second half of the semester featured a lunch with staff from Wellspring, a local resource for domestic violence and sexual assault services, which focused on the theme of healthy relationships and made a striking impact on many students and staff. Leading into the holidays, the final luncheon was a craft-oriented event in which students made cards to send to residents of The Wesley Community, a local senior living facility. Glue splattered and glitter flew until a bounty of season's greetings was en route from the hearts of the OP students to the hands of the Wesley folks.


All across campus, OP students could be seen demonstrating their passions and talents in every way imaginable. The public concert for Professor Ruth Opara's African Drumming and Dancing course included nine OP students who floored the audience with amazing performances: Jeremy Acosta '23, Charles Bailon '20, Juemoore Gordon '23, Shan Griffin '23, Ulele Kachilele '23, Cresenciana Morales '22, Mbaye Ndiaye '22, Lydia Njobvu '23 and Alexandra Polynice '22. It was an energetic evening that left the audience wanting more.

OP students delivered a number of stunning performances in theater this semester as well. Jamin Garcia '21 directed a moving production of Quiara Alegría Hudes' "Elliot, A Soldier's Fugue." As tense as it was at times funny, the intimate piece featured prominent roles from OP students Ganya Osho '22 and Alex Ruiz '22. In addition, Julian Tushabe '22 played in the black-box performance of "The Harvest," and Fabian Rodriguez '22 played in the mainstage production of "The Hour We Knew Nothing of Each Other." We were floored by all of their wonderful work.

OP's Growing Outstanding Aspiring Leaders (GOAL) program supported research projects by Jamin Garcia '20 and Afia Semin '20 over the course of the fall semester. GOAL is a semester-long academic research mentorship that helps give students exposure to data-driven research. Garcia's work, "Destigmatizing Depression in Low-Income Latinx Communities Using CBT," explored innovative uses of cognitive behavioral therapy in historically marginalized populations, and Semin's "Convex Hull Click Emoji (CHCE) Scheme" looked at the future of password encryption. In early December, both gave compelling talks presenting their findings.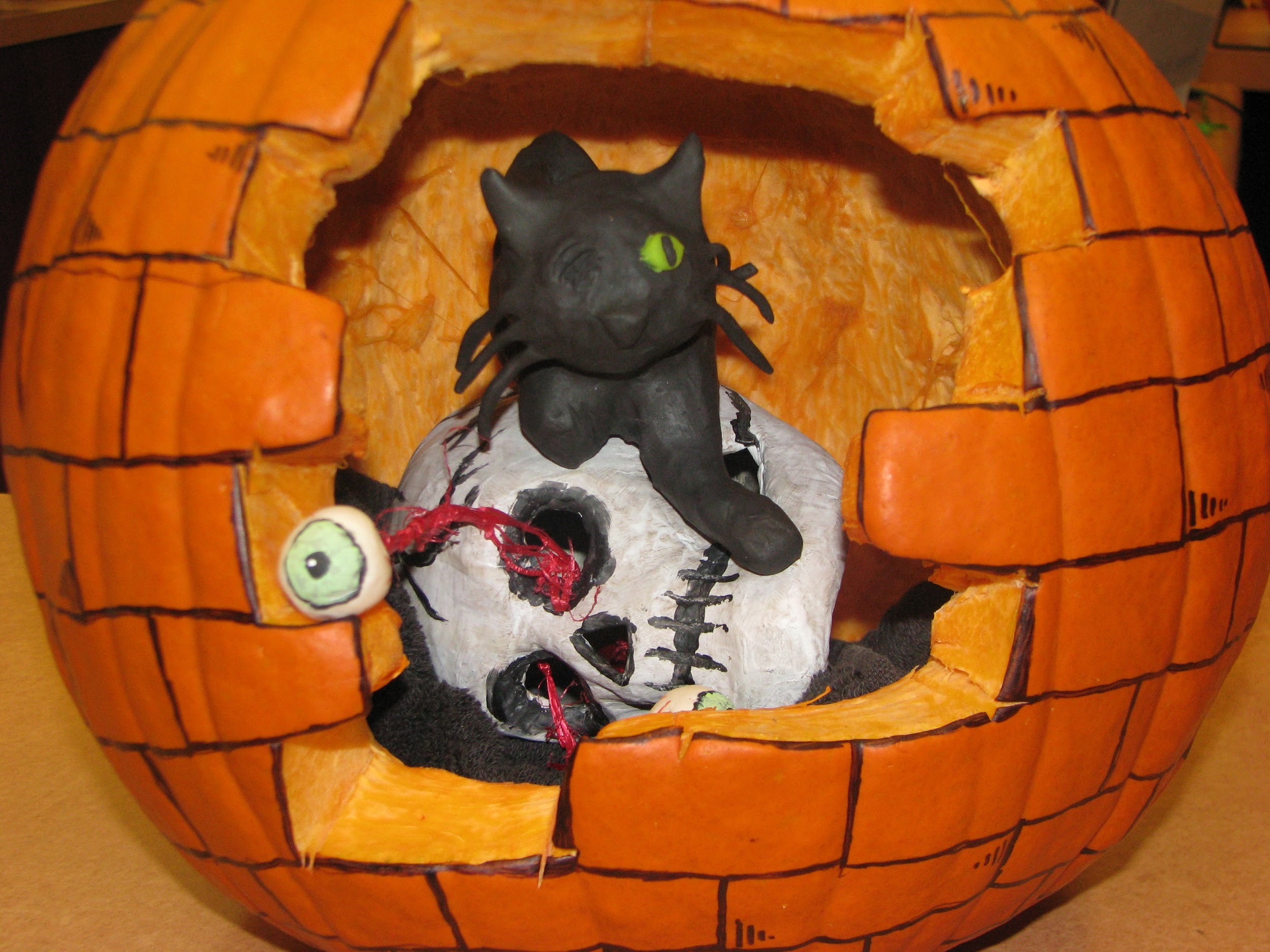 Last, but certainly not least, hot on the heels of a victory in the Lucy Scribner Library Altered Book Contest in the spring, the OP office also succeeded in taking first place in the Fall 2019 Lucy Scribner Library Great Pumpkin Challenge! Our pumpkin, based on the Poe story "The Black Cat," was sure to strike fear in the heart of anyone who gazed upon it. Two in a row; we're on a streak!

Looking ahead to 2020, we've got exciting plans for some fun trips, events focused on internships and life skills after college, and much more. We're coming off an incredibly busy year and we've got so much planned to make sure we're always supporting our students moving forward.
---
meet the StudentS of op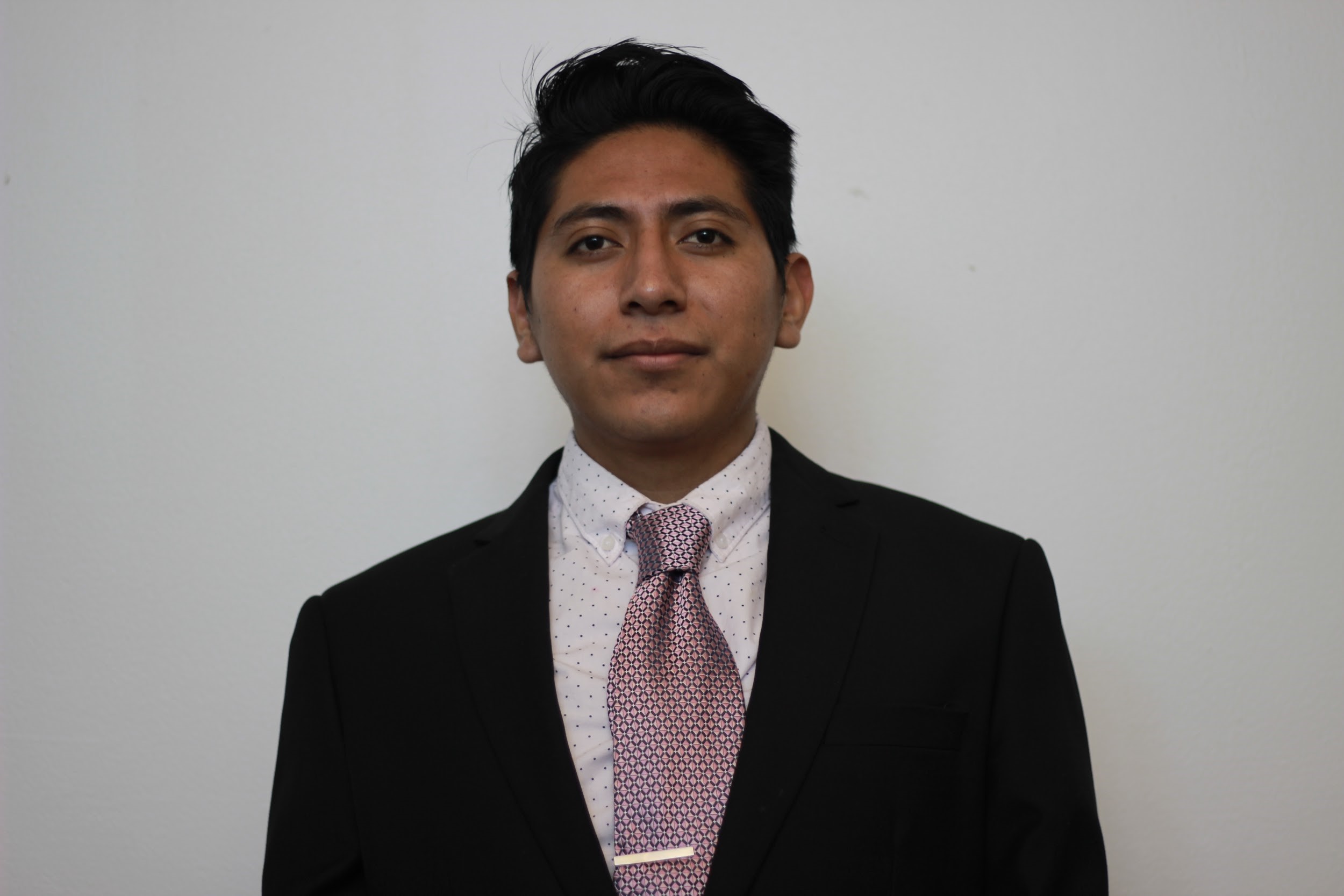 Yordy Cabrera '22
Being a part of Skidmore, I have learned many great things about other cultures and myself. Thanks to the support that OP provides, I've been able to take many classes in different areas that have helped me grow. I am part of the Skidmore Concert Band, which has been a wonderful opportunity. I was also able to take private trumpet lessons and an art class, and those have been educational and really enjoyable experiences that allowed me to meet new people. Being availed to take amazing classes with amazing professors, I have found what I want to major in — studio art. I have found what I feel is my purpose, and that is to make change by creating music and art. I'm also considering pursuing a minor in political science because I want people's voices to be heard in the political system. Also, I am part of the Skidmore Raíces Club, which focuses on celebrating Latinx identities and creating awareness for Latinx issues, and I am currently serving as the club's secretary. I've been supporting Raíces since my freshman year because I am humbled to represent my Guatemalan roots in a place where everyone is from somewhere different.
Jai Gil '23
Born and raised in Manhattan, I am in my first year at Skidmore and intend to major in political science. During my first semester here I was elected first-year class president, and this semester I became the youngest ever president of the Republican Club. In my free time, I enjoy playing soccer and making short films. I focused a lot of my energy on cinematography in high school, and I still try to exercise my passion for filmmaking here at Skidmore with friends who share the same interest. I am currently interning for Elise Stefanik, a U.S. House of Representatives member from New York. My goal after college is to either go to law school or continue pursuing my passion for filmmaking. Through either avenue, I plan to continue to promote and provide inclusive spaces that feel welcoming and contribute to a positive community.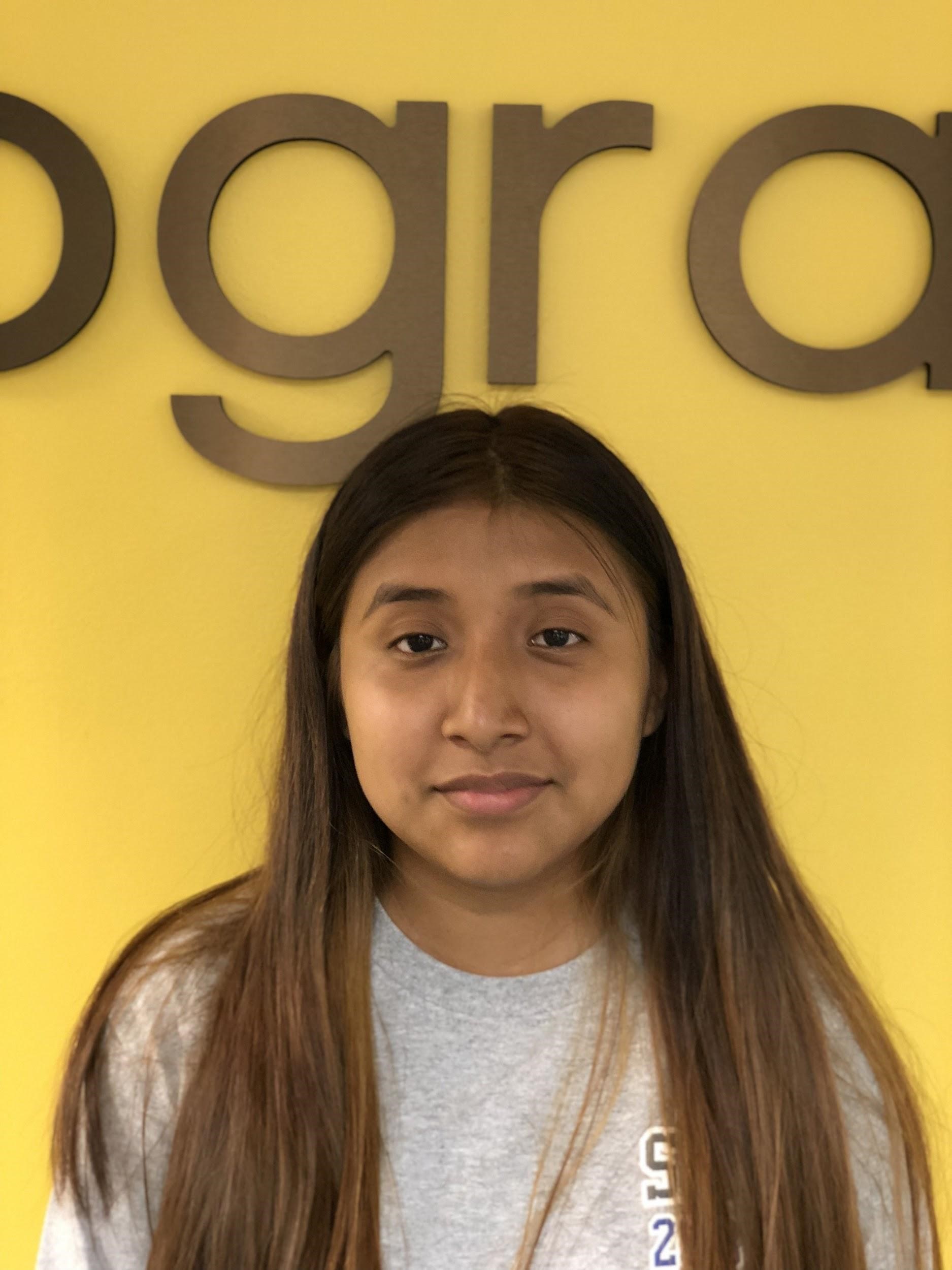 Cresenciana Morales '22
I am a sophomore from Brooklyn, New York. Before attending Skidmore, I knew I wanted to work to bring exposure to underrepresented groups to help them get their voices heard. This is the reason one of my main academic interests and a possible intended major is sociology. My other academic interest is international affairs, which arose after exploring the field here at Skidmore and having my mind opened to big ideas that took me out of my comfort zone. Outside of the classroom, I am involved with the Latinx club on campus, Raices. I joined during fall semester of my freshman year and began serving on the e-board as secretary in spring 2019. For spring 2020, I will still be a part of the e-board but as the treasurer, which will give me the skills to run for the president position in the future. Coming to Skidmore has allowed me to push myself into new experiences and to do things I wouldn't have dreamt of doing before. An example of this is a class I took in fall 2019, African Drumming and Dance, which exposed me to a new culture. The final assignment was a performance in Zankel auditorium, which showed off what I learned about African tribes, songs, instruments and language. I made amazing memories in that class, and it is a course I am glad I was a part of.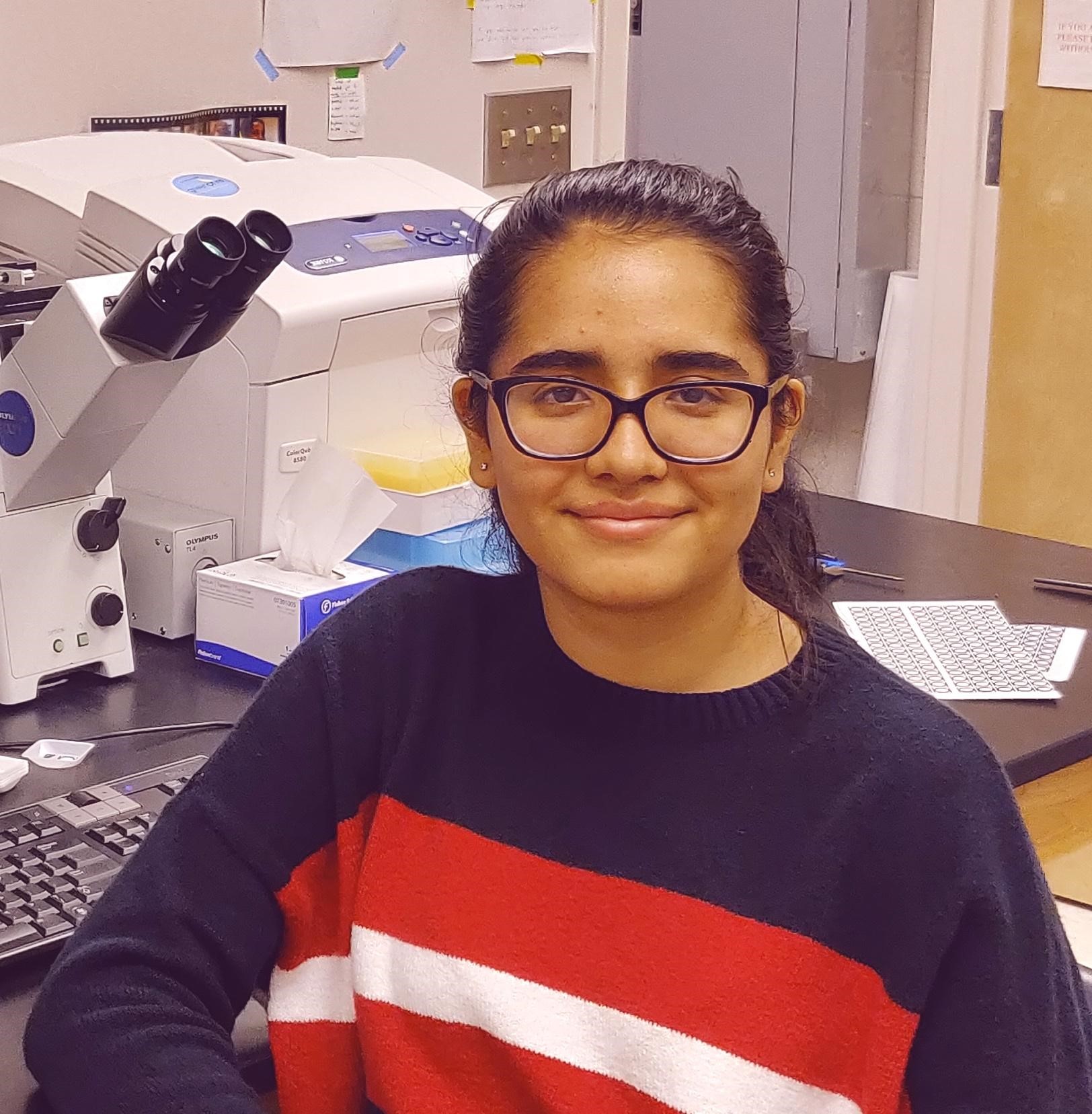 Mastura Mukhamedova '22
Coming from an art-centric high school, I didn't have much background in sciences other than basic introductions. Therefore, taking science classes has always been an interest of mine, and I am able to pursue that interest at Skidmore. In my fall semester as a first-year student I took Principles of Chemistry, and I enjoyed it so much that I went on to take Molecular and Cellular Foundations of Life and Organic Chemistry. Taking Principles of Chemistry was a turning point and the moment I realized I really enjoyed chemistry and wanted to focus on it. As a result, I applied to work in one of the labs in the Chemistry Department. Fortunately, I was able to join Professor Kimberley A. Frederick's analytical chemistry lab after she taught me Principles of Chemistry. Throughout my spring semester, I improved and acquired many laboratory skills while also continuing my science courses to further build upon my knowledge base. I was very fortunate to have a wonderful professor and senior chemists in my lab to guide me through my training and help me in times of confusion. Most importantly, they gave me lots of support and encouragement. I hope to continue to learn and master many more skills to be a better chemist and also use the resources available to gain more experience as an undergraduate student.
---
Staff News
Kelli Johnson, director, stayed busy throughout the fall with a handful of initiatives that produced great results on and off campus. Off campus, she enjoyed coming together with colleagues from across the state during the Higher Education Opportunity Program's 50th anniversary celebration in Albany. The keynote dinner was a great opportunity to reaffirm some bonds between programs, and it also served as a central point for fueling ongoing HEOP advocacy at the state level. On campus, a fruitful partnership with the Office of Off-Campus Study & Exchanges (OCSE) has produced a consistent increase in the number of OP students going abroad and exploring more of what Skidmore — and the world — has to offer. Kelli also completed Intergroup Relations (IGR) training in the fall semester, which will help her facilitate conversations about social justice and difference on campus. This involved two workshops — a beginner workshop last spring and an advanced workshop last fall — which qualify her to act as a shadow coach for future IGR training dialogues. As a shadow coach, she works with an experienced coach to learn how best to support student co-facilitators who lead class- and race-related dialogues. After shadowing for a semester, she will then be able to act as a lead coach and directly support students through the process of leading dialogues. This training and the dialogues are focused on spreading the message of the IGR program to help members of the College community embrace living in a diverse, global society. Looking forward, Kelli is particularly excited about some shakeups coming in 2020, including new course offerings for Summer Academic Institute (SAI) and incoming students from some unexpected parts of the U.S. Stay tuned for more details.

Sade Moore, assistant director of student support and advocacy, had an unforgettable year as she welcomed her daughter, Nina, to the world. The OP office was very excited to say hello to this new addition to the team. Before Nina's arrival, Sade spent the fall getting settled into OP and beginning to cultivate great relationships with students. She worked closely with a handful of students and saw great results in getting them on their path to success at Skidmore. She was also integral in setting up the OP Appreciation Dinner and an amazing OP Lunch focused on healthy relationships, in which she brought OP students and Wellspring community advocates together to discuss issues connected to abuse. Sade also teamed up with Aaron Ray to organize the HEOP 50th Anniversary Conference in Albany, where she was subsequently elected treasurer of the HEOP Professional Organization Executive Board. Congrats to Sade on all of her big accomplishments this year. She has kept super busy during her first summer and fall at Skidmore, and she is just getting started with exciting and unique programs to support OP students.

Aaron Ray, assistant director of student outreach, had his hands full during the fall as he traveled to Ohio to recruit Kettering students and to New York City and western/central New York to recruit HEOP students. He attended the 2019 NACAC Conference in Louisville, Kentucky, and was a voting delegate for a historic vote on the organization's Code of Ethics and Professional Practices as it pertained to a Department of Justice Anti-Trust Division investigation. In November, Aaron was also the conference planning chair for the HEOP 50th Anniversary Conference, which featured a keynote from Leecia Eve, daughter of HEOP creator Arthur O. Eve. At the conference, Aaron was elected to the HEOP Professional Organization Executive Board as secretary. Aaron had previously served as the Albany regional rep for the e-board.

Meghan Carpentier, coordinator of student success and retention, enjoyed continuing to get to know the new first-year students through teaching Academic Transformations, advising and hosting events throughout the fall semester. One of her main goals for the semester was getting students engaged in programming, and she's ecstatic to report that 93% of our OP student body participated in at least one of our almost 30 fall events. Meghan also loves supporting our students' initiatives outside OP and had great fun attending three theater productions and the African Drumming and Dance final class performance. Personally, Meghan spent much of the year traveling around the country, including stops in Las Vegas, Houston and Los Angeles. She has plans to continue that trend this year with a return trip to Nashville in February and a trip to Austin, Texas, in March, where she is also looking forward to attending the National Association of Student Personnel Administrators (NASPA) conference. The beginning of January also brought with it Meghan's two-year OP anniversary.
Adam Evans, learning associate for humanities and social sciences, had a great fall semester teaching HE 100: Academic Writing for his second year. He really enjoyed continuing to get to know the first-year OP students in the course and seeing them produce some compelling research and writing. Outside the classroom, one of Adam's highlights for the fall was the fishing and hiking trip to Moreau Lake State Park. As an avid fisherman, he took great joy in seeing students wet a line, even if he spent most of his time helping to untie knots. In the spring semester, Adam is looking forward to picking the brains of students and gaining exposure to some new readings through the OP Book Club.

Eun-sil Lee, coordinator of upper-class initiatives, had a busy fall semester filled with advising, overseeing the semester-long GOAL program and co-teaching Academic Transformations with Meghan. She also collaborated with Adam for a weekly writing lab to provide a consistent time and space for students to work on papers, reading assignments, essays and any other projects, with the opportunity to ask her or Adam for feedback. Eun-sil completed training to be a Sexual and Gender-Based Misconduct (SGBM) advisor for both reporting and responding individuals, hoping to be an additional resource for students. Eun-sil also arranged for upper-level students to attend the annual Idealist Grad Fair in New York City and then connect with some OP alumni over dinner. Additionally, she began a series called Conversations with Alumni in which select alumni are invited to speak to current students in an open Q&A forum around topics related to pursuing advanced degrees and navigating professional life. Eun-sil's research project on support of historically underserved student populations, in collaboration with Adam Evans and Lisanny Manzueta Custodio '18, is ongoing, and she hopes to finish data collection by early spring 2020.

Devin Madkin, administrative assistant, focused her energies, as always, on keeping the OP office running smoothly and making sure our students were taken care of. To keep students healthy and happy during the dining hall closures surrounding the Thanksgiving and winter breaks, she oversaw the piecing together and distribution of care packages containing snacks, fruit and readymade meals. We can rest easy knowing no one went hungry with the bulging bundles the students hauled away. Devin also designed the new, and very coveted, 2019-2020 academic year OP sweatshirt. Students are already eager for this hot piece of apparel to drop. Taking those design skills even further, Devin played an integral role in creating the OP office's award-winning submission to the 2019 Lucy Scribner Library Great Pumpkin Challenge.
---
ALUMNI news and events
Conversations with Alumni is a new OP program to connect students on campus with OP alumni who can share their experiences with graduate programs and pursuing a career after higher education. The inaugural event in the ongoing series featured a conversation on the New York University Nursing Program, a program with which Skidmore has an articulation agreement. Jason Bourdier '18 and Astrid Rodriguez '18 were kind enough to take time out of their busy schedules to talk with current OP students about their experiences, the challenges they've faced and the rewards of the program.

We have a number of interesting talks, on and off campus, lined up for the Conversations with Alumni series for the coming year, and we would love to hear from additional alumni who would be willing to participate. If you would be willing to dedicate your time to offering guidance to the current group of Skidmore OP students, please contact Eun-sil.

Also, we are still seeking your input for our OP alumni survey. Any insights from alumni that can help us further the mission of OP and ensure the success of current students now and in the future is greatly appreciated. Please share your experiences with us here.
We're also continuing to build our LinkedIn network to connect Skidmore OP students, alumni and staff. If you're on LinkedIn, please join the group and get connected!