Winter 2021 Opportunity Program Newsletter
The First Ever Virtual Summer Academic Institute!
As we continue to welcome the Skidmore Opportunity Program Class of 2024 - some of whom are still working hard having never been to campus - we want to take a moment to acknowledge the challenges they've overcome in this year like no other. Standing out among these accomplishments is a summer that none of us would have dreamed of a year ago: a fully remote OP Summer Academic Institute!
Bringing the students of this year's SAI into the Skidmore community demanded an outstanding effort on the part of our new first-year students, OP staff, SAI summer staff and faculty, and all of our campus partners - and, believe us, we pretty much tapped them all at some point. Through a blend of synchronous and asynchronous online teaching, tutoring, social programming, and advising, we were able to maintain the rigorous SAI experience that all our OP students look back on so fondly.
Students spread across the globe in eight different time zones, from Manhattan to Middle America to Mongolia, attended a full schedule of synchronous classes, providing them the opportunity to bond with one another and Skidmore faculty. Students dove right into exciting electives in the fields of Sociology, Anthropology, and Math offered alongside foundational Critical Reading, Language Skills, and Study Skills courses. They also got the chance to participate in a ton of academic workshops to begin to ease them into the campus experience, including discussions of HEOP history, an introductory chat with President Marc Connor - as one of the first student groups to do so! - and meetings with an array of folks from the Skidmore community.
To ensure their academic success, students were supported by an elite team of scholars recruited from the ranks of the Skidmore 2020 graduating class! Skidmore OP alum Brittany Watts and Ethan Reardon and Skidmore alum Jasper Ballot, Kelly Tran, and Sara Tumulty-Ollemar provided students with a whopping 315 total hours of tutoring across all their subjects! The tutors worked incredibly hard to find creative ways to engage and get to know the remote students, and SAI could not have succeeded without them!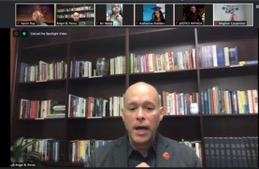 Though SAI is renowned for the weekend trips to Lake George, the Adirondacks, Great Escape and other great local destinations, obviously this year we had to get creative in keeping morale up throughout the intense work schedule. Students were paired with virtual roommates to give a little taste of the dorm experience, and they were tasked with creating a multimedia introduction to their roommate. This resulted in some hilarious and touching videos and presentations that we'll definitely be going back to watch for ages. Students also took part in trivia nights, a Hamilton movie night, OP Social Club virtual hangouts, and social media challenges. The summer then wrapped up with an end of summer virtual celebration that brought everyone from SAI together and offered an enlightening conversation with Angel Perez, Skidmore OP Class of '97 alum and new CEO of the National Association for College Admissions Counseling (NACAC). Perez gave an uplifting talk on the role of Skidmore in his life and held a lengthy Q&A session in which students picked his brain about finding their paths forward in the world.
SAI and the entire summer were certainly an unprecedented experience, but we're so happy to now have the Class of 2024 on board and thriving. Even a pandemic couldn't stop them!
---
A Whirlwind Year in Review
As we suddenly went remote in the spring semester, the OP office worked diligently to face the challenges of providing continued support and programming for students. We innovated to hold together an already ongoing series of career-focused workshops, to aid students applying for Skidmore's Summer Experience Fund (SEF) internship support, and to maintain lively Zoom programming like an Adulting 101 workshop. When it was difficult to predict just what the next day would hold, students were able to find some degree of normalcy in the faces of the OP community - even if it was through a computer screen.
Thriving during a time of crisis, OP students pulled through to find amazing summer internships and to make impressive pitches to the SEF award committee. A long list of students went above and beyond to secure funding for their creative summer endeavors, including Alejandra Batista '22, Amber Soucy '23, Julian Tushabe '22, Jordana Suriel '21, Katy Ballo '21, Keshawn Truesdale '21, and Lydia Njobvu '23. Though the internship experiences unexpectedly ended up remote, students still accomplished amazing things and honed valuable skills. We're endlessly proud of them!
As students got accustomed to their remote academic settings to finish out the semester, OP did our best to send good vibes and fun over the Zoom waves. This included a wild late-night DJ Spades ('20) Instagram Live Party and a calming afternoon of yoga hosted by long-time OP collaborator Nikki Rogers. Both events gave students an important chance for a little light distraction in a time when many were struggling to adjust. The work to engage our students from afar could never live up to seeing their bright smiles in person, but we persevered on Zoom together!
Coming out of the hectic weeks of SAI, we were immediately confronted with the challenge of keeping students feeling supported and healthy as those from outside New York quarantined before the fall semester. We kept the positive energy of the summer's social programming rolling and kept both quarantined students and those stuck indoors at home busy with Zoom charades, virtual brown bag lunch hangouts, a reading group and film screening focused on the work of James Baldwin, and the ever popular trivia night. We found some great opportunities to give folks a chance to mingle and connect with their peers as they were pushing through lockdown, and we managed to have a little fun along the way.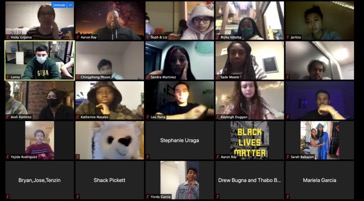 By the kickoff of the fall semester, OP staff and students, now masters of the virtual format, launched into a hearty schedule of programming that rivaled any normal semester. Three very well attended ongoing series ran throughout the semester: watch parties for the presidential debates and election, Conversations with Alumni, and a partnership with the CDC to focus on the changing job market. Students also gave enthusiastic feedback on workshops tackling Zoom survival skills, financial literacy, self-care, and a new iteration of Adulting 101 focused on apartment hunting and life off campus. In total, we hosted or collaborated on over 20 events with overall attendance of over 250 students; there was a little something for everyone in the mix!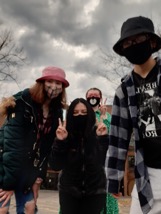 This semester's Growing Outstanding Aspiring Leaders (GOAL) program, OP's initiative to support independent student research, featured compelling projects from Arpita Kholsa '21 and Cresenciana Morales '22. Arpita's work focused on activism via social media, while Cresenciana investigated femicide in Mexico. Their semester of research culminated in thoughtful, engaging presentations that were among the best attended in the history of the program!
This semester also brought the launch of a new OP Peer Mentor Program, which pairs our juniors and seniors with incoming first-year students to help guide them as they get accustomed to life at Skidmore. We're getting awesome reports of mentors and mentees developing great bonds as they chat by text and grab the occasional socially-distanced coffee together, and we're excited to see this program grow in coming years!
---
meet the StudentS of op
Aaliyah Lawrence '24
I was born in Harlem and raised in the Bronx. As the oldest child of seven, I knew I had to set the right example for my siblings by going to college. My journey to Skidmore was unexpected; in high school, I was interested in getting a computer science degree, and I was looking at technical colleges instead of liberal arts colleges. My high school advisor suggested I look at Skidmore since one of the graduates was attending and they really enjoyed the college. I decided to take a bus trip during Veteran's Day, and I got to see a lot of the campus. I was able to connect with one of the students that I knew, and they advocated for the school and helped answer all my lingering questions. While Skidmore hadn't been on my radar, I decided to apply and attend an interview to see if I would be a good candidate for the college. Thankfully, I had the luck of interviewing with Meghan from OP, and she was able to inform me more about the college and options for pursuing my computer science degree while also exploring my other humanities-focused interests. I think the combination of both STEM and humanities is what made me decide to join the Skidmore community, and, so far, I feel as if I made the right choice.
Baomou Feng '21
My name is Baomou Feng, and I was born in China but migrated to Costa Rica when I was eight years old. I have had the opportunity to live in three different countries including China, Costa Rica, and the United States. I consider myself multicultural and enjoy learning about different cultures. Currently, I am a senior majoring in Biology and minoring in Chemistry. One of my favorite courses at Skidmore was Organic Chemistry, where I really enjoyed learning about the mechanism of chemical reactions. Throughout my time at Skidmore, I have been heavily involved in research with Professor Sylvia McDevitt in the Biology department. I also served as an EMT for SCEMS since being a first-year. My goal after graduating from Skidmore is to pursue a medical degree and become a physician in emergency medicine or cardiology. Currently, I am in the application process and waiting to hear back from the schools to which I have applied. More importantly, I am grateful for the Opportunity Program to allow me the chance to study at Skidmore College. I would never be where I am today without the support of the OP family.
Leo Parra '24
I am a first-generation Chicano student from Tucson, Arizona, but my roots lay in Mexico. I attended a primarily Latinx high school that gave me the opportunity to learn how to play, and love, the piano. Also, I enjoy cycling and race from time to time. I currently hold a city record, with four others, for the longest indoor cycling at 17 hours straight. I am interested in research, specifically in Micro and Cellular Biology. My interest lies mainly in Biomimicry and applying natural and biological systems into human-made designs. Unfortunately for me, Corona has forced me to stay home for my first and second semester of college. Although staying home was not where I saw myself a year ago, it has been eye opening to balance the workload of college and still having chores at home to deal with. Nevertheless, I made friends and tried pretty hard not to procrastinate.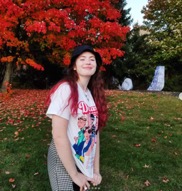 Kayleigh Duggan '24
Hi everyone! My name is Kayleigh Duggan, and I am currently finishing the first semester of my first year. As a first-generation student coming from a small town in Bath, Maine, I've been able to embrace most all that Skidmore has to offer at this trying time. Looking into the future, I hope to double major in Dance and English and get a minor in Theater if possible. Although a lot of the dance clubs I was hoping to join did not take newcomers this semester, I was able to join HIPS club, a club that stands for Health, Image, Power and Success and tackles body empowerment and self-love. I'm also hoping to join Skidnews next semester. I love to cook and bake, and I'm excited to use my kitchen back at home during winter break! Some of my favorite things to make are strawberry shortcake, vegan brownies, and classic guacamole.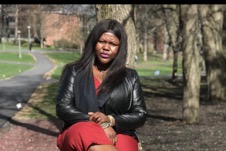 Korotoumou Katy Ballo '21
My name is Korotoumou Katy Ballo, and I am from Côte d'Ivoire, West Africa. I moved to New York City seven years ago, and I speak French and Mandinguo as my first languages. I am double majoring in Management & Business and International Affairs. I heard about Skidmore through my high school counselor, and, when I visited the school in the fall of 2016, I fell in love with the people I met, the resources I was introduced to, and, especially as a first-generation student, the vibrancy of the community. Before I went to study abroad in the United Arab Emirates and France, I served as the Club Correspondent for the African Heritage Awareness club and the President of the Muslim Student Association. My passion varies across different disciplines: from Pan-Africanism to feminism to entrepreneurship and so much more. I love to read books that are related to the African continent and written by African authors. I am passionate about young women's empowerment through education and mentorship. I am also business-oriented and working on starting my own agro-business. Next semester I will be joining the Skidmore-Saratoga Consulting Partnership (SSCP) as I prepare to enter the workplace after graduation as full-time Business Consulting staff at Ernst & Young. I am very excited to start my journey in the real world and put into practice the knowledge and experience I have gained at Skidmore.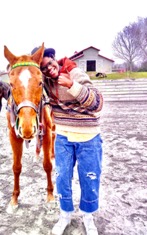 Keshawn Truesdale '21
I'm from Brooklyn. I have a passion for understanding law, particularly Constitutional Law, which leads to my love for history; the past is never behind us. As Dr. Manhattan states in the graphic novel Watchmen, "Nothing ends." Recently, I've been incredibly moved by a school of thought specializing in Black nihilism. Upon arrival at Skidmore College, my interests have expanded to making videos and writing stories. I believe that my English major with my Media Film Studies minor is a match made in heaven. Considering plans after graduation is such a daunting task. I sat down and reflected on my past work adventures, and a through line I noticed was partnering with children and teenagers. During high school I worked at Red Hook Youth Court and Reading Partners. At RHYC, high school students participate in various court roles and explore the value of rehabilitative justice. With Reading Partners, I helped improve the literacy skills of people from my neighborhood of Bed-Stuy. Based on these experiences, I decided to pursue a career in teaching or coaching.
---
Staff News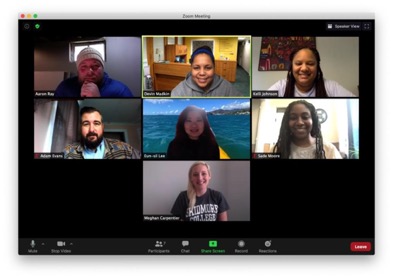 Kelli Johnson, director, overcame some unprecedented obstacles this year as she guided the OP staff and students through the transition to remote learning. She spearheaded the operations to get students off campus safely in the spring and to pool resources in order to organize a successful virtual Summer Academic Institute, infusing the office's work at each step with the principles of flexibility and creativity to meet each new challenge. With a number of students unable to physically be on campus for the semester, Kelli added to her always busy schedule the task of providing one-on-one support and advising to international students still spread around the globe. There have been some early mornings and late nights, but she's doing all she can to keep students connected to our OP community wherever they are.
Aaron Ray, assistant director of student outreach, had his hands full as the pandemic took hold the same week that acceptance letters were sent out to our current first-year students. Aaron worked quickly to develop virtual programming to engage admitted OP students. Once the class was enrolled, he quickly pivoted to developing and executing a remote Summer Academic Institute which successfully ran from June 27th to August 1st. Since then, Aaron has been hard at work recruiting the next class of OP students through virtual visits, including panels, information sessions, and interviews. The highlight of Aaron's year was when he was awarded with the Inclusion, Access and Success award, given to an individual or program that champions the issues of access and making post-secondary opportunities available to historically underrepresented students by the New York State Association for College Admissions Counseling (NYSACAC). He was also voted in as Vice Chair for Membership for the College Access Consortium of New York (CACNY). On a personal note, Aaron and his family are busy preparing to welcome another daughter to the world come February.
Sade Moore, assistant director of student support and advocacy, returned from maternity leave in April and jumped right into supporting our students. She was fully engaged, serving as an advisor and Faculty Liaison for the Summer Academic Institute, an advisor for students returning from medical and personal leaves, a contributor to the COVID-19 Resource Book for Students, and a facilitator for programming for the fall semester. Along with other OP Staff, Sade serves as a member of the inaugural Peer Mentor Program Committee. Over the fall semester, the committee happily welcomed their first set of OP Peer Mentors from the Class of 2021 and Class of 2022. She is grateful that these mentors have set the standard and will leave a lasting impact on the future of the Class of 2024 and on the program overall. She is also excited to continue to engage the students in advocacy activities to ensure that members of the State Legislature hear student voices and continue to financially support HEOP. Outside of the office, Sade continues to serve as the Treasurer of the Higher Education Opportunity Program – Professional Organization. She played an integral part in updating the organization's by-laws and continues to develop policies for modernizing the financial processes for its members.
Meghan Carpentier, coordinator of student success and retention, is incredibly proud of the staff and students for making it through a remote Summer Academic Institute this year. She has enjoyed getting to know the first-year class remotely and in-person this fall through Academic Transformations. Throughout the pandemic, Meghan has kept sane by continuing to take Pure Barre classes through Facebook Live (and recently back in studio - finally!), completing her 500th class at the end of July in under 2 years. After not travelling for roughly 3 months, Meghan - very safely - was able to continue her adventures in the summer, visiting Utah, Las Vegas, California, and, most recently, Detroit, which she loved! Meghan continues to work closely with her advisees and extends a huge congratulations to them for working through this semester and doing great academically despite the challenges.
Adam Evans, learning associate for humanities/social sciences, spent much of the year exploring the College's new online learning environment, theSpring. With the change to this new platform coming just weeks before OP kicked off the all-virtual Summer Academic Institute, much was to be done to redesign our Academic Writing and Critical Reading courses for the online environment and to set up online hubs for the new Class of 2024 students to meet and interact. He then built on this hurried experience of designing and teaching the summer courses with a dive right into developing our fall HE 100 writing courses, which he is happy to report ran smoothly in the online format! When not at work, Adam spent most of the year in the woods fly fishing and hiding from the pandemic.
Eun-sil Lee, coordinator of upper-class initiatives, has had a busy year advising, overseeing the semester-long GOAL program, and co-teaching Academic Transformations with Meghan this past fall. In the summer, she also taught Study Skills with Meghan during the first ever (and hopefully only) Summer Academic Institute due to COVID-19. In February, she organized an outing for Black History Month to the New York State Museum to watch a re-enactment of the life of Sojourner Truth; students enjoyed the performance, the museum, and even some ice-skating. In the fall, she also continued the Conversations with Alumni series, which was on pause during the spring. Outside of work, she was invited to join the Board of Directors for the Saratoga Book Festival and is excited to be working on that.
Devin Madkin, administrative assistant, has had her hands full frequently going in to maintain the OP office even while folks are mostly working remote. She maintains the OP social media presence to stay in touch with current and future students, and, as far as possible with social distancing, she's been a point of in-person contact for providing students support with books and supplies, OP materials, and personal storage. Outside the office, Devin's used her quarantine time to work on maintaining a work/life balance and redecorating her apartment.
---
ALUMNI news and events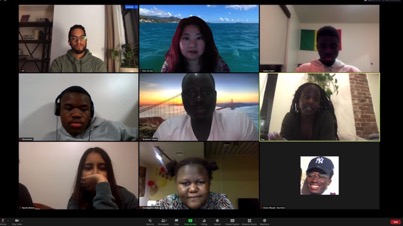 Conversations with Alumni is a recurring one-hour workshop series created to foster connections and networking opportunities between current OP students and OP alumni. Each conversation hour is organized by industry or field of study. For instance, when the series began in fall of 2019, one conversation was dedicated to those interested in the articulation agreement that Skidmore has with NYU's nursing program, as there were two OP alums matriculating in that program at the time. The second conversation was dedicated to students majoring in the arts and humanities. Due to COVID, conversations were put on hold for the spring but resumed in the fall of 2020 with three conversations: kicking off with alumni in September in various fields, alumni currently in graduate school during October, and alumni in the business/consulting/finance industry in November. We plan to continue these series in the spring semester.
We are particularly hoping to host conversations around medical/health professions, STEM fields, and education (teachers and anyone in higher education) but are also looking for any and all alumni who just want to share their experience with our current students. So please contact Eun-sil if you are interested in participating or have any general questions about alumni engagement and events!
As always, we continue to build our LinkedIn network to connect Skidmore OP students, alumni, and staff. If you're on LinkedIn, please join the group and get connected!