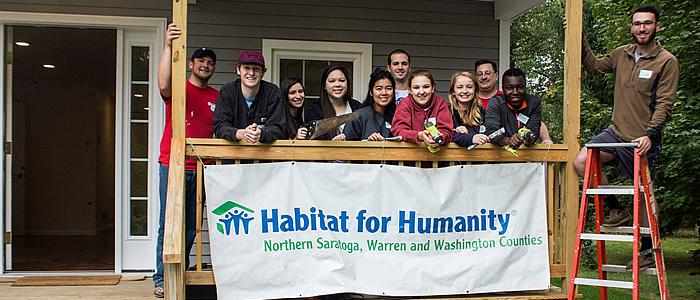 SSCP Team - Director
Colleen Burke
Colleen Burke, director of the Skidmore-Saratoga Consulting Partnership

Executive-in-Residence Colleen Burke has been director of the Skidmore-Saratoga Consulting Partnership since 2013. Burke has an MBA from Harvard University and is currently ABD (completing her dissertation). She has been a professor at Skidmore for 18 years and a consultant to Fortune 500 firms, social enterprises and tech startups for 25 years.

In addition, faculty from throughout Skidmore make themselves available to contribute to SSCP clients and guide student consultants. It would not be possible to run the Skidmore-Saratoga Consulting Partnership without the assistance of faculty with such diverse specializations.
Our consultants - Spring 2020
SSCP student consultants have been selected through a rigorous assessment process that includes nominations by faculty, an honors-level GPA of 3.6 or above and interviews with the program's student managers and faculty director. SSCP consultants include students from diverse majors and minors including business, economics, psychology, studio art, art history, computer science, sociology and dance.
Travis Perls '20

Travis is a senior majoring in Management & Business with a minor in International Affairs. He is returning from a semester abroad in Paris, France, where he consulted for Five Guys Enterprises. Travis and his team presented an actionable business plan and marketing strategy to the head of operations for Five Guys France. His team won first place in the Company Case Challenge hosted by the American Business School of Paris. As a former consultant for SSCP, Travis worked with Healthy Living Market and Cafe. His team compiled a comprehensive consulting report and conducted a formal presentation of strategic recommendations to the client's executive team and board of directors. Travis currently serves as the Skidmore Community Engagement Manager for 9 Miles East Farm.
Ted Roach '20
Ted, a senior from Buffalo, NY is a Management and Business major with a minor in Honors Forum. For the past two summers, Ted has worked for two start-up companies. In the summer of 2018, Ted worked as a sales and marketing analyst for a popular social media company based in Buenos Aires, Argentina called "Taringa!" This past summer, Ted worked as a sales, marketing, and graphic design intern for a beverage company based out of Buffalo, called MyCity Brew. Ted is the captain of the Skidmore Men's soccer team and a member of the Skidmore Investment club. As a former consultant for SSCP, in the Fall of 2019, Ted worked with 9 Miles East. Following graduation, Ted will return to Buffalo to work for M&T Bank.
Tenzin Tashi '20
Tenzin is a senior from Hanover, New Hampshire, majoring in Economics with minors in Chinese and Management and Business. Tenzin continued to pursue his interest in Chinese language and culture and spent his junior spring semester studying in Bejing, China. During the past summer, he worked as an institutional sales analyst in Santa Monica, Los Angeles for DFA, an asset manager. There, Tenzin worked across five desks and presented a business development project to the co-head of the global client group and all sales personnel on the mergers and acquisitions ecosystem within the company's client channels. He will continue to work for them full-time upon graduation.
Aniba Rahman '20
Aniba is a Senior from Dhaka, Bangladesh pursuing a double major in Political Science and Economics. Last semester, Aniba was on the SSCP "Palmertown" team, working with Saratoga PLAN and the Open Space Institute to envision "Grant's Greenway." Last fall she studied abroad in London at UCL. Aniba has interned with Amazon Web Services as a Marketing Specialist Intern at their 2nd headquarters in the Greater DC Metro Area, where she created and implemented success metrics for internal communication and launched new content vehicles. Aniba is excited to return to Amazon Web Services after graduation. Over the past, Aniba has also interned at Microsoft and Save the Children, and established her own environmentally conscious non-profit organization called Green Channel in her hometown, Dhaka. An active member on campus, Aniba currently serves as Skidmore College's Sales Representative to The New York Times.
Taylor Urlich '21
Taylor, a junior from Marblehead, MA, is a Management and Business major and an Honors Forum minor. She was an SSCP consultant on the Saratoga Regional YMCA team last semester and has been appointed to the Y's Board of Directors. Last year Taylor spent a semester abroad in Sydney, Australia, where she interned for Deloitte, conducting research centered around technology, optimization and delivery in order to analyze the risk of launching an online banking platform. Last summer, Taylor interned at Daggerwing Group, a management consulting firm in New York City, where she helped Fortune 500 companies such as Pfizer, FedEx, HPE, and Mastercard solve business challenges ranging from new product development to M&A integration. This coming summer Taylor will join EY as a Financial Services Business Advisory intern.
Jack Barton '20
Jack is a Senior from Great Falls, Virginia, majoring in Management and Business with a minor in Economics. He currently works as a financial analyst intern at Shade Tree Advisors, a Saratoga Springs based firm with expertise in tax, estate planning and wealth management. He started working at Shade Tree in January of 2019, and was a full-time intern this past summer. Previously Jack has interned at WRC, a fundamental, research-based, hedge fund where he provided analysis and research to support the investment process. He was also a digital marketing intern for a boutique travel group in New York. Jack played hockey for most of his life, playing Jr. hockey in New Hampshire post high school and playing on the Varsity Ice Hockey team at Skidmore for two years.
Megan Boyle '20

Megan, a Senior from Brooklyn, New York, is majoring in Management and Business with a minor in Studio Art. She is currently working as a student assistant in the Management and Business Office where she combines her love of the department with her passion for design through curating displays and designing posters for events hosted by the department. This past summer Megan worked at Knopman Marks Financial Training assisting the CEO and founder, Harvey Knopman. Here she analyzed data for over 4,000 students for pass rates, scoring trends and failure rates, and communicated progress updates to Program Managers of major firms. Last spring, she focused on the study and production of art in London, UK.
Zachary Digena-Segal '20

Zach is a Senior majoring in Business and Economics. He has previous consulting experience in Shanghai, China where he interned for Blackpeak Group, an international risk management firm specializing in Asian markets. At Blackpeak Zach conducted research into emerging international organizations. Previously Zach has interned for a real estate agent in New Jersey helping with marketing and search engine optimization. In his hometown of Lambertville NJ, Zach helped organize and run a local charity concert as well as produce a debut album for a local group of musicians.
Ella Direnfeld '20

Ella is a Senior from Maui, Hawaii double majoring in Anthropology and Dance with a concentration in Research Studies. On campus, Ella is a Peer Mentor for First-Year students, a Research Assistant in the Anthropology Department and an active member in the Dance Department. In Spring 2019, she spent the semester in Cuzco, Peru where she conducted her own original research on an indigenous Andean dance, "el wayri ch'unchu" and its ancient alliances with Amazonian peoples that culminated in a 30- page ethnography written in Spanish and translated into English, and an invitation to present at the Northeastern Anthropological Association Conference in April 2020. In her free time (and in warmer weather), she enjoys spending all of her time outside windsurfing, hiking, and stargazing.
Isa Hage '20
Isa, a Senior from Foxboro, MA, is an Art major, with a concentration in Communication Design, and a Business minor. Isa thoroughly enjoys working with art and people. This past summer she worked as a creative intern at Air Paris Agency, an advertising agency in New York City where she created and pitched campaigns to clients and designed various assets for their upcoming digital campaigns. Well versed in the Adobe suites, Isa also has experience working on teams, from films to various classes at Skidmore.
Kenneth Harroy '21

Kenneth is a Junior from Antwerp, Belgium, majoring in Business and minoring in Economics. This past summer Kenneth interned as a sales analyst at Education First in Antwerp where he worked with the sales team to identify and target market opportunities. He analyzed weekly sales data and presented findings to senior management to develop recommendations ensuring the Belgian office met global standards. In addition, Kenneth is part of the Skidmore Student-Athlete Advisory Committee which develops and implements a peer monitoring program to aid student-athletes in academic planning and to facilitate a comprehensive community service program. A member of the Investment Club and varsity player on the Skidmore men's golf team, Kenneth will intern at Ayco's Family Office Division for the upcoming summer.
Hye Joo Jung '21
Hye Joo is a Junior from Gangneung, South Korea, double majoring in Economics and Anthropology. She published a book with her fellow program participants using the excerpts from the travel journals that she and her groupmates kept during their 11 months of travel. Last summer her team at the Youth-Led Urban Regeneration program received an award for assisting in the revival of a declining city in South Korea. She is currently a Student Assistant at the Economics Department. Hye Joo also co-founded Skidmore's Anthropology club and volunteers at the Tang Museum as a tour guide.
Abigail Kaplan '20

From Boston, MA, Abigail is a Senior Business Major with a Studio Art minor with an art concentration in drawing and painting. Abigail has interned for two years with TJX Companies, both as a Buyer's Assistant and a Strategic Analysts. She worked on creating an optimal product mix and worked how capturing the millennial shopper. Abigail is an entrepreneur, creating "TROT" which last year placed 4th in Skidmore's Business Plan Competition. Through Business Department courses, Abigail has worked with local companies, including Summit Clothing Company, Saratoga Horse RX and GE, pitching new concepts, ideas and business plans. Outside of academics Abigail is an avid equestrian with her own horse and rides for Skidmore's polo team. She also has interned and volunteered at New Vocations.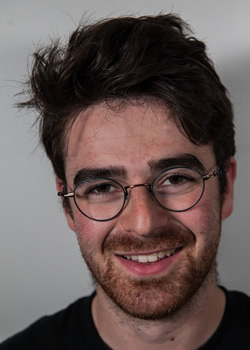 Aaron Rosenbloom '20
Aaron, a Senior from Somerville, Massachusetts is majoring in Business with a focus in marketing, and minoring in Arts Administration. In the Spring of 2019, Aaron worked with a team doing a brand audit and developing strategic marketing recommendations for Summit Clothing Company, a local Saratoga Springs business. He has also worked on academic teams to develop strategies for Jacob's Pillow, Saratoga Horse RX, GE Research, and Etsy. This past summer, Aaron worked with Patagonia at a retail location in Boston to gain insight into sustainable business and develop customer service skills. Aaron is a photographer and works in the print room at Skidmore. He is also the Co-Founder and Co-President of the Skidmore Cross Country Ski Club with which he races. Aaron has interned with Mark Ostow Photography and worked with them as an assistant teacher for the past five years.
Niklas Stahle '21

Niklas is a junior from Fairfield, Connecticut, majoring in Management & Business with a double minor in International Affairs and Spanish. This past summer Niklas interned as a Junior Consulting Analyst at BTS USA Inc. where he worked on business development and financial acumen projects for several Fortune 500 companies in a variety of industries. At BTS he also worked with the Change and Transformation team to analyze corporate culture and how to identify, asses and change a company's culture. By conducting research and interviewing BTS employees, Niklas identified the most important components of corporate culture and how to integrate these components into a client's culture. Niklas spent a year studying Economics and Swedish at the University of Uppsala, in Uppsala, Sweden.
Julia Steeger '21
Julia is a Junior from Medfield, Massachusetts, majoring in Management and Business with a minor in Sociology. For the past two summers, Julia interned at Dedham Savings Bank, where she worked closely with the compliance team and Chief Risk Officer during an FDIC examination. Julia also spent a summer interning at the fashion company Sam Edelman, where she worked in sales and branding. She worked closely with the head of sales as well as the West Coast representative to strengthen brand presence in independent stores on the West Coast. Julia is also a member of the Investment Club on campus. She will be returning to work at Sam Edelman again this coming summer.