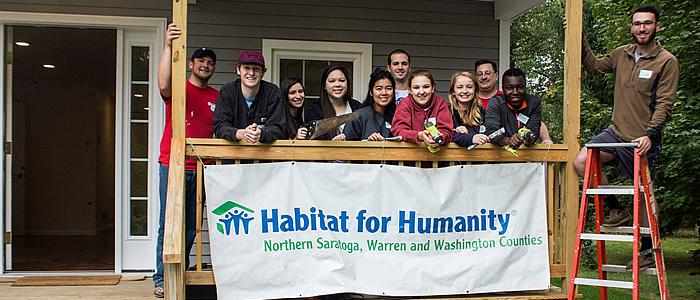 SSCP Team - Director
Colleen Burke
Colleen Burke, director of the Skidmore-Saratoga Consulting Partnership

Executive-in-Residence Colleen Burke has been director of the Skidmore-Saratoga Consulting Partnership since 2013. Burke has an MBA from Harvard University and is currently ABD (completing her dissertation). She has been a professor at Skidmore for 14 years and a consultant to Fortune 500 firms, social enterprises and tech startups for 25 years.

In addition, faculty from throughout Skidmore make themselves available to contribute to SSCP clients and guide student consultants. It would not be possible to run the Skidmore-Saratoga Consulting Partnership without the assistance of faculty with such diverse specializations.
Our consultants - Fall 2019
SSCP student consultants have been selected through a rigorous assessment process that includes nominations by faculty, an honors-level GPA of 3.6 or above and interviews with the program's student managers and faculty director. SSCP consultants include students from diverse majors and minors including business, economics, psychology, studio art, art history, computer science, sociology and dance.
Travis Perls '20

Travis is a senior majoring in Management & Business with a minor in International Affairs. He is returning from a semester abroad in Paris, France, where he consulted for Five Guys Enterprises. Travis and his team presented an actionable business plan and marketing strategy to the head of operations for Five Guys France. His team won first place in the Company Case Challenge hosted by the American Business School of Paris. As a former consultant for SSCP, Travis worked with Healthy Living Market and Cafe. His team compiled a comprehensive consulting report and conducted a formal presentation of strategic recommendations to the client's executive team and board of directors. Travis currently serves as the Skidmore Community Engagement Manager for 9 Miles East Farm.
Tenzin Tashi '20
Tenzin is a senior from Hanover, New Hampshire, majoring in Economics with minors in Chinese and Management and Business. Tenzin continued to pursue his interest in Chinese language and culture and spent his last semester studying in Bejing, China. During the summer, he worked as a sales analyst in Santa Monica, Los Angeles for Dimensional Funds Advisors, an asset manager. There, Tenzin worked across five desks and presented a business development project to the co-head of the global client group and all sales personnel on the mergers and acquisitions ecosystem within the company's client channels. He previously worked at Tocqueville Asset Management in New York, New York.
Lily Esposito '20

Lily is a senior from Los Angeles, California. She is pursuing an Environmental Studies major and a Sociology minor. Currently, she is entering her third semester as the Skidmore Outing Club Co-President, working at a local farm, and tutoring as a Peer Academic Coach. This summer, Lily worked in North Carolina managing half an acre of produce and 25 chickens while also teaching four environmental education courses. In the past, Lily has interned with College Outside and 9 Miles East.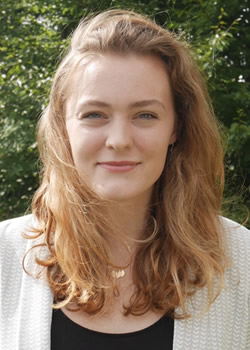 Enid Gallaghar '21
Enid, from Rowe, Massachusetts, is a junior majoring in Management and Business. At Skidmore, Enid has worked both as a Peer Mentor, where she helped incoming freshman acclimate to college life, and as a tutor for Management and Business. For the past year, Enid has worked part-time at her local veterinary clinic as a veterinary assistant, learning important communication and medical skills. Enid is currently aiding in the startup of a not-for-profit animal rescue organization which will seek to rescue animals from kill shelters, re-homing them to new lives. Besides her work, Enid has a passion for the outdoors, where you can often find her camping, hiking, and swimming year-round.
Abby Grayburn '20

Abby is a senior Environmental Studies major. She has previously worked on a rooftop farm in Brooklyn, in Skidmore's North Woods, and currently works in the Skidmore Sustainability Office as a Compost Manager. Having lived in NYC her entire life, her primary interests lie in urban sustainability--protected bike lanes, urban agriculture, sustainable development--and environmental justice. She hopes to one day establish her own urban pollination center or rooftop farm to promote food accessibility. But, maybe consulting will be her new calling!
Jake McCarthy '21
Jake, a junior from Dedham, Massachusetts, is set to major in Business. This past summer Jake interned with the CBDS program at Work Inc., whose mission aims to ensure that all individuals with disabilities possess the right to participate in their communities via meaningful work. Previously, Jake has also interned at a well-established food service packaging company where he assisted with the accounting department. For the past two years, Jake was a member of the Varsity Ice Hockey team at Skidmore. In his free time, Jake enjoys being active outdoors and spending time with his two rescue dogs.
Jennifer Monderer '20
Jennifer is from Andover, MA and is a senior majoring in Studio Art with a focus in Graphic Design, and minoring in Management and Business. Her areas of concentration compliment each other well, as the art and business world are often intertwined. She is interested in working in the intersection of graphic design and business to provide a comprehensive vision of the design field. In her past couple years at Skidmore, Jennifer has been involved in projects within the business department, including Sat Nam Babe and Patagonia Provisions, working on overall suggestions and consulting in strategy, brand, and marketing. During the 2019 summer, Jennifer worked at Neoscape, a creative agency in Boston as a designer. On campus, Jennifer is utilizing her interdisciplinary background as a clerical assistant in the Skidmore art department and will be helping with the Skidmore annual business competition. Jennifer is a driven and determined individual. She is skilled at solving problems, working on a team, and collaboratively reaching a goal.
Theodore Morris '20
Theodore is a senior at Skidmore College studying business management and economics. He has recently returned from Barcelona, Spain, where he studied international finance as well as an advanced study of the Spanish language. During his time abroad, he also interned for Audiconsultores, a consulting company based in Barcelona. For the summer of 2019 Theo double interned, first for AXA advisors as a financial advisor, then for Health Monitor Network as a sales operations analyst. He is currently pursuing a CFA level 1 designation.
Faisal Namanya '20
Faisal, a senior from Busia, Uganda is double majoring in Business Management and Economics. Faisal has also had other study abroad experiences, returning from a semester abroad in London and having completed his high school in Freiburg, Germany. This past summer, Faisal interned as an investment bank summer analyst at MUFG Securities in New York City where he assisted in origination and structuring of asset backed bonds from clients of various sectors e.g. auto, credit card, wholesale and retail businesses. He has also previously interned at the Bank of Uganda and the City of Saratoga Springs Department of Finance. On campus, Faisal is a senior advisor to the African Heritage Awareness Club and also the co-head of the Business Peer Academic Coaches, a group that offers academic support to students in business courses.
Alana Pogostin '20

Alana is a senior from Westchester New York, double majoring in Economics and Environmental Studies. Last Spring, she studied Urban Planning and Global Economies in Copenhagen. With the support of Skidmore's Summer Experience Fund, she stayed in Copenhagen for the summer to intern at an international design festival, 3DaysofDesign, consulting them on an updated business model. The summer and fall semester of her junior year, she interned for the New York State Energy Research and Development Authority (NYSERDA), working for their policy development team in Albany. At Skidmore, Alana is a Peer Academic Coach for the economics department and a board member of the Women's Ultimate Frisbee Team. Following her graduation, she will be pursuing a career as an Urban Planner.
Aniba Rahman '20
Aniba is a senior from Dhaka, Bangladesh pursuing a double major in Political Science and Economics. Aniba is joining SSCP after spending a semester abroad in London at UCL. This summer, Aniba completed an internship with Amazon Web Services, as a Marketing Specialist Intern at their 2nd headquarters in the Greater DC Metro Area, where she created and implemented success metrics for internal communication and launched new content vehicles. Aniba is excited to return to AWS after graduation in 2020. Over the past, Aniba has interned at Microsoft, Save the Children and established her own environmentally conscious non-profit organization called Green Channel in her hometown, Dhaka. An active member on campus, Aniba currently serves as Skidmore College's Sales Representative to The New York Times.
Ted Roach '20
Ted, a senior from Buffalo, NY is a Business major and has a minor in Honors Forum. For the past two summers, Ted has worked for two start-up companies. In the summer of 2018, Ted worked as a sales and marketing analyst for a popular social media company based in Buenos Aires, Argentina called "Taringa!". He met with potential clients to pitch Taringa's platform for advertisements and tracked ad-campaign effectiveness through the use of Google Analytics. This past summer, Ted worked as a sales, marketing, and graphic design intern for a beverage company based out of Buffalo, called MyCity Brew. Additionally, Ted is the captain of the Skidmore Men's soccer team and a member of the Skidmore Investment club.
Will Stricker '20
Will is a senior from Orlando Florida, majoring in Management & Business. This past summer Will interned at Willis Towers Watson, a leading global advisory and brokerage firm, in New York City. Working with the investment risk and reinsurance team, he developed strong analytical and financial skills. Previously he interned with The Brandt Group, a boutique private equity firm located just south of the Washington D.C. area. Will spent a summer studying finance at the London School of Economics, and is also a member of the Skidmore Men's Lacrosse team.
Taylor Urlich '21
Taylor, a junior from Marblehead, MA, is a Management and Business major and an Honors Forum minor. Taylor is returning to campus from a semester abroad in Sydney, Australia, where she interned for Deloitte conducting research centered around technology, optimization and delivery in order to analyze the considerations, feasibility, and associated risks of a client launching an online banking platform. This past summer, Taylor interned at a management consulting firm called Daggerwing Group in New York City, where she helped Fortune 500 companies such as Pfizer, FedEx, HPE, and Mastercard solve business challenges ranging from new product development to M&A integration.
Paul Vella '21
Paul is a junior from Staten Island, New York. He is currently majoring in Management and Business with a concentration in consulting, and minoring in Anthropology. This past summer Paul interned at Ideography, a full service branding and consulting firm where he worked with local businesses to increase customer awareness and community outreach. Additionally, creating presentations and conducting market research were among his day to day activities. Paul is also a member of the investment club, and volunteered last year working with the Special Olympics swim team. He is honored to be a part of SSCP, and looks forward to the start of client facing consulting work.