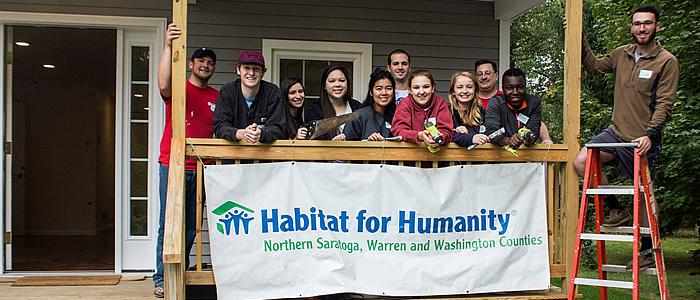 Our consultants - Spring 2019
SSCP student consultants have been selected through a rigorous assessment process that includes nominations by faculty, an honors-level GPA of 3.6 or above and interviews with the program's student managers and faculty director. SSCP consultants include students from diverse majors and minors including business, economics, psychology, studio art, art history, computer science, sociology and dance.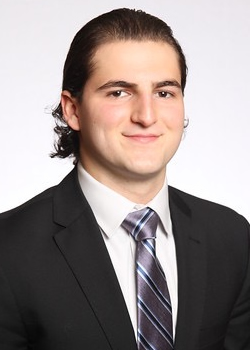 SSCP Manager
Cam Chelo '19

Cameron Chelo, a senior from Smithfield, Rhode Island, is returning to campus after a semester in New Zealnd. A double major in Business and Economics, this is Cam's second semester with SSCP. He previously worked with Pitney Meadows Community Farm on the development of a holistic business plan on how to best utilize their 166 acres of land. This past summer Cameron was a Sales Engineer Intern at Toast Inc., a restaurant technology company based in Boston. At Toast, Cameron was primarily focused on pre-sales engineering, which consisted of consulting with restaurant owners in order to find the primary areas where Toast's product could benefit them. Additionally, Cameron helped design the training program for the entire sales staff. After graduation Cameron will be a Sales Engineer at Toast Inc.
SSCP Manager
Paige Durrant '19
Paige Durrant is from Branchburg, NJ and is a senior majoring in Management and Business. During the past few semesters in SSCP, Paige worked on The Daily Gazette team, presenting a data driven deliverable, as well as, the Healthy Living Market and Café team presenting a sustainable growth deliverable. This past summer, she held a programmatic advertising internship with Cadreon in NYC where she developed strategic digital media recommendations to clients such as, Merck, Healix, and LEGO. On campus, Paige works in the Career Development Center on the Employer Outreach team. She also holds a position as a TA in the Wood-shop and Welding Room of the Skidmore Art Department.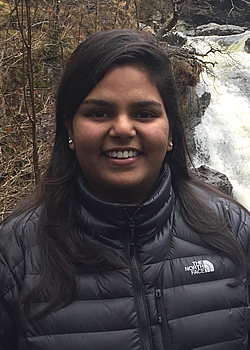 SSCP Manager
Sanjuktha Mohan '19

Sanjuktha Mohan is a senior from Bangalore, India, pursuing a double major in Management & Business and Economics. Sanju is returning to SSCP after having studied Economics at King's College London for a semester. Previously she was an SSCP consultant working with Pitney Meadows Community Farm where she and her team focused on creating a sustainable plan of action for the organization. This summer, Sanju worked with a past SSCP client, The Inn at Saratoga, to help implement recommendations given by SSCP consultants, and did a rotational internship to get a better understanding of the hospitality industry. In the past Sanju has interned at SIX Marketing, a boutique marketing agency in Saratoga Springs and at EY Bangalore. Super active on campus, Sanju holds leadership roles in the Office of Residential Life, Dining Services and Student Academic Services.
SSCP Consultant
Ian Carter '19
Ian Carter, a senior from Bethesda, MD, is double majoring in History and Management & Business. This past summer, Ian interned in the Product Development Department at Everfi, an industry-leading education software company, during the development of their first mobile course. Ian is excited to continue interning with them remotely during the school year. Previously Ian interned and worked part-time for two financial technology startups. In his free time, Ian loves playing jazz bass in various groups and distance trail running with a good audiobook. He caught the travel bug while studying abroad in London, and is planning to take time after graduation for working travel, backpacking, and potentially a job teaching English in Thailand before returning to Washington DC.
SSCP Consultant
Winnie (Yu-Ling) Chien '19
Winnie (Yu-Ling) Chien, a senior from Taipei, Taiwan, is pursuing a major in Management and Business and a minor in Economics. In the past Winnie has interned at Honestbee, a technology startup, DBS Bank and Ayco, a Goldman Sachs company. On campus, she has been a Sustainability Representative at the Sustainability Office, promoting environmental issues. Currently, Winnie is the President of Women in Business, an award-winning campus club that holds events to support and mentor female students towards success in the business community.
SSCP Consultant
Allison Dalton '19
Allison Dalton, a senior from Falmouth, MA, is pursuing a double major in Human Physiological Sciences and Psychology. This past summer Allison held a research position under the supervision of T.H. Reynolds PhD at Skidmore College investigating the effect of age and sex on insulin resistance. She traveled to Minneapolis, MN to present her team's work at the American College of Sports Medicine's 65th Annual Meeting and will be traveling to Orlando, FL this spring to present at Experimental Biology's Annual Meeting. During the academic year, Allison completes qualitative research for the history department. In this role, she maintains a database of responses and helps to identify the most salient information for the creation of a compelling public history project. Allison is also the student representative for the Human Physiological Sciences department, works as a Skidmore Admissions Ambassador, and volunteers at a hospice in Saratoga.
SSCP Junior Consultant
Nigel Dawson '21
Nigel Dawson, from Bronx, New York, is a sophomore set to double major in Business and Sociology and minor in Japanese. This past summer Nigel went on a travel seminar to the University of Lapland, Finland, where he studied different forms of social work throughout the world, the most intriguing being the social work structure of Hong Kong, where the main focus is on the employment of people with disabilities in local companies. On campus, Nigel is currently a Resident Assistant (RA) for the dorms, the President of the Japanese club, NihonGo!, and a the Publicist of the republican club, College Republicans. Nigel is honored to be selected for SSCP in his sophomore year.
SSCP Consultant
Roman DiPasquale '19
Roman DiPasquale, from Buffalo, New York, is a senior Management & Business major and a Filene Scholar in the Music Department. This past summer, Roman interned for the Buffalo Audubon Society, working with the director to update educational and advertising materials through writing copy, incorporating interactive digital components, and designing graphics. Additionally, Roman interned for the award-winning Elmwood Avenue Festival of the Arts, working to boost social media interaction and engagement through market research and content creation. In his free time, Roman enjoys all things outdoors, from skiing, to hiking, to fishing.
SSCP Consultant
Emily Einhorn '19
Emily Einhorn, a senior from Woodstock, NY, is pursuing a double major in International Affairs and Business Management. Over the past summer, Emily worked as a fundraising and community engagement assistant at Saratoga PLAN, a local land conservation nonprofit, while also working as a research assistant in the Skidmore International Affairs department. Emily has also been a research assistant at kglobal, a D.C.-based public affairs and relations firm. Emily is an accomplished metalworker as well as an amazingly talented pianist, vocalist and composer. On campus, she has worked within several music groups, including a cappella, and has recorded an original album. She studied metalwork abroad in Florence as well as within the Skidmore art department.
SSCP Consultant
Pietro Ferrari '19
Pietro Ferrari, from Joinville, Brazil, is a senior, majoring in Management and Business. For the past two summers Pietro has interned with Mondo Strategies, an international strategic consultancy firm based in Boston. He shadowed the senior consultant during key workshops and presentations to e-boards of firms in Brazil and helped in the preparation and execution of these meetings. Pietro is fluent in Portuguese, Spanish and English, and loves to travel and learn about new cultures. He has visited over fifteen countries, three of which he has lived in.
SSCP Consultant
Junxi Gao '20
Junxi Gao, from Tianjin, China, is a junior majoring in Management and Business. He previously worked at China CITIC Bank as an option market summer analyst, where he assisted his manager to determine sell and put option. This past summer Junxi was a private equity summer intern at Orient Excellent Asset Management in Shenzhen, China. At Orient Excellent, Junxi was mainly focused on conducting financial reports on healthcare startups and industrial reports on AI and Big Data, also performed due diligence on target companies with his team. On campus, Junxi was fully engaged in theater productions and worked as a Peer Advisor last year. Currently, Junxi is working remotely as a Financial Analyst Intern at Hyde Park Financial Services, where he is responsible for presenting in-depth equity researches and DCF valuation models.
SSCP Consultant
Anamaria Golemac '19
Anamaria Golemac '19, a Croatian senior student from Mostar, Bosnia and Herzegovina, is double majoring in Management & Business and International Affairs, with a minor in German Language. She has an extensive experience studying and working abroad in Asia, Europe and North America and is currently returning from a semester spent studying in University of Amsterdam. Anamaria has interned in the European Parliament in Brussels, Belgium in the office of an Austrian Member of Parliament where she developed her research through drafting policy recommendations. Anamaria spent last summer as a Risk Management intern for Vienna Insurance Group AG in Croatia while also acting as a Brand Strategist for a sport software start-up, Vizion, in her free time. As a part of a young start-up team, she spent her time drafting business plan and meeting and presenting to potential investors in Balkan markets. Anamaria developed her leadership skills as the president of Skidmore's largest student club, the International Student Union and is currently working on campus as an Office Assistant in the Department of Management and Business and in Student Academic Services. She is also recipient of Skidmore's merit scholarship, the Davis UWC Scholarship, and the Gansberg Scholarship.
SSCP Consultant
Bella Rinskaya '19
Bella Rinskaya, a senior from Moscow, Russia, is pursuing a major in Management and Business and a minor in Theater. In the past, Bella held a market research internship with Unitoys in Moscow, where she analyzed the current toy market and developed recommendations for the company on its purchasing strategy. Bella also held a communications and media position with Selfie-Media in Moscow, where she actively participated in developing board games for children based on Russian folklore fairytales. Some of her responsibilities included designing the images, writing the texts and creating the instructions for the games.
SSCP Consultant
Lilla Seymour '20
Lilla Seymour is a junior from Wilton, Connecticut, majoring in Management and Business. This past semester Lilla studied abroad at Syracuse University in Florence, Italy. Last summer Lilla interned at XO Group, Inc, a media and technology company in New York where she was an internal consultant, working directly under the Technology Operations team and assisting in revenue monitoring and SEO reviews. She also collaborated with XO Group's Marketing and Business Development teams on email marketing strategies and competitive analysis research. Lilla is a member of the Skidmore Women's Varsity Lacrosse Team and works for the Management and Business Department as an Office Assistant.
SSCP Consultant
Samuel Tesfamariam '20
Samuel Tesfamariam, an international student from Eritrea, is a junior double majoring in Management & Business and Economics. This past summer Samuel interned in the Department of Finance of Saratoga Springs, as well as in the Finance Department of the non-profit agency Northern Rivers Family of Services in Albany. On campus Samuel is part of the Student Government Association (SGA) acting as the Finance Officer of the Junior Class Council and is a member of the SGA Budget and Finance Committee. He also works as an Office Assistant in the Office of Student Academic Services (SAS) and as as a gym attendant at the Williamson Sports Center.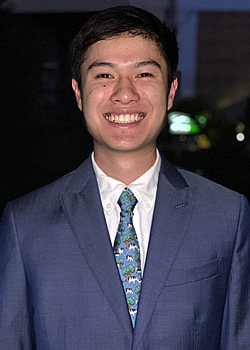 SSCP Consultant
Tatiya Udomritthiruj '19
Tatiya Udomritthiruj, who goes by the nickname Guppy, is a senior from Bangkok, Thailand, double majoring in Management & Business and Psychology. This past summer, Guppy worked with a small search fund located in Boston where he developed strong analytical and financial skills. Previously he interned with Ken Rotundo at Mind Genomics Advisors, in Saratoga. Guppy will begin his official consulting career at Accenture in Seattle after graduation.