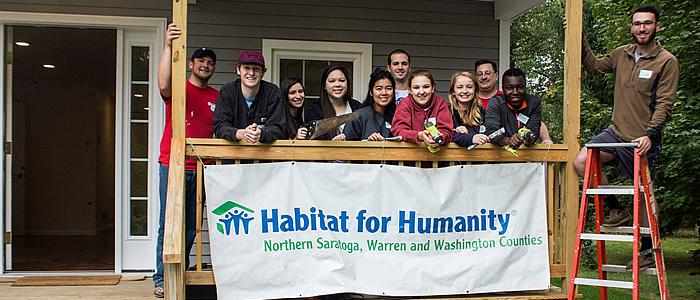 Our consultants
SSCP student consultants have been selected through a rigorous assessment process that includes nominations by faculty, an honors-level GPA of 3.6 or above and interviews with the program's student managers and faculty director. SSCP consultants include students from diverse majors and minors including business, economics, psychology, studio art, art history, computer science, sociology and dance.
SSCP manager
Cam Chelo
TBD
SSCP manager
Sanju Mohan
TBD


SSCP manager
Nick Henning '19
Nick Henning is a senior from Bethesda, Maryland, pursuing a double major in economics and management and business. Some of his past experiences include an internship with the Saratoga Springs Finance Department and his participation in the Freirich business plan competition. Through these experiences, Nick has developed problem-solving capabilities and interpersonal skills that he is excited to bring to SSCP.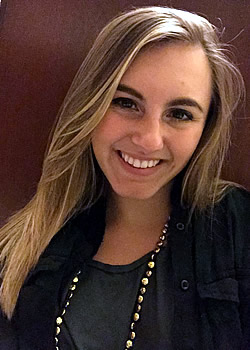 SSCP senior consultant
Paige Durrant '19
Paige Durrant is from Branchburg, New Jersey, and is a senior majoring in management and business. This past summer, she held an internship with Thrift Investment Corporation in Fords, New Jersey. At Thrift, Paige was responsible for handling client accounts in preparation for the company president and lawyers. On campus, Paige works in the Career Development Center on the employer outreach team. She also holds a position as a teaching assistant in the Art Department's wood shop and welding room. Off campus, Paige works at a local gym to help them with marketing and advertising. With a diverse background, Paige is excited to bring her previous experiences to SSCP.
SSCP senior consultant
Anna Boogaerts
Anna Boogaerts is from Providence, Rhode Island, and is a senior majoring in Management and Business and minoring in Studio Art. This past summer she held a marketing and sales internship with Site Specific, a construction company in Providence. She worked directly under the construction company's Director of Marketing and collaborated with their director of Business Development. She assisted in digital and print media, collaborated in creating a new website, and improved the company's digital and social-media initiatives. Anna is on the Skidmore Women's Varsity Lacrosse team and has worked with her coach off the field as an office assistant and marketer while also serving as an assistant within the Athletic Center's equipment room.
SSCP student consultant
Damian Hammond
Damian Hammond
SSCP student consultant
Justin LaRose
Justin LaRose
SSCP student consultant
SSCP Consultant Eric Megnia '19
Eric Megnia is from Barnstable, Massachusetts and is a senior majoring in Business Management with a minor in Economics. This past summer he held an internship with Atlantic Management, a private commercial real-estate investment firm containing a portfolio of over 6.5 million square feet of property throughout New England. He was Involved in the disposition process, responsible for constructing lease abstracts, updating lender debt obligation schedules, and reviewing lease proposals for prospective deals. Eric has participated in several wealth management internships with companies such as Saratoga Investment Solutions and Cape Cod Wealth. He is also a member of the Skidmore Men's Varsity Lacrosse Team and is a Peer Tutor/Study Group Leader for Skidmore's MB107 business class.
SSCP student consultant
Sarina Musallam '19
Sarina, is a senior Political Science major. This past summer she had a consulting internship with Alvarez and Marsal where she specialized in direct procurement of materials. Sarina has worked as a career coach at Skidmore's Career Development Center for the past three years. She has also served as a research assistant within the Political Science department and a Peer Mentor for the freshman seminar program.
SSCP student consultant
Hatoon Mushasha
Hatoon Mushasha
SSCP student consultant
Travis Perls
Travis Perls
SSCP student consultant
SSCP Consultant Ethan Simon '19
Ethan Simon, a senior double major in Management & Business and Psychology, is from Boston, Massachusetts. This past summer, he worked a rotation with the COO, Marketing team, and Talent Acquisition for Steelhouse, a Silicon Beach based ad-tech company. At Skidmore, Ethan manages the Music and Cognition lab in the Psychology department, as well as plays in his own band his band "Campo" for which he does the marketing and financing. He has experience in digital marketing, copywriting, and strategy, using his training in the human sciences to implement a people-first modus operandi while problem solving.
SSCP student consultant
Will Springer
Will Springer
SSCP student consultant
Tenzin Tashi
Tenzin Tashi