Photo Galleries
The Department of World Languages and Literatures is an integral part of the intercultural atmosphere on the Skidmore campus. In addition, the various study-abroad opportunities allow for a wide range of experiences for students and faculty alike.
WLL 263 C Green Italy WLL and Environmental Studies class
Commedia dell'Arte 2016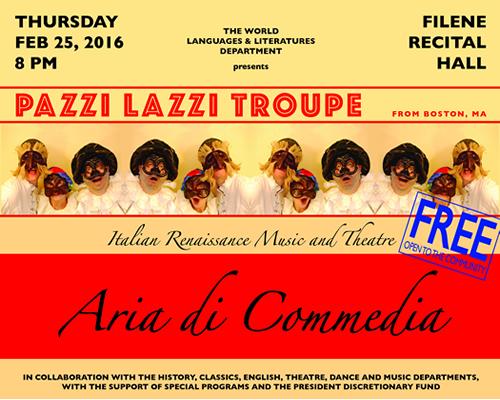 Festa Italiana 2016
Faculty Shelf, Tang Museum, Fall 2015: Italian Commedia dell'Arte
Barbara Garbin, teaching professor of Italian, World Languages and Literatures Department

Commedia dell'Arte is a form of theatre that flourished in Italy in the mid‐sixteenth century, becoming widespread throughout Europe during the eighteenth century. Commedia features masked characters and schematic plots (scenari or canovacci) and relies on the mastery of its performers, who were, for the first time, stage professionals. Arte in Italian means both "art" and "profession," hence the label "comedy of the craft." Professional players were male and female, another first in theatre history. Each specialized in one role and thus developed unmatched comedic acting technique. A typical scenario involved the desire for marriage of two young lovers whose elderly parents are contrary. Stock characters included the shrewd servant, the greedy or know-­it‐all old man, the boasting captain, and the witty maidservant. In the hands of the most talented performers, they developed into well‐known figures such as Arlecchino, Pantalone, Dottore, Brighella, and Colombina. Actors often wore half­ masks with exaggerated facial features to convey the characters' personality; the masks also worked as voice amplifiers.

Among the many notable contributions the Italian Renaissance conveyed to modern culture, Commedia dell'Arte is one of the lesser known. As an oral, mostly improvisational form of art that left very few written documents, much of its history has been lost. Yet its influence is pervasive. Commedia characters, comic routines, and plot devices inspired national comedic dramas in Germany, Eastern Europe, and Spain in addition to the works of renowned playwrights Molière, Shakespeare and Ben Johnson. The "lazzi"—comic gags or stock jokes created by the actors—endured in the cinematic slapstick of silent-­era comedy masters Charlie Chaplin and Buster Keaton and in the modern genres of English harlequinade, French pantomime, and European puppet shows.
Festa Italiana 2015
FI 363 Food in the Renaissance, spring 2014
Travel Seminar to Venice, 2014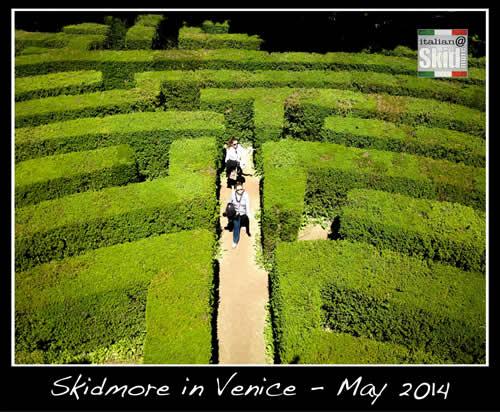 Italy Trip, 2007