Senior Capstone Projects (2009-2010)
SWAN: An Online Education Guide for the Saratoga Lake Watershed
Mel Ausanka-Crues and Stephanie McGurk (2010)
The Saratoga Watershed Awareness Network (SWAN) is a new online education guide to inform local stakeholders about the threats to the Saratoga Lake Watershed. The website is a synthesis of past Skidmore capstone research and will continue to be updated with future studies. Current pages include information concerning development and impervious surfaces, water shortages, and septic systems.
Place of the Swift Waters: A History of the First People of the Saratoga Lake Watershed
Jenna Gersie and Malone Matson (2010)
We examined a history of the native people of the Saratoga Lake Watershed, beginning with archaeological evidence from 12,000 years ago and focusing on the time surrounding early European contact. Though many New England tribes such as the Mahican used the lands in this area, we explored the ways that the Mohawk people in particular related to water in terms of food resources, including fishing, hunting, and agriculture; travel, trade, and warfare along the area's waterways; the medicinal springs of Saratoga; spirituality and culture; and current water-use issues.
The Relationship Between Home and Nature: What Living Locations Can Tell Us About Environmentalism
Morgan Violette and Zach Rowen (2010)
A survey of 165 residents in Saratoga County examines the link between distinct residential areas and environmental perceptions and behaviors. Residents were divided into four groups by living location: urban, suburban, rural and streams (homeowners with streams running through their property). While actions and opinions varied depending on location, the general trend is that most people in the county spend a fair amount of time recreating outdoors and are environmentally conscious.
A Watershed Approach to Land Conservation in the City of Saratoga Springs, New York
Dan Haro and Carolyn Raider (2010)
Saratoga is New York's fastest growing county. Population increase leads to residential and commercial development, resulting in habitat degradation and fragmentation. Saratoga Springs provides conservation through its zoning ordinance, "the Green Belt." Our study identifies high priority sites to protect within Saratoga's "Green Belt" conservation zone. We identify the least developed watersheds as well as watersheds with the highest percentage of forest, wetland, open water, and grassland/shrub habitats. We recommend replacing the current parcel-based approach to conservation with a more relevant and environmentally successful watershed approach. We also recommend additional protection for watersheds with a low percentage of development.
Full report is not available. Please contact Josh Ness for more information.
Implementation of Rain Gardens as Alternative Stormwater Management Technique in the Saratoga Lake Watershed
Eli Dibner-Dunlap and Vince Weeks (2010)
Rain gardens are modeled to reduce stormwater runoff by more than a third. Within the Saratoga Lake Watershed, 88% of existing residences contain soils suitable for rain garden implementation. Government regulation or economic benefit is necessary to incentivize developers. Successful implementation examples are required to convince engineers to implement rain gardens.
Phytoremediation of Nutrient-Controlled Water Using Duckweed and Water Fern
Dawn Harfmann and Jakob Schenker (2010)

Phytoremediation is a way to use plants to remove nitrogen and phosphorus in water bodies, nutrients which could cause eutrophication. Duckweed, water fern, and a combination of both plants were cultivated in varying nutrient environments and analyzed for nutrient uptake patterns. These environments had nitrogen levels characteristic of eutrophic water bodies and phosphorus levels characteristic of oligotrophic and mesotrophic water bodies. Nitrogen concentrations decreased by up to 87% in the duckweed treatment. Possible synergistic effects between the two species were observed, as the combination treatment reduced nitrogen levels to 11% below expected values.
Composting at Skidmore: Turning our Waste into a Resource
Will Coffey and Nadine Dodge (2010)
Skidmore College produces a substantial amount of organic waste in the form of food scraps, horse manure, and lawn maintenance byproducts that present both economic and environmental concerns to the College. We conducted a comprehensive study to ascertain how these wastes can be turned into a valuable economic and environmental resource through composting. After completing a study of composting at peer institutions, analyzing available composting technologies, and conducting a cost-benefit analysis, we determined that a windrow composting system will be the most cost-effective waste management system for Skidmore. The final result of our project is a detailed proposal that outlines how such a system can be implemented.
Shades of Green: The Environmental Sustainability of New Home Design and Build in the Saratoga Springs Region
Phoebe Gallagher and David Ornvold (2010)
In the United States, homes account for twenty percent of energy consumption. Saratoga County is one of the most rapidly growing in the state of New York. This growing population will need new homes. How homes are built now will directly effect the environmental sustainability of our community. We interviewed architects and builders in the region to see how sustainable their work is and what deters them from being more efficient and sustainable. Cost and lack of knowledge were found to be the primary hurdles.
Full report is not available. Please contact Karen Kellogg for more information.
The "Greens" are Checking In: Assessing the New York State Green Hotel Partnership
Dana Leonard and Derek Stork (2010)

New York has identified a national shift in the hospitality and tourism industry to more environmentally friendly business practices, saving both operating costs and natural resources. To influence this change, New York has established the Green Hospitality and Tourism Partnership and Certification Program. To achieve a comprehensive understanding and assessment of the Green Hotel Certification Program and Partnership, open-ended interviews were conducted to address every level of involvement with the program. Through the interviews and extensive media coverage we have found that select hotels across New York are becoming ambassadors and are essential to the eco-tourism movement in New York.
Critical Instability: Why We Need to Revolutionize Domestic Agriculture Before It's Too Late
Dash Hammerstein and Andrew Pfeifer (2010)
This study looks at issues concerning agricultural and farmland protection easements and farm viability in Saratoga County. Through in-depth interviews with 10 farmers, we have found that the Purchase of Development Rights (PDR) program is not an adequate tool to combat the recent and ongoing loss of local farms. Policies aimed at increasing farm viability, especially through the stabilization of milk prices and public education, are necessary to insure a future for Saratoga County agriculture.
Full report is not available. Please contact Karen Kellogg for more information.
"We Are Closer to You": Stewart's Shops and Corporate Social Responsibility
Harrison Shulman and Jim Turley (2010)

We studied the workings of Stewart's Shops to determine the practices that have enabled them to be successful in business while maintaining a positive relationship with the communities in which they operate stores as well as a low environmental impact. We have discovered that Corporate Social Responsibility does not have to be driven by a desire to strictly avoid risk, develop a marketing strategy or target a niche market. In the case of Stewart's Shops, Corporate Social Responsibility has been the result of their desire to make money and stay in business one hundred years from now.
Full report is not available. Please contact Karen Kellogg for more information.
Summer Collaborative Research (2010)
Visualizing Changing Landscapes and Resource Use in the Saratoga Lake Watershed
Nicholas Liu-Sontag '11, Alex Chaucer, GIS Instructional Technologist, and Karen Kellogg, Associate Professor of Environmental Studies
The Saratoga Lake watershed has undergone many transitions over the past 150 years driven by agriculture, industry, recreation, tourism, and urban development. We aimed to capture the resulting landscape changes using historical photographs and rephotographed modern day views. By collecting historicaly images, determining their locations, and returning to the same sites we took close to exact contemporary views, creating clear "then and now" perspective. This work complements a series of aerial photographs taken of the watershed in the 1940s, 1960s and 1980s. We developed a webpage that uses a map-based interface in order for the aerial and paired on-ground photos to inform the general public. Through the images we found evidence of deforestation, reforestation, increased development and environmental manipulation and resilience.
How large were floods caused by 19th and 20th century logging dams in the upper Hudson River watershed?
Caroline Loehr '12, Jonathan Reeves '12 and Kyle Nichols, Associate Professor and Chair, Geosciences

Logging practices in the Adirondack Mountains from the early 1800s to the mid-1900s used dams to flood rivers in order to store and release water for log transport. On an annual basis, these dams released a torrent of water in what would likely be considered a significant flood. The hydrologic, geomorphic, and ecologic consequences of such consistent and intended flooding should be quantifiable even today, decades after the use of logging dams was discontinued. In order to test whether the yearly log drive had significant and long-lasting impacts on Adirondack streams, surveyed six previously dammed streams in order to model dam release flow. Preliminary data suggests that the discharge of the dam releases were between 1-year and 100-year floods.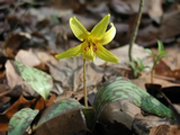 Forest health: a matter of ephemeral plants versus ephemeral streams?
Gordon MacPherson '13 and Josh Ness, Associate Professor of Biology and Environmental Studies
In deciduous forests, the nutrients in senesced leaves can be 'washed' from the forest by streams that are particularly active in spring. This phenomenon is important because it includes a loss of nutrients from the forests and an addition of nutrients to aquatic environment. We estimated the transfer of nitrogen and phosphorous from the senescent foliage of canopy dominant trees to the forest floor over thousands of acres of Merck Experimental Forest by combining information from forester's surveys and published descriptions of foliar chemistry. The 'vernal dam hypothesis' posits that the transfer of nutrients from the terrestrial to the aquatic ecosystem during the spring can be limited by spring-active plants. To test this hypothesis, we mapped the distribution of nine species of herbaceous plants in >2000 100m2 plots and collected stream water samples. Do you eat what you are? Linking nitrogen and phosphorus uptake through organic matter N:P ratios in headwater streams.
Do you eat what you are? Linking nitrogen and phosphorus uptake through organic matter N:P ratios in headwater streams.
Claire Superak '11 and Cathy Gibson, Associate Professor of Environmental Studies
Excess nutrients are degrading aquatic habitats globally. Headwater streams are critical sites for processing and retention of nutrients, which maintains water quality downstream. The controls on nutrient processing among streams have not been well elucidated. Our study focuses on determining whether the relative uptake of nitrogen vs. phosphorus is related to the ratio of nitrogen to phosphorus in benthic nutrient consumers (algae and microbes). We added nitrogen and phosphorus to four Adirondack streams and tracked their removal as they traveled downstream. We calculated uptake length (average distance traveled by a nutrient molecule) and uptake velocity (downward velocity of nutrients from water column to benthos) to compare the streams. Insights in to controls on nutrient uptake aid in management of these systems and prevention of excess nutrients moving to downstream ecosystems.