Senior Capstone Projects (2010-2011)
Why Don't Communities Choose Smart Growth? A Case Study of Public Deliberation over Planning Decisions in Malta, NY
Nicholas Liu Sontag and Andrew Noone (2011)
If sprawl is unsustainable, why do so few growing communities choose smart growth strategies? We assess Malta's debate over planning and growth to analyze the quality of traditional forms of public deliberation. We also explored the potential of visual assessment forums to improve the quality of public deliberation on planning decisions.
Balancing Economic Growth with Environmental and Social Concerns: Evaluating SEQRA Through a Case Study of Global Foundries
Korena Burgio and Evan Caster (2011)
New York State sought to revitalize its economy by attracting semiconductor manufacturing to the Upstate region by competing globally for Global Foundries' newest microchip fabrication facility, Fab 8. Our analysis explores the role New York's State Environmental Quality Review Act (SEQRA) in evaluating the comprehensive economic, environmental, and social impacts associated with Fab 8's construction and operations in Malta, NY.
Stimulated Water Bodies: Development of a Protocol for Testing for Caffeine and Nicotine in Surface Water Using SAIL
Ellen Agnew and Claire Superak (2011)
In order to determine whether caffeine and nicotine contaminants were present in our local water sources, we developed a protocol for quantifying caffeine and nicotine using the Skidmore Analytical Interdisciplinary Laboratory (SAIL). We sampled water downstream of areas with dense septic tank clusters in the Saratoga Lake watershed and analyzed these samples using liquid, gas, and ion chromatography.
Citizen BioMAK: A Volunteer Guide to Biological Monitoring and Assessment of the Kayaderosseras Creek
Katherine Bohn and Sarah Sproviero (2011)
Water quality is constantly fluctuating, and New York State's monitoring resources are inadequate. In collaboration with the Saratoga County Stormwater Management Coordinator, we developed BioMAK, a citizen-based biomonitoring guide instructing volunteers how to use macroinvertebrate populations to assess Kayaderosseras Creek water quality. Ideally, data collected by community members will eventually supplement limited government data, while also educating citizens.
Sense and Sustainability: An Assessment of Skidmore's Sustainable Development
Julia Brenner and Christina Puerto (2011)
Skidmore's sustainability efforts have steadily evolved in their number, complexity, and scope. We constructed the first comprehensive list of sustainability initiatives at the college. We also assess their impact on promoting environmental literacy, increasing the role of environmental considerations in decision-making, and reducing the impact of our physical operations.
Local Food from Farm to School: Investigating the Skidmore Dining Hall's Local Partnerships
Maranda Duval and Jesse Moy (2011)

The Skidmore College Dining Hall has joined the local food movement by forming partnerships with nearby farmers, processors, and distributors. In this study, we investigate the history and effectiveness of these local partnerships and make recommendations on how to expand and improve them in the future.
Green Roofs in the Saratoga Lake Watershed: Sedums of Change
Isobel Flake and Devin O'Donoghue (2011)
Our project examines the perceived obstacles and benefits of green roof implementation. Through case study analyses of Wilton and Skidmore College, we evaluate the financial implications of green roofs, and their influence on stormwater management, carbon sequestration, and energy efficiency.
Creating Safe Routes to Maple Avenue Middle School: Not as Easy as it Seems
Martel Catalano and Jesse Watson (2011)
We participated in the Saratoga Safe Routes to School group to expand the ability of students to walk or bike to Maple Avenue Middle School. By conducting applied research and meeting with key stakeholders, we analyzed the environmental, economic, political, legal, and cultural obstacles of changing school transportation policies.
Understanding the Saratoga Springs Local Food System: An Analysis of its Local Food Markets
Erin Donnellan and Kate Ito (2011)

Increasing the consumption of local foods requires a detailed understanding of how local food markets connect producers, distribution outlets, and consumers. Our analysis reveals that there is not a single market for local foods, but rather a set of related but distinct local food markets. Increasing local foods requires a multi-faceted approach that reflects this complexity.
Food Matters: Increasing the Availability of Local Food to Low Income Populations in Saratoga County Through Community Organizations

Rebecca Drago and Laura Fralich (2011)
Low-income communities have limited access to affordable, healthy food options due to a variety of social, financial, and structural barriers. In Saratoga County, a number of local programs have emerged to address these issues. We analyze the effectiveness of these programs and provide suggestions for increasing their scope.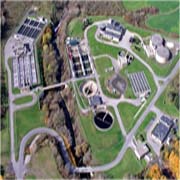 From Waste to Energy: A Conceptual Analysis of Anaerobic Digestion at the Saratoga County Sewer District #1 Plant
Laura Adelman and Davide Gill-Austern (2011)

We conducted a conceptual analysis of a potential anaerobic digestion installation at the Saratoga County wastewater treatment plant as a waste to energy solution. We concluded that an anaerobic digester would prove beneficial to the plant based on long term environmental, social, and economic benefits.
Michael Jennings and Doug Yeates (2011)

Why is Finch Pruyn, one of the largest remaining paper companies in the Adirondacks, seeking to reduce their carbon and wastewater emissions as well as manage their forest lands more sustainably? We examine the impact of outside stakeholders in making environmental considerations an important component of Finch's long term competitive strategy.