Lab setup seen above: all effects filmed live on this microscope were caused by this 100 watt 'Phanotron' plasma bulb which is approximately 5 inches away from the microscope slide stage.
RESEARCH: The effect of Plasma Waves on Select Microorganisms
Helium enclosed in a glass bulb with angled electrodes (known as a Phanotron tube) is stimulated into a plasma state (the fourth state of matter) using an audio rate square wave which is used to amplitude modulate a radio freqency (RF) carrier of approximately 27Mhz. The work is an attempt to independently duplicate and varify some of the work from the 1930's by Royal Raymond Rife (see: http://www.rife.org/), brilliant inventor of the "universal microscope", who developed similar plasma devices which were used to setup standing waves inside various pathogenic microorganisms. My research focuses on simple and harmless organisms, including Vorticella, Blepharisma and Paramecium Caudatum. The challenge of the work is finding the right combination of frequenices, RF and audio rate, which will setup standing waves inside some part of the organism, in an attempt to 'devitalize' the organism's normal biological activities. This is currently "proof of concept" research which has already had some level of success, but the number of variables involved is so great that it takes a considerable amount of time and effort in order to find the right balance of variables which leads to a predictable and repeatable high rate of success. One eventual goal of this research would be the elimination of pathogenic organisms inside the human body without dangerous drugs. Malaria, just to cite one example, might be permanently cured without the use of any drugs if such research is successful. Malaria still threatens a very serious portion of the human population in numerous countries.
-------------------------------------------------------------------------------------------------------------------------------------------------------------------------------------------------
RIFE-BARE Plasma Experiments LogBook Continued (most recent experiments)
-------------------------------------------------LOG ENTRY FOR 12/21/07 (includes DRAMATIC LIVE VIDEO!) ----------------------------------------------
The basic lab setup was changed this night. Rather than the round 'phanotron' helium filled plasma bulb (seen at the top of this page), an 18 inch long, 1 inch diameter, glass plasma tube filled with a mixture of Argon/Neon was utilized in combination with a more powerful amplifier (rather than the 100 watt amp, a 300 watt PEP amp (from Plasmasonics Ltd.) was connected to the long plasma tube.
LAB SETUP FOR THE DECEMBER 21, 2007 EXPERIMENT (ABOVE). NOTE THE USE OF THE LONG PLASMA TUBE LEFT OF THE MICROSCOPE (CONTAINING A MIX OF ARGON/NEON, RATHER THAN THE HELIUM USED IN PREVIOUS EXPERIMENTS).
The experiment this night was a great success and very interesting. The inductor inside the MFJ antenna tuner had to be changed to work with this long type of plasma tube. A set of frequencies was run starting at 924Hz + the 11th harmonic (11X924). The organisms seemed completely unaffected at first. The frequency input was gradually increased in 1Hz increments every 5 minutes. Suddenly, when 930 Hz was arrived at (plus it's 11th harmonic (both square waves with 50% duty cycles)), the majority of organisms stopped swimming, shortly after which 'classic' full and partial disintegrations of numerous organisms were videotaped. This is the first time we have been able to video tape biological effects caused by this long plasma tube filled with Argon/Neon. There are some initial indications that distance from the tube may be important in obtaining affects on biological organisms, and surprisingly, sometimes moving away from the microscope (slide) is more effective than being as close as possible. Click on the photo below to see the live video from this experiment: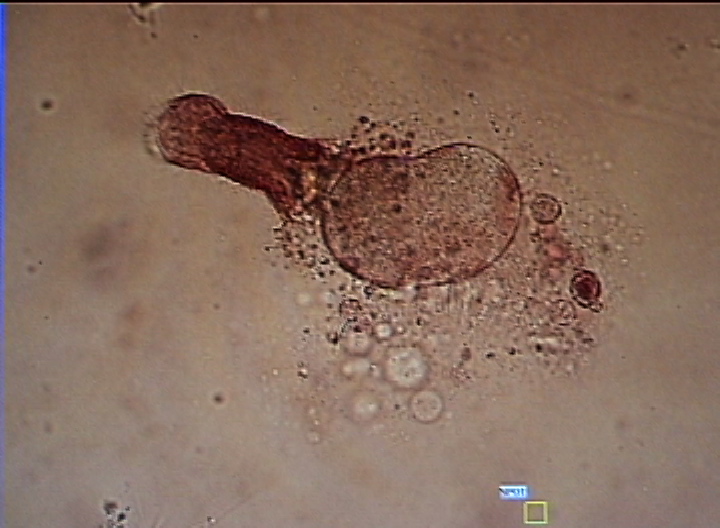 (ABOVE) TOTAL DISINTEGRATION OF THE MICROORGANISM "BLEPHARISMA" CAUSED BY AN AMPLITUDE MODULATED RF PULSED ARGON/NEON PLASMA DEVICE. CLICK ON THE PHOTO ABOVE TO SEE LIVE VIDEO FROM THE 12/21/07 EXPERIMENT.
-------------------------------------------------LOG ENTRY FOR 9/28/07, 10/03/07, 10/07/07 (includes DRAMATIC LIVE VIDEO!) ---------------------------
New video taken during the course of three nights in the lab. The first 18 minutes of the video show total disintegrations of organisms. The remaining hour of the video shows more organisms which were disabled/'devitalized' (biological functions ceased) and or partially disintegrated/distorted in shape by the plasma experiment. Some new frequencies were discovered which affected organisms and for the first time: THREE FREQUENCIES were used to successfully destroy some microorganisms. *This was the first time aTRIPLE FREQUENCY INPUT was used in the lab successfully.
CLICK ON THE PHOTO BELOW TO SEE PART I OF THE LIVE VIDEO HIGHLIGHTS OF THESE PLASMA EXPERIMENTS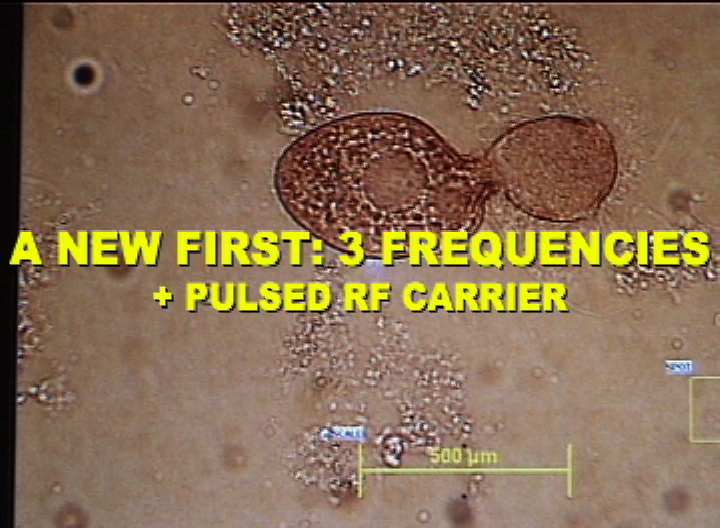 -------------------------------------------------LOG ENTRY FOR 9/21/07 (includes DRAMATIC VIDEO!) -------------------------------------
A historical first! This night, sent Haydn's Cello Concerto in C Major through the plasma light, along with two other frequencies (each a square wave). Much to my utter astonishment and delight.... the Haydn (plus the two other frequencies documented in the video) managed to disintegrate several organisms live before the video camera! Not only is this likely the first time in history that Haydn's music was sent through an experimental RF pulsed plasma apparatus used in a biological experiment, it was also the very first time, I'm quite sure, that classical music has been used to destroy microorganisms! This was very exciting and great fun for me as I have had the great privilege of conducting this very composition in concert with a full symphony orchestra and a superb soloist! The video then goes on to explore new frequency combinations which were found to be quite effective in 'devitalizing/disintegrating/exploding' or in some cases partially disintegrating 'select' microorganisms. This video is really fun to watch! The lab started late at night on September 21, 2007 and continued into the early morning hours of Sept. 22, so if you are watching the video for this lab experiment you may hear two different dates mentioned in one video.
CLICK ON THE PHOTO (BELOW) TO SEE THE EXCITING VIDEO FROM THE SEPT. 21, 2007 EXPERIMENT
Click on the photo above to see and hear Haydn's music disintegrating microorganisms!
-------------------------------------------------LOG ENTRY FOR 9/12/07 (includes DRAMATIC VIDEO!) -------------------------------------
This night in the lab I made several important observations. I discovered new frequencies which would cause the disintegration of select microorganisms. The most important of which is probably 932 Hz. When combined with its 11th harmonic, this seems to stop many organisms in their path and cause disintegration of many of them. Several organisms continued to swim vigorously, even as they were 'exploding' under the influence of the plasma light. I filmed many 'disintegrations/explosions/devitalizations' of microorganisms in real time (see video below). For the first time, I filmed a disintegrated organism's remnants *fuse* back together, then disintegrate again and by the end of the night, had nearly 'cleared the slide' of living organisms by having gone through a sequence of frequencies over a 2 hour period.
CLICK ON THE PHOTO (BELOW) FOR SEPT. 12, 2007 TO SEE THE EXCITING VIDEO FROM THIS EXPERIMENT
-------------------------------------------------LOG ENTRY FOR 7/16/07 (includes DRAMATIC VIDEO!) --------------------------------------------------------------
Another highly successful night in the lab. Many organisms were immobilized over the course of three hours of experiments, but most interesting was the total and dramatic 'devitalization'/destruction/disintegration/molecular reorganization of seven microorganisms, all caught on video tape. One has to see the video to believe the effects of this experiment. Key points seem to be emerging from these experiments using a phanotron plasma bulb. For one, wattage level seems to be critical. Dramatic effects do not start to occur until the MFJ antenna tuner starts to read at least 100 watts. All the effects you will see in the video link below (courtesy of google video) are the result of only 100-125 watts of power coming from the phanotron plasma bulb.
***CLICK ON THE PHOTO BELOW TO SEE THE LIVE VIDEO*** OR CLICK HERE TO SEE PHOTOS FROM THE VIDEO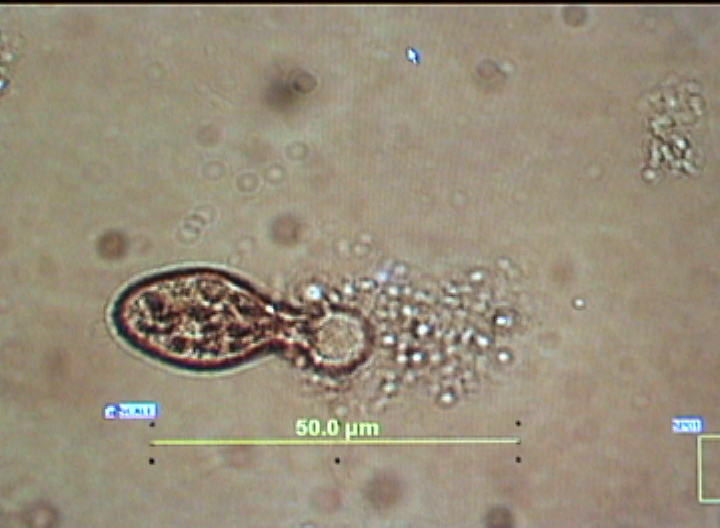 CLICK ON THE PHOTO ABOVE TO SEE THE LIVE VIDEO OF THIS EXPERIMENT
--------------------------------------------LOG BOOK ENTRY FOR JULY 19, 2007 (includes dramatic video!)-----------------------------------
Another great night in the lab... highlight of the night was a double simultaneous disintegration of two organisms... caught on video at the same time.
CLICK ON THE PHOTO BELOW TO SEE THE LIVE VIDEO HIGHLIGHTS OF THIS EXPERIMENT (OR CLICK HERE TO SEE PHOTOS)
CLICK ON THE PHOTO ABOVE TO SEE THE LIVE VIDEO FROM THE JULY 19 EXPERIMENT
----------------------------------------------------------------------------------------------------------------------------------------------