Palamountain Scholarship Benefit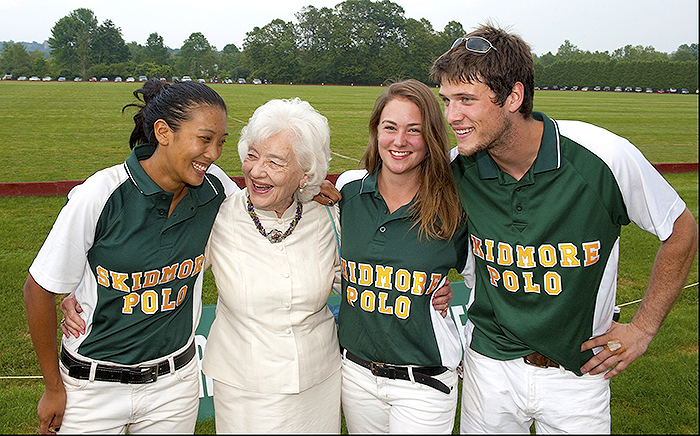 In Memoriam
Anne Palamountain, Skidmore College's "First Lady" for 22 Years
We are sad to say that Anne Palamountain passed away on Saturday, January 24. In 1979, Anne, wife of Skidmore's fourth president, created the Polo by Twilight Benefit to raise resources for students requiring financial assistance to attend the College. Anne's many years of dedication to the scholarship fund and to the Polo by Twilight event allowed hundreds of students to attend and graduate from Skidmore, 235 so far. In 2014, the Benefit Committee awarded the inaugural Anne T. Palamountain Scholar Award honoring a Skidmore graduate who was a Palamountain Scholar while a student and who embodied Anne's commitment to education, philanthropy, and pursuit of good work. The first Anne T. Palamountain Scholar Award recipient was Colleen Barber Hursh, Class of 2004, who works with United States military veterans returning from war in Iraq and Afghanistan. As the Times Union reported, Anne had an enormous effect on Skidmore but also on the entire Saratoga Springs community, and her loss will be felt by her many friends here.
President Glotzbach said in his announcement of Anne's passing:
Anne's involvement in the life of Skidmore is a story in its own right. Her greatest passion was building endowment for financial aid, which she saw as the most effective way to make a college education accessible to all students. In 1979 she spearheaded the launch of one of the College's major fundraising events, the annual Palamountain Scholarship Benefit. She presided over the event for 35 years, helping the Joseph C. and Anne T. Palamountain Scholarship Fund reach a total of $5.8 million.
Anne will be missed, but in her memory, we hope that you will join us for the 36th annual Polo by Twilight Benefit for Palamountain Scholarships at Skidmore College on Tuesday, July 28, 2015 at the Saratoga Polo Field.
-Donene D. Honnold & Emily Mopsik '07, Event Co-Chairs