Skidmore wins Preservation Foundation award
July 5, 2012
Skidmore wins Preservation Foundation award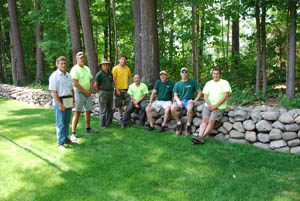 Skidmore's grounds crew with the rebuilt wall
Skidmore College has been honored by the Saratoga Springs Preservation Foundation with a 2012 Preservation Recognition Award for the restoration of a stone wall along the edge of the campus on 4th Street.
The 545-foot-long wall, which had fallen into disrepair, was rebuilt using the original stones by stone mason Nick Vacchio of Galway, N.Y., in cooperation with the Skidmore grounds crew. "It's a real art form to fit the stones together with no mortar to hold things in place," said Bruce Murray, grounds supervisor at Skidmore. The college's grounds crew was responsible for site preparation, tree removal, cleanup, and landscaping.
Said Samantha Bosshart, executive director of the Saratoga Springs Preservation Foundation, in a letter to Skidmore, "The Foundation greatly appreciates the investment you have made in your historic property. People like you help make Saratoga Springs a wonderful place to live, work, and visit."
In a previous award (2006) the Preservation Foundation recognized Skidmore for preserving and restoring the slate sidewalk in front of
Scribner House, the home of the Skidmore president, at 791 North
Broadway.

Site work prior to the restoration