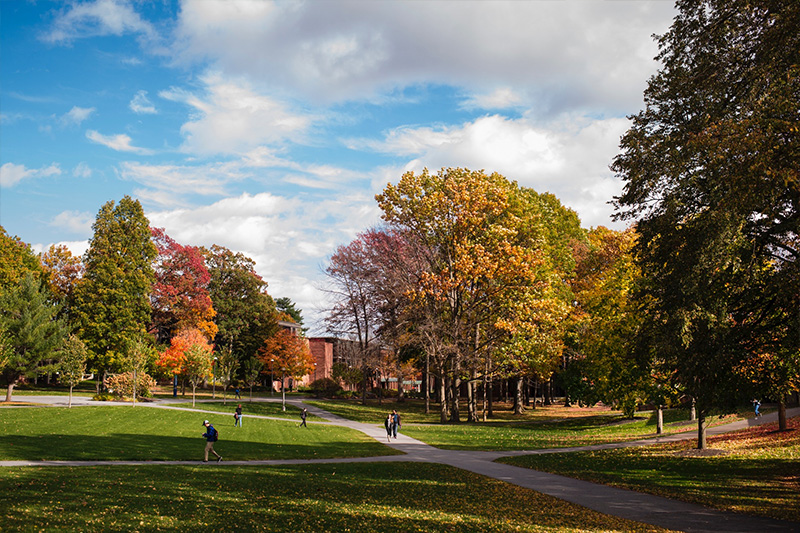 Welcome
Imagine yourself here.
Skidmore is a highly ranked, residential, liberal arts college situated on 1,000 acres of natural beauty in Saratoga Springs, New York.
With 2,500 students from 40 states and 70 countries, 43 majors, more than 100 student clubs, funded research and internship opportunities, and 118 study abroad programs, it offers a dynamic college experience.
Consistently acclaimed in national rankings, Skidmore has been recognized as one of "America's Most Entrepreneurial Colleges," a "Best Value" school and a "Hidden Ivy."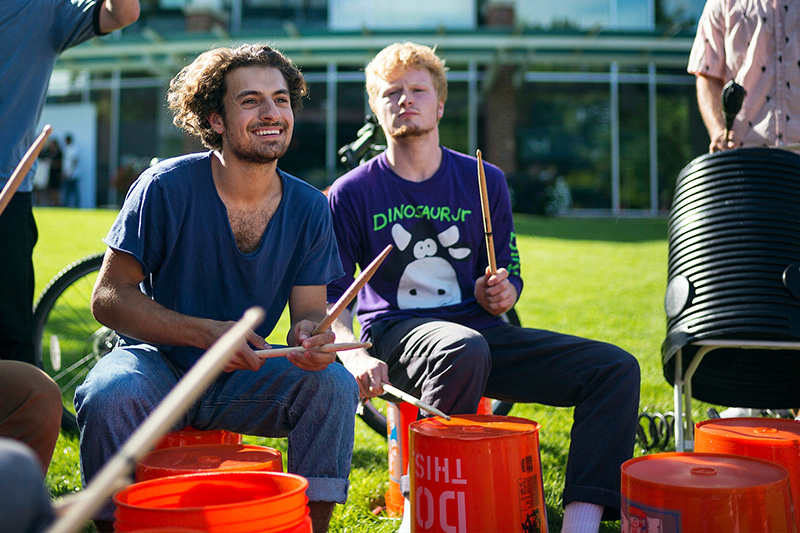 CREATIVE THOUGHT MATTERS
Creativity is at our core.
It changes the way we think. It influences our work, our actions and the people we're becoming. Creativity empowers us, drives us and opens us to combine different ideas, try new things and look at the world from a wide range of perspectives.
At Skidmore, no matter what you're meant to be, do or inspire – Creative Thought Matters. And that makes all the difference.
SARATOGA SPRINGS
The perfect college town.
Travel & Leisure calls it one of "America's best college towns." We just call it home. Famed for its many festivals and charming traditions, Saratoga Springs is an ideal location for creative thought to thrive. Plus, it's only a short drive to the nearby Adirondacks, Berkshires and Green Mountains and just three hours from New York City, Boston and Montreal.
Skidmore at a glance
---
Location: Saratoga Springs, New York, a city of 30,000 located 30 miles from Albany and three hours from New York City, Boston and Montreal
Program: four-year private, nondenominational, coeducational, liberal arts
Degrees: bachelor of arts, bachelor of science
Majors: 43; most popular are business, English, psychology, political science, economics, studio art, theater, biology and environmental studies
Athletics: 19 varsity teams; a founding member of the Liberty League and a member of NCAA Division III, the New England Hockey Conference and the Intercollegiate Horse Show Association.
Sustainability: 35% of campus buildings are geothermally heated and cooled; 19% of campus electricity powered by our own solar field and hydroelectric dam; 94/100 Green Rating from The Princeton Review
Faculty: 320 full-time; 80% hold the doctoral or highest degree in their fields
Admissions: In 2021, Skidmore received more than 11,000 applications for a first-year class of more than 700. Fifty percent enrolled through Early Decision. The acceptance rate was 32%.
Student-faculty ratio: 8-to-1
Average class size:16 students; 94% have fewer than 30 students
More Skidmore Facts