At Skidmore, we believe a great education is putting academic theory and creative expression into practice.
Founded more than a century ago and located in Saratoga Springs, New York, on a beautiful 1,000-acre campus, Skidmore is a highly regarded liberal arts college known for its creative approaches to just about everything.
The college's core belief: creative thought matters
One of the great things about Skidmore is the connections you make with people. As a first-year student, my Scribner Seminar was amazing for two reasons. The professor taught what he was passionate and interested in, which inspired me. Plus, I met my best friend and roommate.

Zoe Klein '19
Learn from the best
Skidmore offers
43 majors
in the sciences, social sciences and humanities, as well as in career-specific fields such as business, social work, education, and exercise science.
Add to this the prominence of the performing and visual arts, which have long set Skidmore apart. Faculty have earned recognition from Guggenheim, Pulitzer, and Emmy awards to fellowships and grants from Fulbright, MacArthur, and the National Science Foundation, among others.
Majors & Minors
Learn outside a classroom
60% of students study abroad
Skidmore is known for its interdisciplinary approach to learning,
collaborative faculty-student research
and
off-campus study program
.
Approximately
40% of students carry two majors
or add a related minor to their major. Students can choose from
120 study-abroad programs located in 45 countries
, including Skidmore programs in London, Paris, Alcalá, and Madrid. Other academic features include Skidmore's Periclean Honors Forum, which sponsors the annual Academic Festival, funded internships and service-learning courses.
Study Abroad
Campus Hotspots
Our beautiful, 1,000-acre campus is an ideal location for creative thought to thrive. Set in the perfect college town, Saratoga Springs, a few favorite features for living and learning include:
Sussman Village Apartments: If you like single bedrooms and a furnished apartment with a kitchen, ample social space, and your own laundry room, this is it!
North Woods: Get lost or find yourself in the 250-acre North Woods. The many interconnected trails make up our own beautiful Central Park, right here on campus.
Murray-Aikins Dining Hall: Stop in for a creative course du jour. Grab your friends and gather around one of the three fireplaces for a relaxing break from classes.
Tang Teaching Museum: Our renowned museum has nearly 40,000 square feet of exhibition and program space for curiosities and collaborations between faculty, staff, students, world-famous artists and the community.
Lucy Scribner Library: Looking for a quiet nook where you can thumb through your class notes? Cozy up next to one of the big bay windows for a study session with a view.
Arthur Zankel Music Center: This 54,000-square-foot facility, with state-of-the-art concert halls and recording studios, is home base for talented students, Grammy-winning artists, and international performers.
An active community
The college's
120 student clubs and organizations
run the gamut, including a capella groups, SkidTV, WSPN Radio, Model European Union, snowboarding, and academic, cultural awareness and religious groups.
Skidmore's
19 intercollegiate athletic teams
compete at the NCAA Division III level. In the past decade, teams have earned national championships and more than 40 Liberty League titles.
student life
Opportunity is here.
$43 million is given in financial aid annually
Skidmore offers merit-based scholarships in science ($60,000 over four years) and music ($60,000 over four years). Skidmore's Opportunity Programs (includes both the Higher Education Opportunity Program and the Academic Opportunity Program), for talented students whose economic or academic circumstances might otherwise make it difficult for them to attend college, are among the nation's best.
42%
Students received need-based grants
50%
Received some form of financial aid
50%
Students

given the opportunity to work on campus
Skidmore at a glance
---
Program: four-year private, nondenominational, coeducational, liberal arts
Degrees: B.A., B.S.
Calendar: fall and spring semesters, followed by two optional five-week summer sessions, internships and collaborative research opportunities
Number of Majors: 43
Most Popular Majors: English, business, psychology, political science, economics, studio art, theater, biology, environmental studies
Minors: Most majors have corresponding minors. Minors are also available in arts administration, Chinese, intergroup relations, Italian, Japanese, Latin American studies and media and film studies.
Courses Offered: more than 1,000
Class Size: Average is 16, and 94% of classes have fewer than 30 students
Faculty: 304 full-time; 87% hold the doctoral or highest degree in their fields. Skidmore faculty have earned national and international recognition including Guggenheim, MacArthur, Pulitzer, and Emmy awards, and major fellowships and grants from Fulbright, Getty, NEH, NIH, NSF, and the Andy Warhol Foundation.
Student-Faculty Ratio: 8 to 1
schedule a visit
Where we roam
Skidmore may be classified as a small, residential liberal arts university. But with 1,000 acres of beautiful, safe, sprawling campus, there's a lot of ground to cover.
SCHEDULE A VISIT
History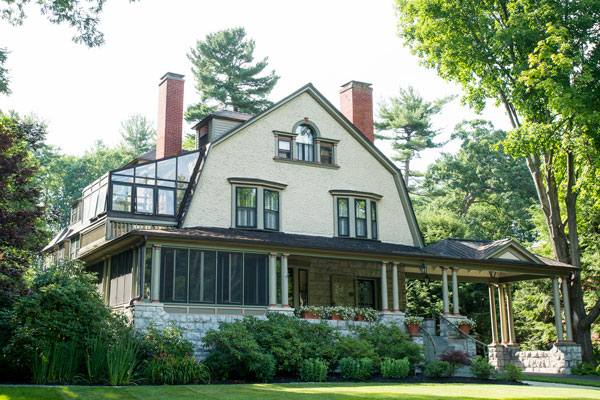 Where we've come from
Skidmore began more than 100 years ago when one bold woman wanted to give opportunities to a younger generation.
READ ABOUT OUR HISTORY
saratoga springs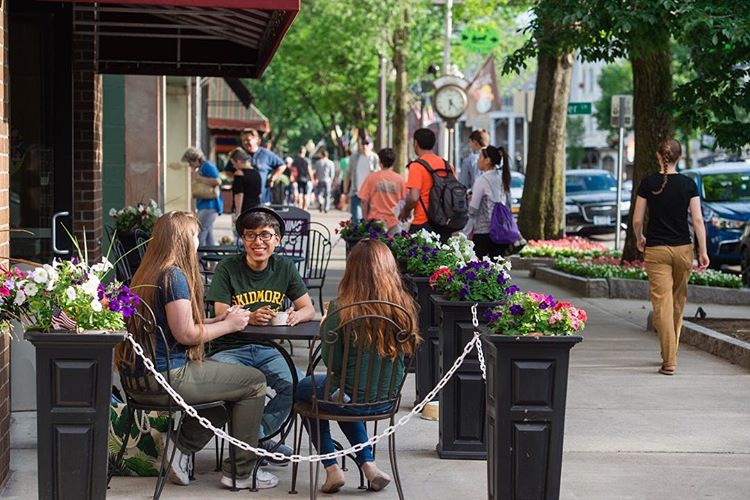 Students by the Numbers
2,500
Approximate students enrolled
44
U.S. states represented by students
67
Countries represented by students
23%
Domestic students of color
11%
International students
13%
First-generation students