Expert to discuss art collecting in America
November 9, 2012
Expert to discuss art collecting in America
November 9, 2012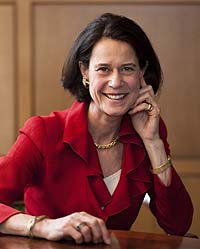 Art Collecting in America: A New Vantage Point for the History of Art," will be presented Tuesday, Nov. 13, by Inge Reist, director of the Center for the History of Collecting in America. Free and open to the public, Reist's lecture begins at 7 p.m. in Davis Auditorium, Palamountain Hall, on the Skidmore College campus.
Reist will discuss art collecting in America and the many ways in which art collecting and patronage is tied to the history of art. This event is presented in conjunction with "The Muse at Home," an exhibit of works from the homes of faculty and staff from Skidmore's Studio Art and Art History departments, and Tang Museum.
Reist is also chief of Research Collections and Programs at the Frick Art Reference Library. She was an assistant curator and lecturer at the Frick from 1980 to 1983, taught at Columbia University for three years, and received her Ph.D. degree from Columbia in 1984. She then returned to the Frick as head of its photo archive. In addition to teaching at Hunter College and Rutgers and Columbia universities, she has lectured on a range of topics on European art at numerous museums and conferences, and her articles have appeared in most major journals.
Her recent publications and appearances on panels focus on the history of collecting. These include "The Fate of the Palais-Royal Collection, 1791-1800," in The Circulation of Works of Art in the Revolutionary Era 1789-1848 (Rennes, 2006); "Sacred Art in the Profane New World of Nineteenth-century America," in Sacred Possessions: Collecting Italian Religious Art, 1500 to 1900 (2011); and "Helen Clay Frick, Charting Her Own Course," in Power Underestimated: American Women Art Collectors (2011). She is the co-editor of Provenance: An Alternative Art History (Getty Publications 2012).
From 2005 to 2011 Reist was chairman of the Association of Research Institutes in Art History. She currently serves on the editorial board of Art Documentation and the Art Advisory Board for EBSCO Publishing.
The Center for the History of Collecting was established at the Frick Art Reference Library in 2007 to encourage and support the study of the formation of collections of fine and decorative arts, both public and private, in Europe and the United States from the Renaissance to the present day. The center brings together scholars engaged in research that reflects many facets of cultural history. It serves this community of scholars through fellowships and seminars, symposia and study days, and an active publication program that also includes the development of new research tools needed for access to primary documents generated by art collectors and dealers as well as the award of a biennial book prize.