New apartments open
September 19, 2013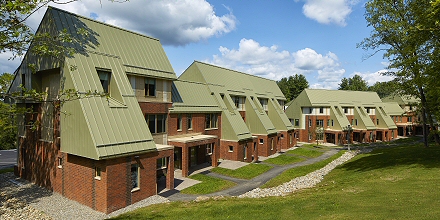 Sussman Village exterior (All photos by Revette Photography, courtesy of QPK Design)

A major expansion of student housing
Sept. 20, 2013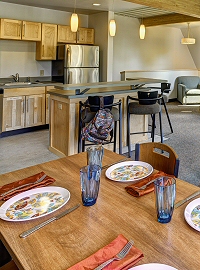 Detail of Sussman Village kitchen
Skidmore's newest student housing, Sussman Village, is now open. The development houses up to 238 students. Each bedroom is a single; each three- or four-bedroom apartment features a kitchenette and large social space; and each fully furnished building has its own laundry room.

With the completion of Sussman Village, Skidmore houses 90 percent of its student population on campus. According to Donald Hastings, associate dean of student affairs and director of residential life, Skidmore now has about 350 students living off campus (not including those studying abroad), down from more than 600 in 2005–06.

Hastings said the opening of Sussman Village, for seniors and juniors, will have a "domino effect," allowing sophomores and juniors to move into other on-campus apartments and thus open single and double rooms in residence halls to first-year students who had been housed in triples to begin the fall term.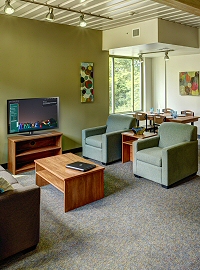 Detail of Sussman Village living room
The new apartments complete a comprehensive expansion of on-campus student housing whose purpose, according to the College's strategic plan for 2005–15, is to "enhance the campus residential environment, completing the move to the 'new' campus by closing Moore Hall, expanding total residential capacity, and bringing more students living off-campus back into the residential community."
The first phase of that initiative was the construction of the Northwoods Village apartments, which opened in 2006 and proved very popular with students and with alumni who stayed there during Reunion weekends. Last year Skidmore opened the two Hillside apartment buildings hugging the west side of the campus perimeter road, with 22 units housing about 110 students.
The cost of the Sussman project was $42 million, according to Mike West, vice president for finance and administration and treasurer. The architectural work was performed by QPK Design of Syracuse, N.Y., which also designed Northwoods and Hillside. The construction was managed by MLB Construction Services of Malta, N.Y., which also oversaw the Hillside apartments and the Arthur Zankel Music Center.
Expanding on Skidmore's green-energy initiatives, the new apartments use geothermal heating and cooling. This energy-saving technology has been used for the Northwoods and Hillside apartments, Murray-Akins Dining Hall, and Zankel Music Center, and work is under way to bring geothermal to the entire "arts quad," which includes Filene Hall, Bernhard Theater, and the Saisselin Art Building in addition to Zankel. In 2012 the College received a Sustainability Leadership Award from the Association for the Advancement of Sustainability in Higher Education, for its expansion and creative uses of geothermal heating and cooling.
The new housing complex is named for Trustee Emeritus S. Donald Sussman, who served on the board of trustees from 2004 to 2012 and is the father of Emily Sussman '04. He and his family pledged $12 million for new residential housing during Skidmore's "Creative Thought, Bold Promise" fundraising campaign.
"The Sussman family's commitment speaks volumes about the family's generosity, as well as its vision for Skidmore and for higher education," Skidmore President Philip A. Glotzbach said at the time of the pledge. "This is a project that we have needed to move forward for some time, and there is no question that we could not even contemplate this undertaking without the family's support."
Sussman Village replaces the smaller Scribner Village apartments, constructed in 1973 and demolished last year.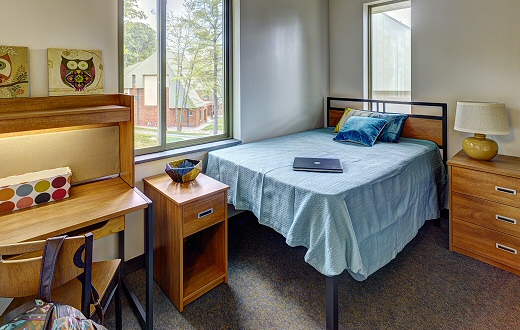 Detail of Sussman Village bedroom