Franzen to give Oct. 3 Steloff Lecture
September 30, 2013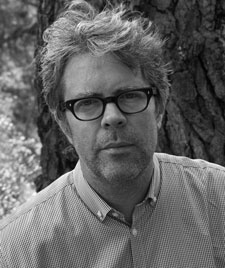 Jonathan Franzen (Photo by Shelby Graham)
Critically acclaimed novelist Jonathan Franzen will deliver this fall's Frances Steloff Lecture at Skidmore at 8 p.m. Thursday, Oct. 3. The reading and discussion, titled "Jonathan Franzen: The Novel and the World," will be in Gannett Auditorium of Palamountain Hall. Admission is free and open to the public.
The program will include the awarding of an honorary doctorate to Franzen; a book signing by the author will follow the formal program. Franzen's books will be available for sale.
Born in Western Springs, Ill., in 1959, Franzen graduated from Swarthmore College.
His debut novel was The Twenty-Seventh City, his second novel Strong Motion. But he was widely hailed as a major voice in American fiction with the publication of his 2001 novel, The Corrections, which won many prizes, including the National Book Award, and stirred considerable debate on the merits and prospects of the social novel.
Franzen's most recent novel, Freedom, published in 2010, was widely praised and led to Franzen's appearance on the cover of Time magazine alongside the headline "Great American Novelist." In The New York Times Book Review, Sam Tanenhaus wrote: "Jonathan Franzen's new novel, Freedom, like his previous one, The Corrections, is a masterpiece of American fiction….Freedom is a still richer and deeper work—less glittering on its surface but more confident in its method…Like all great novels, Franzen's does not just tell an engrossing story. It illuminates, through the steady radiance of its author's profound moral intelligence, the world we thought we knew."
His newest book, The Kraus Project (Farrar, Straus and Giroux), is scheduled for an Oct. 1 release.
Franzen has also written essays—for The New Yorker, Harper's and other magazines—on a great many different subjects, taking on everything from Twitter and e-books to the disintegration of Europe and the self-destruction of the United States. A number of his essays are collected in the volumes How To Be Alone and Farther Away. His 2006 memoir is titled The Discomfort Zone.
Skidmore's Steloff Lecture is a high point of the fall semester. Endowed in 1967 by Saratoga native Frances Steloff, the lecture series was designed to bring outstanding literary and artistic talent to the College. Since 1968, Skidmore audiences have heard from such authors as including Anaïs Nin, Joseph Campbell, Arthur Miller, Seamus Heaney, Nadine Gordimer, Chinua Achebe, William Kennedy, Ha Jin, and last year, Zadie Smith.