The wins keep coming
October 14, 2013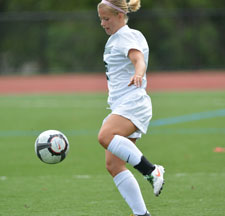 Jen Wargyda '14
Women's soccer set a new program record this past week, extending its unbeaten streak to 12 with wins against Bard College and Clarkson University. Jen Wardyga '14 scored the game-winning goal in a 1-0 shutout against Bard College Wednesday and Christine Bellotti '14, Arena Manning '16, Gab Lawrence '14 and Kelly O'Donnell '17 all found the back of the net in a 3-0 win Saturday at Clarkson. Lawrence, who ranks sixth nationally in both save percentage and goals-against average, now has eight shutouts to her credit. The 17th-ranked Thoroughbreds travel to RIT Friday, Oct. 18, for a 4 p.m. contest.
Men's soccer improved to 8-4-2 with two wins against Liberty League opponents. Robby Smukler '15, Mike Lemnios '16, Tim Sullivan '16 and Andrew Blake '14 all scored Wednesday in a 4-0 rout of Bard College and Brock Bakewell '15 netted two second-half goals in a 2-1 come-from-behind win Friday against Clarkson. The Thoroughbreds hosts RIT Friday, Oct. 18 at 4 p.m.
Oliver Loutsenko '14 defeated Sam Geier of Kenyon College to finish third in singles, and paired with teammate Danny Knight '14 for a sixth-place finish in doubles at the USTA/ITA Small College National Championships. Loutsenko will begin the spring season with the highest national rankings in program history. Jimmy Sherpa '14 and Nick Tong '16 knocked off Andrew Leibovitz and Alex Johnston of Middlebury College 9-8 (7-4), securing the "A" Flight doubles title at the Wallach Invitational in the team's final tournament of the fall season.
Women's tennis concluded the fall season, sweeping doubles on the way to winning six of nine titles at the New York State Division III Women's Tennis Championships at Ithaca College. Monique Carlson '17 and Caroline Hobbs '16 also secured championships in fifth and sixth singles, respectively.
Kelly Blackhurst '14 produced a hat trick, leading field hockey to a 6-2 win against Union College Saturday. Dani DeGregory '16 contributed two goals and an assist and Haley McDougall '15 made five saves in 47 minutes of play in her 10th victory of the season. The 13th-ranked Thoroughbreds were dominant from start to finish, rebounding from a 2-1 upset Friday at Vassar. The team returns to action 6 p.m. Wednesday, Oct. 16 at Williams College.
Volleyball bounced back from a 3-1 loss to Middlebury College with a 3-0 win Saturday against Keene State. Corinne Palmer '14 led the Thoroughbreds in the Middlebury match with 11 kills and two blocks, while Emma Wilberg '14 earned 30 assists and Marcela Familiar '17 added a match-high 16 digs. Aria Goodman '16 was the team's top performer against Keene State, registering 12 kills and 12 digs. The team takes on crosstown rival Union College at 7 p.m. Tuesday. ~ By Dan St.-Jacques