Skidmore seniors take first in Startup Weekend
November 6, 2013
Skidmore seniors take first in Startup Weekend
November 6, 2013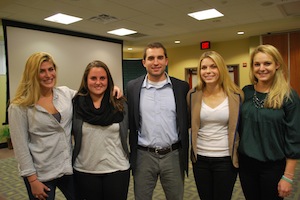 Winners of Startup Weekend Saratoga included Caroline Schiff, Anne Weis, Jared Lackey, Kiersten Sires, andRobin Fetterolf. Missing from the photo: Junior Burgosand Oliver Loutsenko.
If seven Skidmore College seniors have their way, college students across the nation will some day access the "virtual closets" of other students on their smartphones and, for a modest fee, borrow a textbook, a suit, or a set of golf clubs.
That's the basic idea of Campus Switch, the new enterprise the students conceived as a team competing in Startup Weekend Saratoga, a 54-hour entrepreneurial marathon that ran from Friday through Sunday evening. The event drew 50 participants to Murray-Aikins Dining Hall.
About a third were Skidmore students. Others came from RPI, Union College, Hudson Valley Community College, Babson College, and from the Saratoga community as well.
"We are hopeful that this can become a regional event for the entire tech valley region," said Catherine Hill, F. William Harder Professor of Business Administration at Skidmore.
All Campus Switch team members are seniors in the entrepreneurship class that Hill is teaching this semester: Junior Burgos, Robin Fetterolf, Jared Lackey, Oliver Loutsenko, Caroline Schiff, Kiersten Sires, and Anne Weis. Their plan, they said, is to develop a full business plan for Campus Switch and enter the College's Kenneth A. Freirich Business Plan Competition.
Headquartered in Seattle, the Startup Weekend organization is a global network of entrepreneurs dedicated to teaching the basics of launching new businesses. All Startup Weekend events follow the same basic model: anyone is welcome to pitch their startup idea and receive feedback from their peers. Teams organically form around the top ideas as determined by popular vote, and then it's a frenzy of business model creation, coding, designing, and market validation.
The weekends culminate with presentations in front of local entrepreneurial leaders with another opportunity for critical feedback. Judges in the Saratoga event included Ed Mitzen, CEO of Fingerpaint Marketing; Angela Beddoe, CEO of Beddoe Publishing and editor-in chief of Herlife Magazine; and James Williams, founder and CEO, Williams Financial Management, LLC. The major sponsor was In Focus Brands, a local firm that provides start-ups a range of business development services.
Seven teams proposed businesses. The judges awarded second place for a new app, called Fuel Up, that would provide post-workout nutritional advice, and third place to Teamote, an app that would enable players of online video games to market their team websites.
All participating teams are given free application access to a "co-development" fund established by In Focus Brands, the event's major sponsor, to help startup companies and university-incubated ideas make the transition between incubation and commercialization, said Robert Manasier, CEO of In Focus Brands.
"The ultimate goal is to create a regional collaboration to pull together all of the government and university resources coupled with the private accelerators, funders and services that can strengthen the infrastructure and culture needed to put the area into the startup conversation nationally," he said. "We want to be part of the solution and to bring all the great local resources together to further the economy and the infrastructure for future success."