Thoroughbreds face tough competition in post-holiday action
January 14, 2014
Aaron Beck '14
Men's basketball bounced back from last Friday's 70-66 setback against Vassar College with a gritty defensive effort in a 72-66 double-overtime win Saturday over Hobart College. Perun Kovacevic '15 was the Thoroughbreds' top scorer against Vassar, tallying 16 points and seven rebounds, and Erik Sanders '16 contributed 15 points and seven rebounds. Tanner Brooks '16 registered a game-high 20 points in the Hobart contest, and Connor Merrill '15 recorded his third double-double of the season with 12 points and 11 rebounds.

Skidmore (8-4) held Hobart to a season-low 66 points, despite playing 10 overtime minutes, forcing the Statesmen to shoot 37 percent from the field. The Thoroughbreds host RPI at 8 p.m. Friday, Jan. 17.
Women's basketball took on two top conference opponents, dropping tightly contested match-ups against Vassar College and William Smith College. Jordyn Wartts '14 led Thoroughbreds in Friday's 58-50 loss to Vassar, garnering 22 points, and Angela Botiba '15 scored eight points and pulled down eight boards. The team nearly erased a 14-point deficit in the second half of a 65-53 defeat against Hobart College, climbing back within two points with 3:19 remaining. Wartts sparked a late run for the Thoroughbreds but the Herons managed to hold them off, going a perfect 10-10 from the free-throw line in the closing minutes of the contest. Wartts scored a game-high 21 points and Molly McLaughlin '15 contributed 10 points, eight rebounds, and four assists. The Thoroughbreds (5-7) face RPI at 6 p.m. Friday, Jan. 17.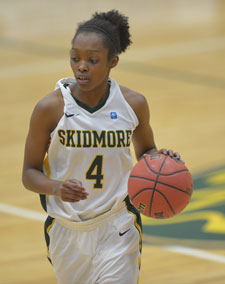 Jordyn Wartts '14
Men's hockey had its three-game winning streak snapped in a 4-3 road loss against No. 3 Plattsburgh State. Jack McDonald '17 had a career-high 48 saves and Aaron Beck '14 tallied two goals for the Thoroughbreds. The team rallied late in its final non-conference game of the season at Potsdam State, scoring twice in the final minute of the contest with goals from Tony Giacin '14 and Brad Schuler '14, but the Bears managed to hang on for the 3-2 win. The Thoroughbreds (6-6-4) travel to the University of Southern Maine on Friday, Jan. 17, for a 7 p.m. contest.
Men's swimming and diving returned to the pool at the RPI Men's Swimming and Diving Invitational. Nick Sauerbrunn '15 was a top finisher for the Thoroughbreds, swimming a lifetime best 10:44.62 in a sixth-place finish in the 1000 Free. Mario Hyman '16 posted impressive times in the 100 Free and 200 IM, finishing eighth in the 100 Free (51.00) and touching in ninth in the 200 IM (2:08.45). Tim Brodsky '14 and Bailey Best '17 were both top-10 finishers, with Brodsky earning ninth in the 50 Free (23.32) and Best placing 10th in the 200 Fly (2:16.01). Jacob Nathan '15 led the Skidmore divers, earning a third-place finish in 1 Meter Dive with a score of 241.05 and a fourth-place finish in the 3 Meter, scoring 222.85. The Thoroughbreds take on RPI at 1 p.m. Saturday, Jan. 25, at the Williamson Sports Center. ~ By Dan St. Jacques