Men's hockey works hard in crucial ECAC contests
January 27, 2014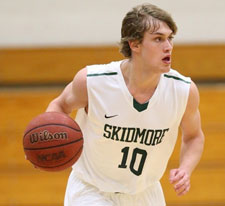 Eric Lowry '15
Men's hockey went 1-0-1 in a pair of crucial ECAC East matchups, skating to a 3-3 tie against St. Anselm College and knocking off New England College 3-2 in overtime. Vlad Gavrik '14 scored a pair of third-period goals to help the Thoroughbreds (7-7-6, 3-5-5 ECAC) rally from a two-goal deficit against St. Anselm. Brad Schuler '14 added a goal and an assist and Jack McDonald '17 stopped 41 shots, including 16 in the first period, to preserve the tie. Marc Cibelli '17 helped the team secured a valuable two points against New England, tallying the game-winner 3:26 into overtime. Ben Freiberg '16 backstopped the Thoroughbreds to his second win of the season, making 29 saves on 31 shots. The team travels to UMass Boston Friday, Jan. 31, for a 7 p.m. contest.
Women's basketball suffered tough road losses to William Smith College and RIT. Jordyn Wartts '14 scored a team-high 16 points against William Smith to go along with six rebounds and five assists, and Angela Botiba '15 chipped in her eighth double-double of the season with 12 points and 11 boards. Wartts added a double-double against the Tigers, scoring 13 points and pulling down 11 rebounds and Molly McLaughlin '15 contributed 11 points and five assists. The Thoroughbreds (6-10, 1-6 Liberty) host St. Lawrence University at 6 p.m. Tuesday, Jan. 28.
Erin Donovan '17
Men's basketball came up just short in road contests against Hobart College and RIT. Connor Merrill '15 led the Thoroughbreds (9-7, 3-4 Liberty) against the Statesmen, scoring 15 points, and Gave O'Brien '16 and Eric Lowry '15 each produced eight points off the bench. The team nearly erased a 21-point deficit against RIT, battling back to within four points in the game's closing seconds. Aldin Medunjanin '16 scored 17 of his team-high 19 points in the second half, Erik Sanders '15 added 18 points and nine boards, and Lowry registered a season-high 12 points.
Swimming and diving hosted RPI in the team's final dual home meet of the season. The women were defeated 151-130, while the men fell 160-127. Erin Donovan '17 led the Skidmore women's team, winning the 200 Free and the 200 Backstroke (2:16.81) and achieving second in the 50 Free (26.94). Yookee Roh '16 was also a double winner, placing first in the 100 Backstroke (1:04.30) and the 200 IM (2:22.30). Donovan and Roh teamed with Katherine Kelloway '14 and Kate Lambos '15 for a first-place finish in the 200 Free Relay (1:47.77).
On the men's side, Logan Jones '15 placed first in the 100 Fly (54.99) and second in the 50 Free (22.72). Nick Sauerbrunn '15 added another top finish for the Thoroughbreds, winning the 1000 Free in a lifetime-best 10:34.99. The team of Jones, Mario Hyman '16, Jon Markowitz '14 and Tim Brodsky '14 took first in the 200 Medley Relay (1:41.94). Brodsky and Jones also combined with Charlie Bullis '16 and Best for a first-place finish in the 200 Free Relay (1:31.71). Jacob Nathan '15 was the meet's top diver, winning the 1-Meter and 3-Meter diving events, both with NCAA qualifying scores. The Thoroughbreds women's team hosts the Skidmore Women's Invitational at 1 p.m. Saturday, Feb. 1, while the men's team participates at the Vassar Men's Invitational at 1 p.m. Sunday, Feb. 2. ~ By Dan St. Jacques