Skidmore Dance co-sponsors Taylor 2 residency in region
March 17, 2014
Skidmore Dance co-sponsors Taylor 2 residency in region
March 17, 2014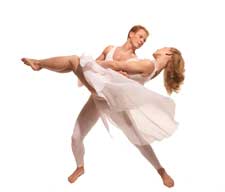 Jared Wooton and Alison Cook in Aureole
(Photo by Tom Caravaglia)
A collaboration between Skidmore's Dance Department and the Egg (the Center for the Performing Arts at Empire State Plaza) in Albany has brought the Taylor 2 Dance Company to the region for a residency.
In the coming weeks there will be a series of presentations and a performance in the region by Taylor 2, leading up to a performance by the Paul Taylor Dance Company at 8 p.m. May 10 at the Egg.
Associate Professor of Dance Mary DiSanto-Rose said, "The Skidmore Dance Department is fortunate and honored to be able to partner with the Egg in Albany and the National Museum of Dance School of the Arts to bring the Taylor 2 Company to campus for two weeks. This will give our students first-hand experience with professional dancers who are working with a world-class dance company. The company dancers will teach all levels of modern dance technique and improvisation and give a lecture on the amazing life of dance maker Paul Taylor and his creative work over the past 60 years. The company will also offer a lecture/demonstration and a master class at the National Museum of Dance on Wednesday, March 26th. This is a marvelous opportunity for all of our students and the community to gain insight and appreciation for the lush technique and inventive choreography of Paul Taylor. "
The schedule includes the following public events featuring the Taylor 2 Company, with support from the NYS Council on the Arts. Admission to all is free.
"Dance and Society" will be presented at 12:40 p.m. Tuesday, March 18, in Emerson Auditorium, Palamountain Hall, Skidmore campus.

Master classes at Skidmore are scheduled as follows:

Monday, March 17, and Wednesday, March 19—

• 10:10-11:30 a.m. Modern I in Dance Studio II
• 4-5:50 p.m., Modern III in Dance Studio II
Tuesday, March 18, and Thursday, March 20—

• 12:40-2 p.m., Modern II in Dance Studio II

* 3:40-5 p.m., Improvisation in Dance Studio I
The National Museum of Dance will be the site of a lecture/demonstration by Ruth Andrien and dancers at 5 p.m. Wednesday, March 26. A master class will follow at 6:30 p.m.
A free performance of Aureole, Uncommitted, and Esplanade is scheduled at 4 p.m. Saturday, March 29, at Conkling Hall, Rensselaerville, N.Y.
Paul Taylor established the Paul Taylor 2 Dance Company in 1993 to ensure that his works could be seen by audiences all over the world, unhindered by economic or technical limitations. Taylor worked with longtime colleague Linda Hodes to create a company that could accommodate performance requests, teach, and provide community outreach. Taylor looked back to the 1954 origins of the Paul Taylor Dance Company for the structure of his new company: six professionals with a particular gift for his style who perform his work throughout the world. "Taylor 2 is wonderfully intimate. Watching only six dancers perform Taylor works clearly reveals both structure and movement for an eye-opening appreciation of the master's approach…" wrote Allison Tracy in the Berkshire Eagle.