Breaking the ice
March 19, 2014
Breaking the ice
The Skidmore Outing Club had its most active winter season ever, but even its members are ready for spring.


March 19, 2014
For many in the Northeast, the winter of 2014 will be remembered as one of the worst in recent memory. For those in the Skidmore Outing Club, it surely will be remembered as one of their best.
The Outing Club has run four or five trips
every weekend this winter.
Abundant snow and frigid temperatures have made for perfect conditions on ski slopes and hiking trails, and so the club has been running four or five trips to the mountains every weekend. They usually head to the Adirondacks but sometimes venture as far as Vermont and New Hampshire's White Mountains. During spring break, one group of Outing Club members went camping and hiking in North Carolina while another went rock-climbing in Arizona.
On campus, the club organized a five-day Wilderness First Responder Course that 22 students took during the winter break. The club also sponsored the Banff Outdoor Film Festival, led moonlight walks and sledding days in the North Woods, and spearheaded a light-hearted ascent of "Mount Pala" (aka Palamountain Hall), complete with tents and rock-climbing gear.
All of this has been made possible by 35 volunteer trip leaders who share their outdoor skills with other students – triple the number available to the club last year, says Anna Graves '14, a government major who joined the club as a first year student and is now co-president. She estimates that 800 students have participated in various Outing Club activities so far this year.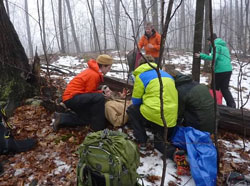 Twenty-two students took the Wilderness
First Responder Course sponsored by the
Outing Club.
"Around a campfire, you have students from all disciplines collaborating around the idea of being outside," she says. "We all get along because we have something in common."
As much as club members have enjoyed this winter, they look forward to spring, when their activities will include more hiking and climbing, biking and canoeing.
"We're ready to take off our winter jackets and put on our tank tops," says Graves, who will leave for Wyoming upon graduating from Skidmore and begin a career as an outdoor educator.