Graphic advocacy focus of new Shick Art Gallery exhibition
March 25, 2014
Graphic advocacy focus of new Shick Art Gallery exhibition
March 24, 2014


Fukushima Mon Amour, Yossi Lemel, Israel,
2011
The Schick Art Gallery at Skidmore College will present "Graphic Advocacy: International Posters for the Digital Age, 2001-2012," an exhibition of advocacy posters by artists from around the world, this spring. With topics ranging from environmental degradation to dirty politics to human rights, these posters are shrewd, visually compelling, and often witty in their illustration of complex contemporary issues.
The exhibition will open with a reception from 5:30 to 7 p.m. Thursday, March 27, at the gallery. Admission to the reception and to the gallery are free and open to the public. The exhibition continues until May 2.
"Graphic Advocacy" is curated by Elizabeth Resnick, chair of Graphic Design at the Massachusetts College of Art and Design. Resnick writes, "Posters are dissent made visible – they communicate, advocate, instruct, celebrate, and warn, while jarring us to action with bold messages and striking iconography."
All the posters in the Schick Gallery are printed and framed, but many were designed to be viewed on websites and over mobile devices. The Internet has enabled designers to create and disseminate non-commissioned posters about current issues without worrying about labor and printing costs. Resnick noted this trend over the past decade, stating "in 2005, the notion of 'the citizen designer' was gaining momentum…." In 2011, following the outpouring of support by such 'citizen designers' for survivors of the Fukushima tsunami, she was motivated to create this exhibition.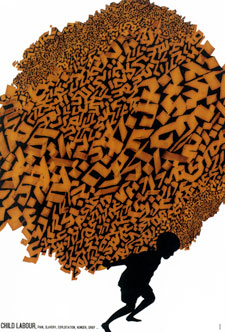 Child Labor, Medhi Saeedi, Iran, 2011
Resnick served on the board of directors of the AIGA (American Institute of Graphic Arts) in Boston from 1989–2007; while there she organized numerous graphic design lectures and events. Since 2008 she has been a member of the AIGA Boston Advisory Board.
Her publications include Design for Communication: Conceptual Graphic Design Basics, published in 2003 by John Wiley & Sons; and Graphic Design: A Problem-Solving Approach to Visual Communication, published in 1984 by Prentice-Hall. She has contributed critical commentaries, reviews, and interviews to such design magazines as EYE (England), AIGA Journal of Graphic Design (USA), Graphics International (England), tipoGrafica (Argentina), and IDEA (Japan).

Some of Resnick's recently curated exhibitions are "Graphic Intervention: 25 Years of International AIDS Awareness Posters 1985-2005" (2010), with Javier Cortés, and "The Graphic Imperative: International Posters for Peace, Social Justice, and the Environment 1965-2005" (2005) with Chaz Maviyane-Davies and Frank Baseman.
The entire exhibit consists of 122 posters. The Schick Art Gallery will present a selection of 75 – 100 of these, and Professor Deb Hall's Communication Design students are participating in the editing process. Short statements written by the students in support of their selections will be presented as part of the exhibition.
Skidmore's Schick Art Gallery is open from 10 a.m. to 6 p.m. Monday through Thursday, from 10 a.m. to 4 p.m. Friday, and from noon to 4 p.m. weekends. Admission is free. Click here to view the gallery web site.