Tennis teams continue winning ways
March 24, 2014
Tennis teams continue winning ways
March 24, 2014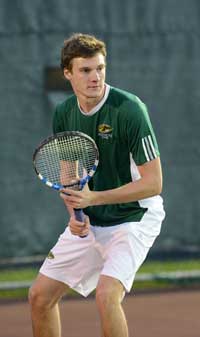 Danny Knight '14
Women's tennis cruised to an 8-1 Liberty League win against St. Lawrence University this past week. The 20th-ranked Thoroughbreds (6-2, 4-0 Liberty) won two of three matches in doubles and swept singles play. Melissa Hirsch '14 and Madeline Benn '17 got the team on the board with an 8-5 win at number-two doubles and Yumi Karlshoej '15 and Monique Carlson '17 put the Thoroughbreds ahead, winning 9-7 at number-three doubles. Hirsch notched her second win of the day at number-one singles, battling to a 7-6 (7-0), 6-4 win. Benn added a win at number-three singles and Monique Carlson was victorious at number-four singles. The team competes at the Blue/Gray Invitational in Fredericksburg, Vir., March 28-30 opening against the University of Mary Washington.
Men's tennis remained perfect in conference play with a dominant 8-1 win over St. Lawrence University. The team (5-4, 3-0) swept doubles play before winning five of six matches in singles. Danny Knight '14 was a winner at number-one singles and number-one doubles. He defeated Rhonny Rosario, 6-2, 6-5, in singles and paired with Oliver Loutsenko '14 for an 8-5 doubles win. Miles Ransom '15 also played a key role in two matches, teaming with Gabe Steerman '14 for an 8-2 win at number-three doubles before beating John Megas, 6-3, 6-0 at number-two singles. The Thoroughbreds travel to Hobart College for a 2 p.m. match Saturday, March 29.
Women's lacrosse suffered an 11-1 setback at Wesleyan University. Spencer Morgan '16 tallied the Thoroughbreds' (1-4) lone goal and goalie Megan Kolopsky '17 turned away 11 shots in 50:47 of play, while Allie Sosinsky '14 stopped both shots she faced in relief. The team hosts Hamilton College at 5 p.m. Tuesday, March 25.
Men's lacrosse played two tough games, dropping contests against Hamilton College and No. 20 St. Lawrence. Quinn Hawkins '14 and Seth Berger '14 each contributed a goal and an assist in a 16-3 loss against the Continentals. Jack Metzler '17 netted a pair of goals against the Saints and Matt Diaco '14 made nine saves in goal, but the Thoroughbreds (1-6, 0-1) came up just short, falling 9-6. The team returns to action at 1 p.m. Friday, March 29, at Vassar College. ~ By Dan St.-Jacques