Graphic artist Anita Kunz will give gallery talk this week
April 8, 2014
Graphic artist Anita Kunz will give gallery talk this week
April 8, 2014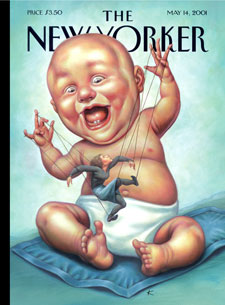 The Puppetmaster, by Anita Kunz
Artist and illustrator Anita Kunz will lecture on her work at 6 p.m. Wednesday, April 9, at Skidmore's Schick Art Gallery. The talk is free and open to the public.
From now through May 2, Kunz's work is included in the Schick Art Gallery exhibition titled "Graphic Advocacy: International Posters for the Digital Age, 2001-2012," featuring advocacy posters by artists from around the world. With topics ranging from environmental degradation to dirty politics to human rights, these posters are shrewd, visually compelling, and often witty in their illustration of complex contemporary issues. Elizabeth Resnick, chair of Graphic Design at the Massachusetts College of Art and Design, curated the exhibition. She writes, "Posters are dissent made visible—they communicate, advocate, instruct, celebrate, and warn, while jarring us to action with bold messages and striking iconography."
Kunz is a Canadian by birth who has lived in London and New York, and has been widely published in Europe, Scandinavia, Japan, and South Africa. Her work has been featured in a number of popular periodicals and she has completed a number of magazine covers, including Rolling Stone, Time, Newsweek, the Atlantic Monthly, and The New Yorker, for which she has done a dozen covers. She has more than 50 book jackets to her credit.
Her work has been exhibited in solo exhibitions at the Art Institute of Boston and the Govinda Gallery in Washington, D.C., the Foreign Press office in New York City and the Creation Gallery in Tokyo. The Society of Illustrators Museum of American Illustration mounted a mid-career retrospective of her work in 2000.