Pre-College students to celebrate love in special performance
July 23, 2014
Pre-College students to celebrate love in special performance
July 23, 2014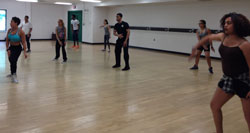 Rehearsing for "All You Need is Love."
"All You Need Is Love: A Celebration with a Cause," will be presented by students in Skidmore's Pre-College Program at 7:30 p.m. Thursday, July 24, in Filene Recital Hall.
The event will offer a glimpse of love through music, poetry, and dance, all on the theme of love: family love, love for friends, romantic love, love of self. Material to be presented is both original as well as well-known music and poetry.
Admission is open to the public, with a suggested donation of $2 at the door. All proceeds will benefit Domestic Violence and Rape Crisis Services of Saratoga County (DVRC).
Jasmyn Story '15, resident advisor in the Pre-College Program, directs and helped develop the July 24 program. A Pre-College Program alumna, Story explained, "The project's ultimate purpose is to give back to a deserving community organization, by raising money for DVRC. In addition, the project unites students with similar passions, fostering friendships and encouraging students to get involved in the Skidmore community."
For more than 40 years, Skidmore's Pre-College Program has drawn students from around the world for a five-week session of intensive, college-level study during the summer season. This summer, a total of 54 students enrolled in the program, which offers the chance to try college on before taking college on, according to Michelle Paquette, director of the program in the Office of the Dean of Special Programs. In addition to their classes, students have the chance to explore the Saratoga Springs community and to engage in community service in the city.