Beatlemore Skidmania
November 15, 2016
This week, Beatlemore Skidmania will invade the Arthur Zankel Music Center, with this year's theme being the Beatles' 1966 album Revolver. Joel Brown, distinguished artist-in-residence in music, collaborates with a committee of five students to plan the show. Their responsibilities include promotion, soliciting merchandise for raffles, overseeing production of shirts and posters, and of course running the event. Students can join the committee as part of an independent study course each fall semester.

Revolver was a particular milestone for the Beatles, said Brown, noting that they "were mainly about the music at this time," since they had stopped touring and retreated to the studio to experiment with new recording techniques and sounds. They even used taped loops, such as Paul McCartney laughing, and would speed them up or play them backward to create various effects. "They couldn't perform the songs [live] even if they wanted to," Brown said, because "the group evolved so quickly, going from 'I Want to Hold Your Hand' " to works that couldn't be recreated on stage. This year's audience will get to see how the performers tackle this problem.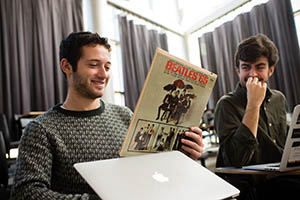 Harry Risoleo '18 and Will Scott '18 review Beatles album

Choosing the performances wasn't easy for the committee members. They wanted the show to run under two hours including intermission, so had to keep that in mind during the audition process. Brown explained, "Music selection is tricky, but the main thing is to come up with a show that is interesting from start to finish. This means including a variety of styles, from direct copies off the album to deconstructions of the songs. Some of the songs in the show will be so different that the audience will really have to listen to know which it is, while others will just hit you over the head."

Concertgoers can expect a wide variety of tempos, moods, and instrumentation this year. There will be a total of 14 acts with songs mainly from the Revolver album; if students wanted to try something else, the rule was that it must be a Beatles song from between 1963 and 1966. "We didn't want to limit too much," Brown said.

This year's Beatlemore Skidmania will include performances by on-campus a cappella groups including the Bandersnatchers, Drastic Measures and Sonneteers, as well as student music groups such as Beatle Gamia, Funkin' Donuts, Tim Lok Chan, Jefferson Plastic Co., Henry and Savan and Spice Island. There will also be solo performances by students Izzy Howard '17, Lena Schwartz '19 and Tristan Watson '18.
Joel Brown performing at Beatlemore
Many of the performers are not music majors, but that's not uncommon for Skidmore students in organized music groups, which is part of the college's appeal, according to Brown: "It is so easy to sell Skidmore to a potential student who is looking for an excellent liberal arts education but also a solid music program."

Brown said he looks forward to the event every year. "When it's over, I cannot believe we have to wait another year to do it again. The Beatles were such an important part of my musical formation, and it's so great to know that 50 years later, students are still interested in their music, and three full audiences want to hear what they'll do with it."

He also hinted at a special grand finale this year, likely involving his band Rust Brothers, which includes music professor and Beatlemore founder Gordon Thompson and French professor John Anzalone. As a final note, Brown said, "Though we had to let some really high-quality music go, we know we ended up with a really great show."

Performances are scheduled for Friday, Nov. 18, at 8 p.m. and Saturday, Nov. 19, at 2 and 8 p.m. in the Zankel's Ladd Concert Hall. Tickets are $10 for adults, $7 for seniors and the Skidmore community, and $5 for students; they may be purchased online or at the box office.