More News
Riders return national title to Skidmore
A season's worth of competition came down to a nail-biter at the IHSA nationals in Pennsylvania over the weekend. In the end, Skidmore had its seventh national championship. More.
Alumnus Rick Shapiro '77 to share baseball insight
Skidmore graduate Rick Shapiro '77 a senior advisor to Major League Baseball's Players Association, will share insight on our national pastime and other professional sports during an April 15 presentation. More.
Skidmore's camp benefits Soccer Without Borders
In what has become something of spring tradition, Skidmore athletes will again host a skill-building camp for young players in April, with proceeds going to Soccer Without Borders. More.
Men's spring soccer season cancelled after hazing investigation
Disciplinary proceedings will involve 28 students, including 24 current team members. More.
Celebrating Title IX
Skidmore will celebrate National Girls and Women in Sports Day on Saturday, Feb. 2, with sports clinics for young athletes, luncheon with Thoroughbred competitors, and the chance to meet Skids, the Thoroughbred mascot. More.
Creative Thought Works
Nelson Ritschel '81
Surreal. Completely surreal." That's how it felt to Nelson Ritschel '81 when Irish President Michael Higgins spoke at length about Ritschel's book
Shaw, Synge, Connolly, and Socialist Provocation
in a speech at the London School of Economics.
Read More
Notable
It's all downhill . . .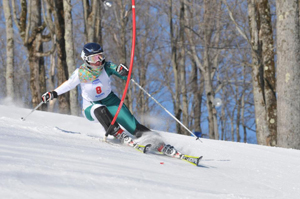 Kelsey Cioffi '13 competed in the United States Collegiate Ski and Snowboard Association (USCSA) National Championships in March.
Skidmore Twitter Feed