New exhibition focuses on arts and sciences
October 21, 2011
New exhibition focuses on arts and sciences
Student, faculty, and alumni artists featured in new show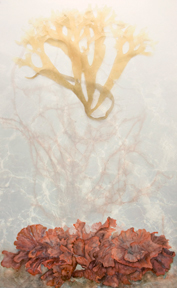 Westerly by Christine Neill '69,
watercolor and inkjet print on paper
The Schick Art Gallery at Skidmore College will present A Resolution of the Arts and Sciences, a new exhibition, from Oct. 28 to Dec. 4, 2011. An opening reception is scheduled at the gallery from 6 to 7:30 p.m. Oct. 28.
Curated by a student/faculty team, A Resolution of the Arts and Sciences is an interdisciplinary exhibit featuring the work of Skidmore students, faculty, and alumni. The exhibit was inspired by Skidmore art Professor John Cunningham, whose sculptural works double as force-multiplying 'machines' able to move heavy objects.
From the realm of art, the exhibit features works that look to science or technology for their inspiration, subject matter, or realization, such as drawings of cancer and heart disease as seen at the cellular level; photographs of a raisin bread used as metaphor for the expansion of the universe; an interactive machine showing how ink jet printers work; and ceramic pieces illustrating of the chemistry of glazes. From the realm of science, the exhibit features photographs, videos, paintings, and objects used to facilitate, document, or interpret scientific research. These include images of stalagmites taken in fluorescent light; three-dimensional forms used in neuro-science experiments on visual perception; and watercolor paintings of ancient Maya murals from an archeological site in Chiapas, Mexico.
A total of 28 exhibitors are participating in the exhibition. Participants are as follows:students: Caitin Allen '12, Ali Carney-Knisely '12, Rivkah Gevinson '13, Rachel Fisher '12, Richard Lapham '12, Michelle Molokotos '13, Megan Pini '14; alumni: Lizzie Gill '11, Sarah MacWright '02, John Mathews '79, Courtney Mattison '08, Jesse Moy '11, Christine Neill '69, Stephen O'Brien '87, Doug Schatz '92, Doug Stern '89, Sarah Gomer '10, Charlie Engelman '11, Dave Rollins '10, George Brenner '10, David Kaufmann '06; faculty: John Cunningham, John Galt, Deb Hall, and Sangwook Lee, all Department of Art; Amy Frappier, Geosciences; Flip Phillips, Psychology; Heather Hurst, Anthropology.

Skidmore's Schick Art Gallery is open from 9 a.m. to 5 p.m. during the week and from 1 to 4:30 p.m. on weekends. Admission is free.